Armpro Bench Grinding Machine
Armpro bench grinding machine has adjustable eye shields and spark deflector,that used to protect you from flying debris without obstructing your view.The machine also has patent rigid steel base,that is stable and light weight.The twin working led light powered by battery.Its adjustable tools rests extends the life of the grinding wheels.The bench grinding machine is equipped with 36# and 60# grinding wheels.All Armpro bench grinding machine confirm to CE/GS standards.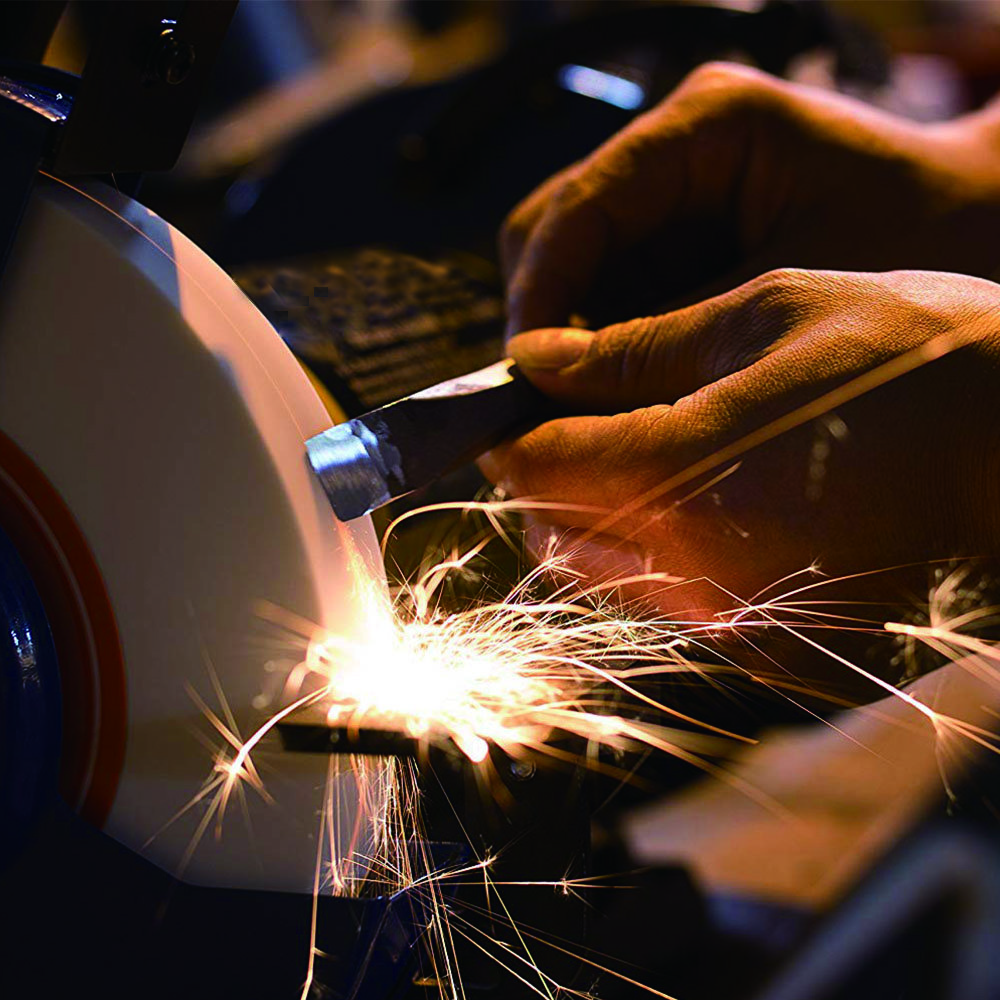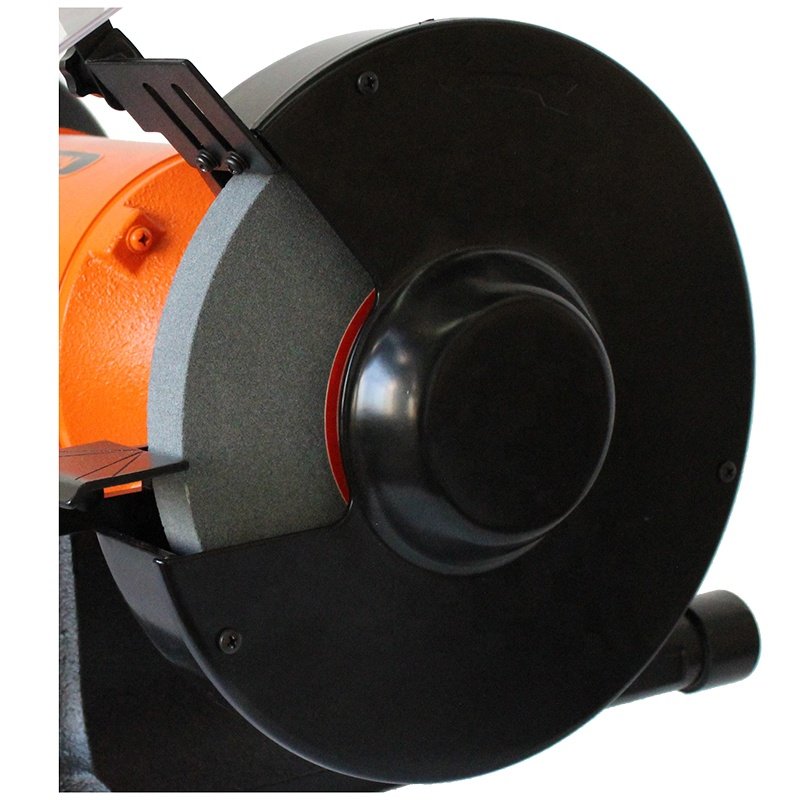 Armpro Bench Grinding Machine Videos
Welcome to Visit Our Bench Grinding Machine Factory
Welcome customers from any country come to visit us, we can show you the Bench Grinding Machine workshop, and show the
Bench Grinding Machine production site.
Bench Grinding Machine:The Complete FAQ Guide In 2021
Grinding with a large size work piece is very hard but a well based stationary Bench Grinding Machine can ease your working process by providing you heavy duty work rate with minimum effort.
A Bench Grinding Machine is considered as one of the fastest grinders to do multiple tasks on different metal elements without requiring any major effort from the workers. By using a benchtop or table in the Bench Grinder you can easily work with any type of metal by just fixing it on a table. If you are subjected to do the sharpening work with metal products then this grinder is best for you.
Let me explain to you all the important aspects of Bench Grinding Machine which will help you to choose the best one.
Add a header to begin generating the table of contents
1.What is Bench Grinding Machine?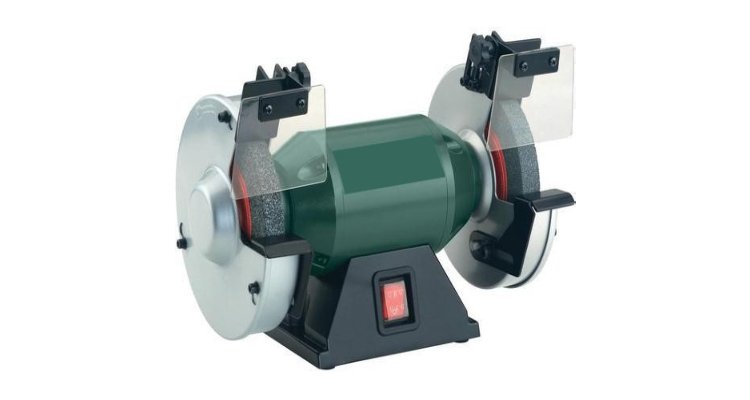 A bench grinding machine
A bench grinding machine is a top abrasive wheel based grinder which is very helpful to work with metal work pieces. Usually, this kind of grinder is set on a bench or floor to give stability for grinding work.
A bench grinder is mostly contain two sided wheel discs to use it for cutting purpose as well as for surfacing different metal elements, in this way you can do multiple working by using the power of only one motor.
2.What types of Bench Grinding Machines are there?
A Bench grinding machine has different types according to their structure and working functionality which makes every bench grinder unique for specific grinding purpose. So, here are some of the commonly used types of bench grinder.
Double Wheel Bench Grinder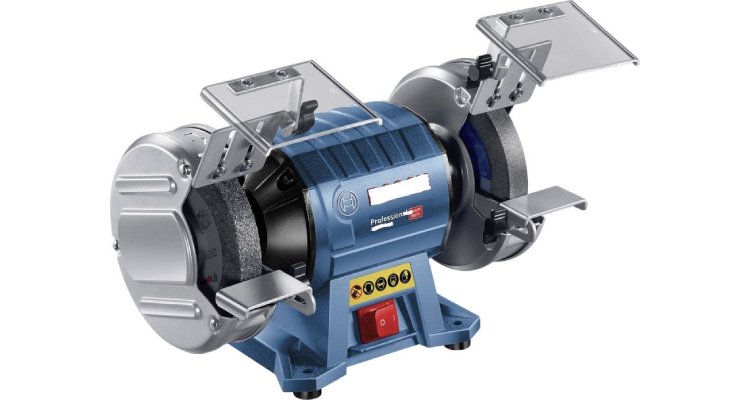 Double wheel bench grinding machine
In this kind of bench grinding machine there is a single supporting motor that provides power to both of the wheels without any resistance. Both of these wheels work at the same speed but perform different grinding functionalities.
Both of these wheels are installed opposite to each other but on the same rode which connects these wheels to the motor. You can use one wheel for grinding or cutting purpose and the other one for polishing or cleaning purpose depending upon the type of wheel you installed.
Automatic Bench Grinding Machine
There are multiple kinds of grinding works that you can perform by using automatic bench grinding machine because it specially designed to work with different metal items from cutting to grinding you can easily achieve your desired product.
In different kind of grinding work you have to work with the same type of material with multiple times so, by using this machine you can easily handle this sort of grinding. In this grinder you can easily cope with functionalities of the grinder by using the control panel of the machine.
3.Explain the industrial uses of Bench Grinding Machine?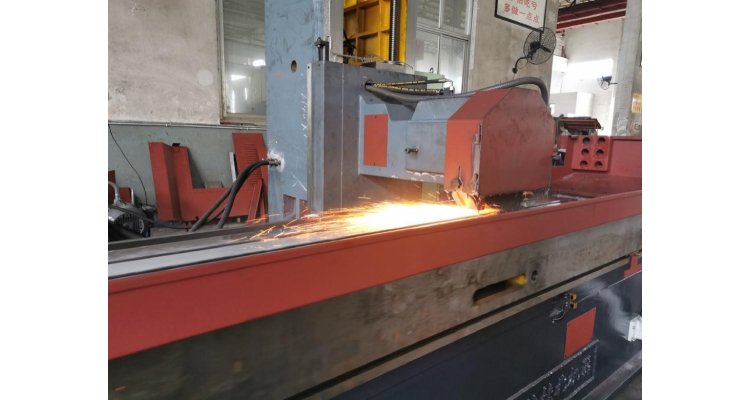 Large size bench grinding machine in industry
In industrial applications there are many kinds of work types that can only be done with the help of a bench grinding machine because hard metal work pieces can only be dealt with grinder.
Here are some of the industrial uses of Bench Grinding machine.
Grinding Work
In different kind of work shops where people use welding materials to connect the different parts of the metal items you will see they require grinding work because many of the metals items have some extra material on their upper layer that is why grinding work is performed with the help of bench grinding machine.
For grinding with steel items most of the steel industries use the grinding stone in periodic way to get high efficiency work rate and it is one of the best setup for a grinding stone to get better production.
Sharpening Work
In modern world most of the metal industries want to do the sharpening work by their own without paying any penny to the other unit for sharpening purpose and to fulfil this purpose the use bench grinding machine with automatic functionalities to work with different metal products.
As we often see that tools like knife, and other kind of metal pieces are very hard to sharpen because they need some special care during the sharpening work and the sharpening disc on the wheel of a bench grinder will help you to do the hard work with minimum effort.
Sharpening work is very common in multiple industries to make the sharpening tools like screw that we use in different kind of work. Not only that, steel sheets which we use to cover the outer surface of different vehicles and other machines their edges are sharpen with the help of bench grinder so that they can easily fit in.
Polishing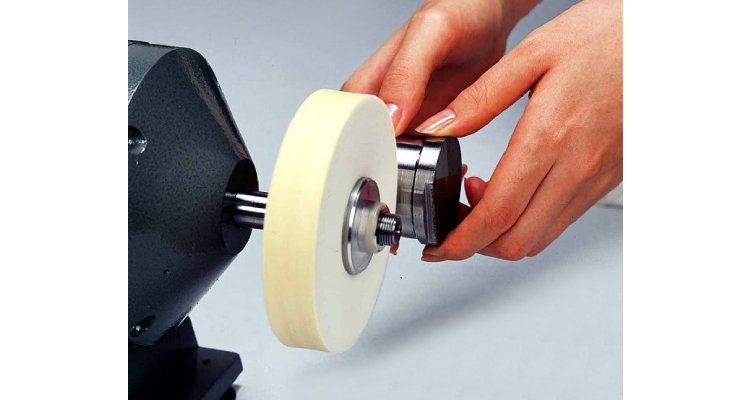 Polishing work with bench grinder
Different polishing industries who work with different kinds of steel and iron elements they use bench grinding machine for the purpose of polishing because polishing require some special care.
In different automobile industries most of the workers polish the spare parts of the vehicles with the help of bench grinder to make sure the polishing is going well you need to maintain the firm effort in terms of speed and holding the work piece at right angle to ensure the polishing in a better manner.
Polishing with soft elements like wood will require some extra safety precautions because soft elements catch fire quickly as compared to rigid hard elements.
These are some of the purposeful uses of a bench grinding machine at industrial level because in the modern world most of the products that are used to manufacture something they all prepared with the grinders at some specific level so it is a must equipment in the developing industry.
4.What are the benefits of Bench Grinding Machine?
Bench Grinding Machine
Every grinder works differently according to its structure and manufacturing level. So here are some of the benefits that you can get with the help of a bench grinding machine.
It is hard to replace grinding wheels of different grinders when you want to change the work procedure but bench grinding machine can be easily handled in terms of replacing and changing grinding wheel.
If you are looking to get accurate and high surfacing look on your work piece then this grinder is unique and capable to perform this task.
You can easily cope with different kinds of hard metal elements by changing the speed measurements and accuracy of the bench grinding machine.
If you are working with a large size dimension object then it be easily cope with by the help of rest wheel because it will allow you to overcome the problem of setting up your object firmly on the bench.
There is a self-based sharpening action available in the bench grinding machine which can provide you ease when you work with abrasive materials for cutting or grinding purpose.
Getting highly quality and precise look on your work piece can be done easily with the help of bench grinding machine as it has multi purpose actions to perform on rigid metal elements.
According to the benefits of the bench grinding machine you can achieve a very fine quality product coming out from your production unit because there are many finishing tasks that you can perform with this machine.
5.Explain the working principle of Bench Grinding Machine?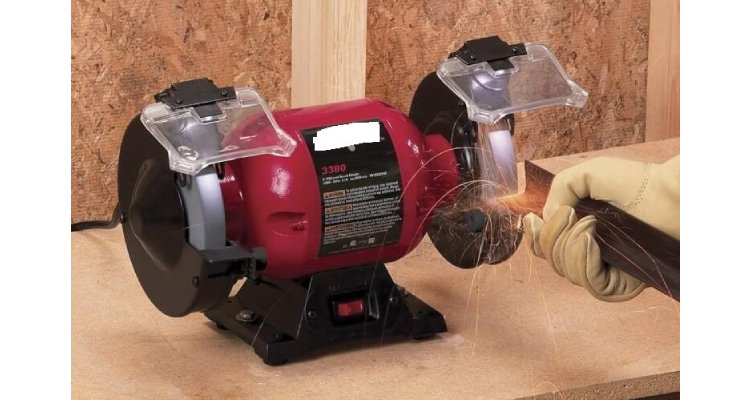 Working with bench grinding machine
A bench grinding machine works almost in the same way as the other grinders do because all kinds of grinders are quite familiar with each other in terms of their working and grinding process.
Step-1
When a person starts the bench grinding machine a power motor comes into the action to provide enough power to the other parts of the machine. A motor is used to be a power unit that can convert electric current into mechanical one to make sure that your grinding machine is running riot with enough power.
Step-2
When a motor starts it rotates the grinding wheel of the bench grinder and discs present at both ends of the machine are used for the grinding purpose. In double side disc wheels there is only one motor to serve both the wheels at the same time.
The shaft used in the rotating rode is stored with the ball bearings which helps the wheels to rotate without any retarding force.
Step-3
Most of the bench grinding machines are based on visual control panels beside them to adjust the speed of the grinding wheel. When you start the grinding work you need to have some water present beside you because the high speed grinding work can catch fire.
So, to overcome any kind of fire problem you need to be aware of all kinds of errors and always have a bucket of water alongside in order to achieve successful grinding work.
6.What are the different parts of Bench Grinding Machine?
Every grinder has its own working parts, these parts helps the grinder to work firmly, effectively and efficiently without facing any errors. If some of these parts get disturbed or do not set properly then you can replace them by reading the user manual guide.
Here is a list of some general working parts of the Bench grinding machine.
Bench or Table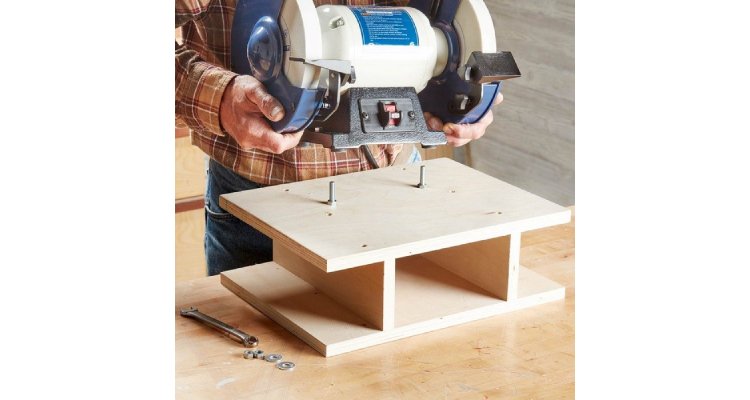 Fixing a bench grinder on a bench
A bench grinding machine always perform the grinding work by fitting on a bench which is used as a base of the machine a bench is not only used to fix the machine on it but it also helps to set your work piece at specific angle where you can easily perform the required task.
Servo Power Motor
In every kind of machine or equipment that works through the electric power there is always a motor which helps you to generate enough power that can help you to serve your purpose regarding bench grinding machine.
Wheel Covers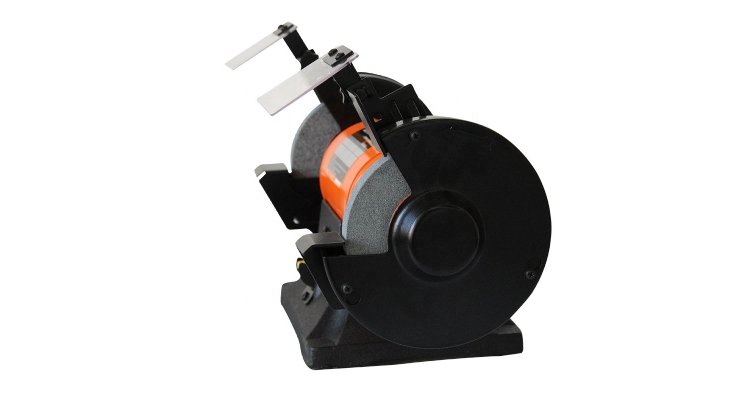 Wheel covers
Covers present on top of the wheels are installed for the purpose of safety. These covers make sure that the surrounding environment of the grinder remains safe without getting any damage and it also enable your workers to work freely without fixing anything at risk.
On/Off Switch

On/Off switch in bench grinding machine
A switch is a vital element in any kind of grinding machine because providing direct current without any control can cause problem to your motor in terms of speed and quality. A switch is present on the front of the grinder so that the worker can easily reach out to the button without any delay in time.
Grinding Wheel
The most important part of the machine with the help of this wheel you can perform multiple grinding work because this part of the grinder gets in touch with the work piece.
There are different kinds of grinding wheels that you can use in the bench grinding machine because the replacement of the grinding wheel is easy and comfortable for the customers. In the recent grinders it was such a hard task to replace the grinding wheels but in the bench grinder you can easily replace the wheel.
These are some functional parts of the bench grinding machine which complete the grinding process up to maximum level with their specific working capability and functionality.
7.What kind of grinding work you can do with Bench Grinding Machine?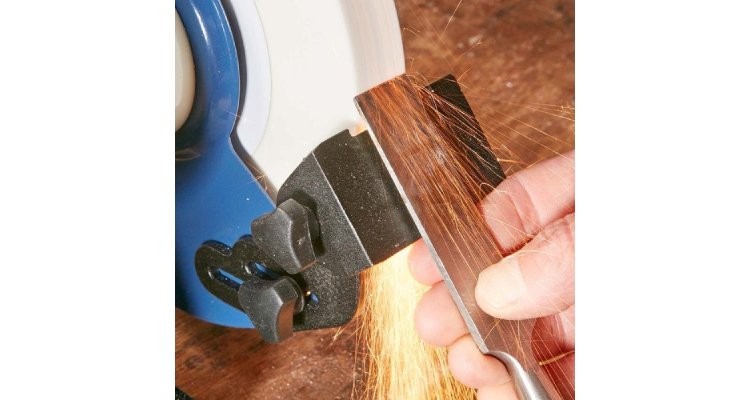 Bench grinding machine in work
A bench grinding machine works in different ways and with different elements depending upon the grinding wheel that you have installed with the grinder.
The main working of the grinder depends upon the wheel because a wheel is a necessary and basic part in the grinding work.
If you want to work with rigid metal elements then you need to use hard stone based grinding wheel at the end withier it is for sharpening purpose or for grinding purpose.
There are many grinding tasks that you can achieve easily with the bench grinding machine. Surface grinding is also one of the main grinding work that can be performed easily with the bench grinder.
Bench grinding machine is not just limited to some specific grinding works you can perform cutting, polishing, or cleaning etc as well with the use of this bench grinder.
8.What type of grinding wheels you can use in Bench Grinding Machine?
There are multiple sorts of grinding wheels that you can use in the bench grinding machine for different types of work procedures.
Stone Based Silicon Carbide Wheel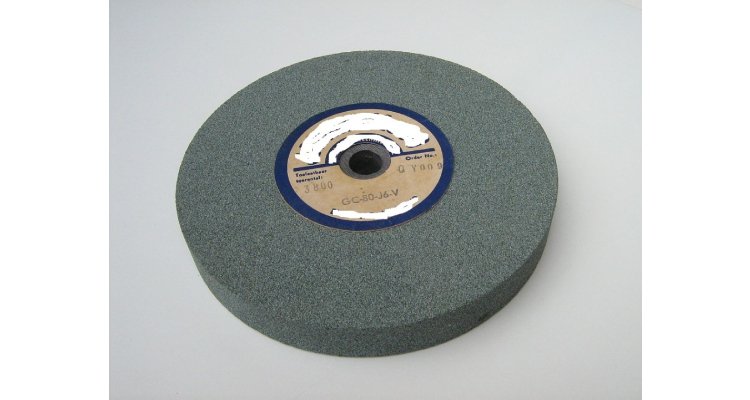 Silicon carbide wheel
This type of wheel is mostly present in the black color and it is specially designed to work hard and rigid elements you can not use it for soft elements like aluminum because there are some pores in this wheel which helps to do the grinding of hard rigid elements.
Ceramic Based Grinding Wheel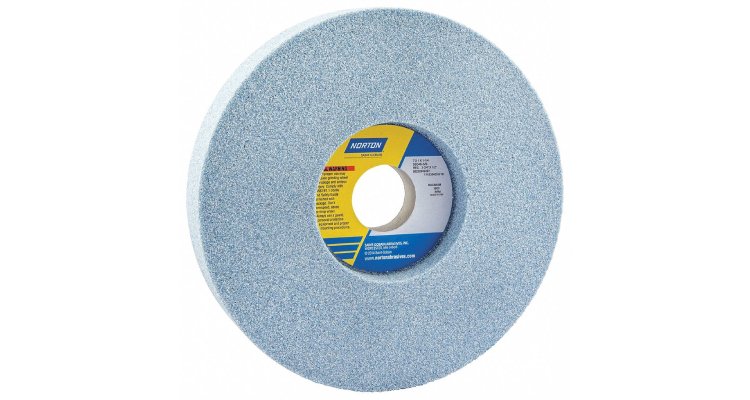 Ceramic grinding wheel
In many kinds of construction work ceramic tiles are used to give beauty and design to the building because these tiles are hard and rigid and can not be broken easily that is why a ceramic grinding wheel is designed from them.
A ceramic grinding wheel is mostly used for the purpose of sharpening metal items or for surface grinding where you want to perform the high speed grinding. The color of this grinding wheel is white and it has the capacity to bare the high speed grinding work easily due to its cool nature.
MDF Wheel
MDF ginding wheel
When you want to sharp the edges of the specific object then this wheel is an ultimate solution for you and you can get it in a cheap price from the market this wheel is most commonly used for knife sharpening and for other edge based sharpening objects.
It will require very less time to sharp any edge of the metal element without any delay all you need to do is adjust the work piece at right angel and do not move it around during the edge sharpening.
So, these are the grinding wheels that you can use in the bench grinding machine or you can replace them with one another according to the production and type of material that you are going to work with.
9.What are the specifications of Bench Grinding Machine?
Some specifications of the bench grinding machine are very important to know because these specifications will help you in your grinding process so, here are some of the specs that you need to know.
Size of the Machine/Disc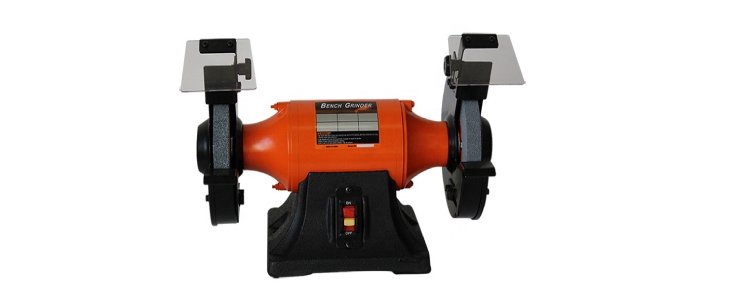 Bench grinding machine
In major industries the size of the machine is always matters because large size machines has the capacity to work for long hours without any rest and most important thing the size of disc as well.
The disc sizes are available in 4 inches, 6 inches, and 8 inches as well because large size disc will easily handle large material so most of the industries select 8 inches disc size with lower RPM speed.
Power Consumption
Power consuming is also one of the major factors when you define the specifications of the machine and a bench grinding machine power consumption varies from 150 watts to 600 watts.
Small size and less efficient grinders use less than 250 watts power rate but if you want to do multiple tasks with the grinder then you need to select a grinder that uses above or 300 watts power.
Arbor or Shaft Size
Arbor of shaft is basically works as a connection bridge between motor and both side wheels. Both of the wheels are based on this shaft which rotates the wheel up to the desired speed rate with the help of motor.
Some shafts are larger in size and wheels are connected at very wide range to cover extra surface area of the work piece but always use a moderate length shaft for purposeful working.
10.What are the safety precautions to work with Bench Grinding Machine?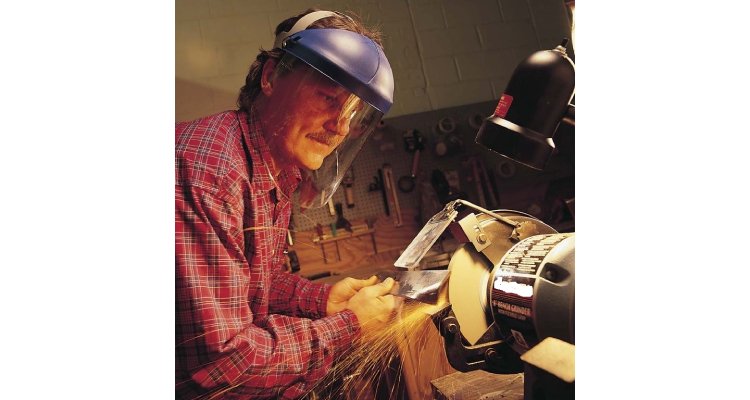 Person wearing safety glasses
Some safety precautions you must need to know before you start working with the bench grinding machine.
Do not hesitate to wear the safety glasses because wearing safety glasses can help you to perform the grinding work comfortably regarding your eyes.
Sometimes, when you switch on the grinder there is some kind of problem that may occur and it will cause the debris to came out and fly in any direction so switch on the grinder and step on a side for some minutes.
Always use a hard metal element to check the wheel is stable or not broken do it by hitting the wheel with the rigid metal if the wheel is cracked replace it with the new one and do this work with a proper screw driver.
Always be careful when you installing the wheel do not press the nut or do not tight the nut up to its maximum level just put it on and press up to moderate level so that wheel does not get cracked.
Adjust the tool rest according to your work piece do not put it too much near to the wheel for grinding purpose as it will cause the damage on the wheel.
11.What are the key points to select a best Bench Grinding Machine?
Here are some key points that may help you to select the most suitable and comfortable bench grinding machine for your production unit.
Wheel size, a moderate size wheel will be best for you in terms of working with different sizes elements.
RPM and motor power consumption are also two major factors in selecting a fully functioning bench grinding machine.
Handling of the grinder must be easy and authentic in terms of stability and work accuracy because most of the grinders require extra care during the grinding process.
Some other features you also need to understand like functionality, automation level and working precision with accuracy rate.
Conclusion
For now you almost have a complete idea that a bench grinding machine is such a powerful tool that can provide you multiple work functions according to your requirements.
As compared to other grinders this grinder is more suitable because of its flawless production rate and ease in handling the work piece at the same place. Bench Grinder is highly useful in terms of changing the work flow by easily replacing drill bits or grinding wheel.
It is such a versatile equipment which is almost used by every craftsman to perform the grinding work on metal items with precision and accuracy. The speed of this grinder is moderate because it works on the precision of the work piece without any delay in grinding.