Armpro Bench Tapping Machine
Armpro bench tapping machine is suitable for workpiece material,it can be easy to tap in lead, copper, steel, cast iron, pig iron, 45 steel, die steel,metal material and other metal materials.Applicable to all machinery manufacturing industry, machine tools, mold machinery, printing machinery,packaging machinery manufacturing plants, construction machinery, rolling stock, aircraft engines,plastic machinery and general machinery and other industries.
Armpro Tapping Machine Videos
Welcome to Visist Our Bench Tapping Machine Factory
Welcome customers from any country come to visit us, we can show you the Bench Tapping Machine workshop, and show the Grinding machine production site.
Bench Tapping Machine:The Complete Buying Guide in 2021
A bench Tapping Machine is one of the universal equipment provides you flawless work piece in making different sorts of tapping products internally.
To overcome your work deficiency and accuracy a bench tapping machine will consume very less power rate and help you to overcome regular tapping problems. A perfectly framed shaft mechanism will ease the tapping process.
In this very helpful guide, you will know many different things about Bench Tapping Machine by knowing outrageous details about the machine.
Add a header to begin generating the table of contents
1.What is Bench Tapping Machine?
A bench tapping machine is a machine that provides precise tapping capability while occupying a little amount of space. Operated with a shaft this machine functions with a sturdy frame that secures the tapping shaft. For ease of operation, the shaft of this machine is revolved using a smooth bearing system. A tap holder is attached to the shaft tip. The holder may be fitted with taps at any time. The machine bed is equipped with a holder considered a work piece that secures the work piece in position during tapping. This machine produces precise tapping results for screw threads that are exactly matched.
When you tap, you're really cutting a thread through the drilled hole. Drilling the tap drill size first, then expending the machine block to grip and position the tap while it is spun by hand, is how tapping is done on the drilling machine. Drilling is not tapping, therefore do not attempt to use drilling equipment to power tap. Taps may break if they are not aligned correctly with the hole's center axis, the tap flutes are dirty, and the end of the hovel is chipped away before trying to tap.
Tapping Large Holes: One technique of manually tapping large holes is to put a tap which can be adjusted accordingly and the reamer wrench on the shank which is a square shape with a center in the spindle of the drilling machine. The tap is inserted into the drilled hole, and the center point of the tool is inserted into the center hole. Without using force, the tap is maintained constant by applying little pressure to it with the drilling machine's hand feed lever while spinning the tug which causes a hole in the tap.
For small holes, you may use a hand tap connected directly to the drilling machine's geared drill chuck and gentle pressure on the tap using the hand feed lever to spin the machine chock by hand. When employing taps with a diameter of less than 1/2-inch, this approach works effectively on tiny hand-feed drilling machines.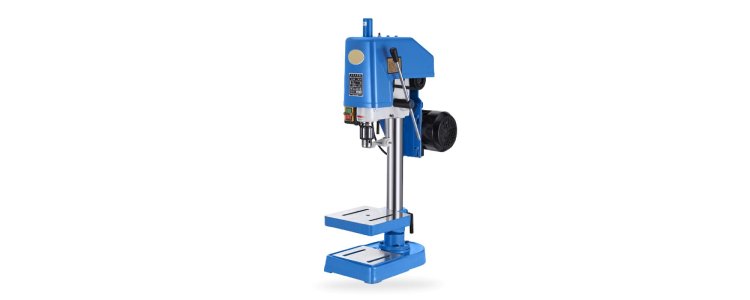 Bench Tapping Machine 
2.Explain different sorts of Bench Tapping Machines?
Angular Tapping Machine
Easy Tapping devices are incredibly cost-effective and assist to minimise damage. The necessity for a tap-skilled person is also eliminated by using this technology. Anyone has the ability to safely and precisely activate it.
A dependable consistent tapping head provides optimum accuracy with various taps and fittings on Tapping Machine's reliable consistent tapping head.
Capacity and equipment: Machine taps between M3 and M60. A wide variety of Tap Easy machines are offered in Pneumatic, Electric, and Hydraulic configurations, with unlimited series and a wide selection of optional fittings.
Time Savings: By eliminating the need for labor-intensive tapping, the Tapping Machine saves time and physical effort.
Tension adjustment knob: This is a user-friendly feature that enables the operator to change the amount of force required to align the tapping head with the hole.
Simple forward/reverse grip: This feature enables single forward/reverse operation of the motor with a simple 'twist'.
Quick-change tapping chuck: This aids in securely retaining numerous tap holders and reduces changeover time.
Depth control mechanism: This mechanism was specifically designed for holes with a predetermined depth. This unique feature assists in preventing tap breakage and thread damage.
Articulated Arm Tapping Machine
An articulated arm makes tapping easier with Tap Easy. This one-of-a-kind function allows you to drill a hole around the 1-Meter radius. From M3 to M24, this equipment can tap holes.
To use 'Tap Easy,' you need an arm with a specifically built motor and controller that allows you to tap through holes and blind holes.
Features
Floating head-on articulating arm for automatic centering of the hole.
Electric A 750W and a 1000W servo motor and gearbox were tested and used.
The articulated arm's special feature makes it possible to drill a hole around the 1-Meter radius. Steel and aluminum holes up to 1′′ or M 24 may be tapped using this machine's range of up to 34".
With the gearbox, it can tap holes, thanks to the arm's electric multiple speed tapping servo motors of 750W and 1000W. "Tap Easy" comes with an add-on function called "Floating head" in addition to these adaptable capabilities. The machine that handles gauge-answering issues automatically takes the hole's center with the aid of this mechanism.
In order to avoid tap breakage and reduce recurrent costs and breakdown conditions, 'Tap Easy' has 'clutch-incorporated tap holders.' When it comes to tapping, 'Tap Easy' can replace VMC and save manufacturers money while also preventing bottlenecks.
Pneumatic Tapping Machines
These pneumatic tapping machines are used for the purpose of drilling holes in a surface for the purpose of creating threads. The provided Pneumatic Tapping Machines are made using high-grade components and cutting-edge technology, all under the watchful eye of our team of experienced specialists.
Hydraulic Tapping Machine
High-speed continuous cycles benefit greatly from hydraulic tapping machines. Its long-term effectiveness may help keep operations running smoothly and boost overall productivity. These may be used to drill holes in a variety of surfaces and materials, which is why they come in various designs.
Bench Tapping Machine 
3.Define mini Bench Tapping Machine?
Mini bench tapping machine is also alike a bench tapping machine but in small size. It is also available in hand and electric versions. Its configuration is made stiffer by the cast iron base and over-arm, which helps to keep tools from breaking during use. Because on the base of the surface the ground precision is the good and tough spindle, perpendicular perfection is guaranteed; no more off-axis tapped holes! The counter-balanced spindle provides far more sensitivity than a conventional tap handle. Other characteristics are as follows: work holder that can be quickly assembled A total of nine tap holders that snap into a spindle rack for tap holders that have a regulating elevation band and holders for rapid return. It is possible to bolt it down and utilize it like a tapping location.
Advantages
As opposed to the typical lathe, drilling machine, or manual tapping limits, the machine employs servo drive control with intelligent torque protection.
high-tech mechanical design, a range of techniques including mold castings, and overall stiffness that is robust, durable, and non-deformable with a pleasing look.
The digital view is easy to use and adaptable to a variety of circumstances. A complicated and heavy workpiece may be completed in both directions with this machine, which can also locate rapidly and process precisely.
Choose from four different ways of operation: automated or manual operation, linkage three modes of operation, or any combination of the above.
Automatic mode can efficiently manage the deep taps, and it does so without the need for an operating button. It is controlled by a depth controller in automatic mode. Positioning is done quickly, tapping is done quickly, and manufacturing efficiency is good.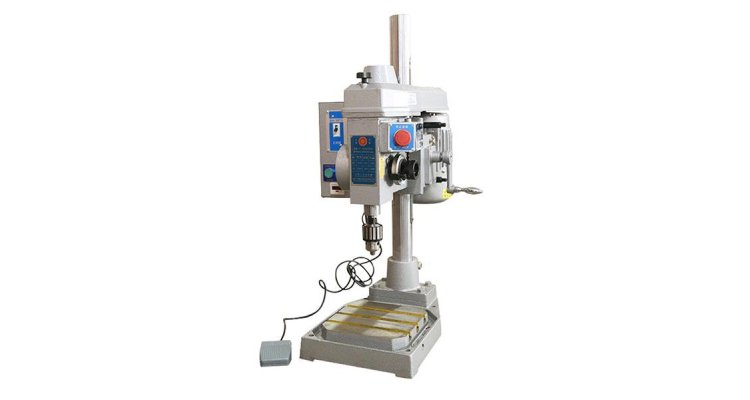 Bench Tapping Machine 
4.Describe different applications in which Bench Tapping Machine is used?
Tapping equipment is employed in a wide variety of sectors, including heavy industry and engineering. Tapping equipment allows a fundamental procedure to be performed. Additionally, drilling and tapping machines are utilized in the manufacture of furniture, automotive bodies and other industries. Tapping equipment is both often utilized in the automotive and aerospace sectors. Tapping equipment must have functioned in compliance with OSHA requirements.
Bench Tapping Machine 
5.What are the basic components of a Bench Tapping Machine?
There are different components of a bench tapping machine which play an important role in its working. All its components are discussed below with complete details.
Base:
It is one of the most important components of a drilling machine because it bears the full weight of the machine and transfers its weight. It is made of steel.
For the most part, the foundation of a drilling machine is composed of iron and it is quite sturdy.
There are few spaces available at the very highest to accommodate the large projects.
On one side of the base, there is a column that supports the structure.
Although the base is often secured to the ground using bolts, it may also be reinforced to up to four legs in rare cases.
Column or pillar:
The base has a column or pillar on one side of it. The arm may be moved clockwise or anti-clockwise using a radial column, which is standard.
It is composed of quite sturdy iron, so it can support the arm's weight and a drill head as well.
When not in use, the table may be raised and lowered by means of a sliding mechanism located on the column.
Upper arm:
Housing for the drive mechanism is located on the upper arm of the column. A similar substance to the base also serves as the material for the upper arm. To stiffen the frame work.
Worktable:
Cast iron is the most common material for the worktable, which is placed on a column. T-slots are supplied on the table's top surface, and some tables include a vice to aid in holding the work in place.
According to the task and tool arrangement, the table may go up, down, right, and left. The table's upward and downward movement may be controlled manually or by an electrical device. A table's vertical moment is controlled by a system called rack and pinion
Drill head:
There are several feed and driving mechanisms in a drill head that are attached to an arm. The drill's head is in the proper place thanks to the arm's length.
On top of it is a drill chuck. The drill head may be raised and lowered depending on the needs of the operation.
The motor, electricity, and pulley are all powered by a V-type belt, and the drill head, in turn, is powered by the drill head.
The use of a gear-train mechanism may provide a variety of speeds.
Feed Mechanism:
In order to transmit power from the engine to the spindle, it utilizes an electric motor, a V-belt, and a pulley assembly.
To move the drill head up and down, we employ both manual and automated feed from an electrical motor, which is both used in tandem. An additional rack and pinion is used to convert the rotating movement from motor to straight-line movement in this case as well.
Spindle:
To retain the drill chuck in place spindle is utilized which is mainly a shaft with a circular tap. Stainless steel, high-carbon steel and several other things are used to make it. The main function of the spindle is to transfer motion in rotation from top to bottom.
Chuck:
It is present at the base and its main role is to tap into its specific place.
Electric Motor: AC current also known as alternating current single-phase motor is utilized in a tapping machine. It functions at the speed of 600 to 5000 pm. It can function at a higher rpm than this range.
Pulley or gears:
Power transfer from parts to parts and different speeds are possible only due to the implementation of pulley or gear. A bevel gear is also one of the types and has the quality to share power at a 90-degree angle.
Bench Tapping Machine 
6.What is the working mechanism of Bench Tapping Machine?
WORKING PRINCIPLE
The tapping procedure is initiated by the use of a multi-point cutting instrument designated as "TAP." With the use of a gather Chuck / Drill Chuck, the Tap is secured in the main spindle. The spindle is driven by the motor through the V-belt. Rack and Pinion arrangement is used to extend the travel of the "TAP" throughout the whole workpiece thickness. This comprises three cones: one made of fiber and two made of mild steel. They are arranged in such a manner that two cones interact in unison. The primary driving shaft contains the fiber cone, whereas the main vertical spindle has two MS cones.
Because of its own weight, the cone is first engaged with the fiber cone during the early stage. As soon as the power is turned on, the spindle begins to revolve. The component that will be tapped is positioned in the proper manner. Slots are supplied to ensure that the work piece is held correctly. When the work piece is put it interacts with the fiber cone at the same time that the higher MS cone disengages, resulting in the spindle rotating in a clockwise direction.
Taping requires a rotational speed of around 100rpm. In order to complete tapping the component and preventing the loading from continuing, it is necessary to bring the label assembly down, therefore contacting the upper cone and so initiating the tap reversal and completing the process. This machine has a unique characteristic in that it does not slide while working with hard materials, which prevents the tap from breaking and causing damage to the cone.
Drill, a multi-point cutting instrument, is used to start the procedure. A collate Chuck Or Drill Chuck secures the Drill in the main spindle. A 'V' Belt transfers motor torque to the spindle. The Rack and Pinion allow the "Drill" to traverse the whole thickness of the work piece.
Reversing switch is used in this machine to make the spindle rotate counter-clockwise. The lower cone interacts with the fiber cone, causing the spindle to rotate in the opposite direction of clockwise movement. The procedure requires a spindle speed of around 1000 revolutions per minute.
Bench Tapping Machine
7.Why Bench Tapping Machine is more accurate in tapping process as compared to other tapping machines?
The procedure of tapping holes isn't something that can be done quickly on the spot. A technician should take all necessary measurements before cutting and threading. The inappropriate magnitude may result from an incorrectly tapped hole, and this may lead to tap failure.
While errors must be avoided, success isn't always a certain conclusion. However, it is still critical to rectify as many errors as possible prior to threading. Screw threads that have been threaded incorrectly will no longer work.
When it comes to constructing a hole for tapping, the size of the hole is the most crucial thing to consider. In this case, the measurement is critical since holes are capable of withstanding larger levels of torque if required. As a result, increased torque indicates that a hole needs more strength. The hole sizes advised by North American Tools yield roughly 75% of the thread's depth.
Another point of contention is the manner in which holes are tapped. They are either narrowed or entirely straight in most cases. There are a number of different ways to get there, including:
Drilled
Bored
Cored
Extruded
Punched
These approaches are beneficial in the tapping process and own set of drawbacks.
8.How much electric power will be required to operate a Bench Tapping Machine?
Using an electric tapping, you may advance and retreat the tapping by hand. This machine is simple to use, easy to master, and requires no special training. It has a separate operating box design, brackets that rotate 360 degrees, and a maximum-simple bracket construction. It's possible to modify the speed and torque to meet the needs of the job, making it handy and practical. The device is also lightweight, flexible, and efficient, which gives it an edge over other comparable pieces of technology.
Electric tapping machine requires voltage minimum 220v 50/60HZ and power of 400w to 1200w depending on the size and function.
Bench Tapping Machine
9.What important factors you need to remember while buying a Bench Tapping Machine?
When choosing a product, check to see whether a suggested version tailored to the application is available. Consult the manufacturer's specs to confirm that the system being considered satisfies all functional requirements.
Important Techniques and Factors
The significance of hole preparation is sometimes overlooked throughout the tapping procedure.
Screw threads are created by a tap and die technique, which requires the use of various instruments. If you don't pay attention to the tiniest details, you'll end up with more taping errors. Failed taps are the result of manufacturers skipping even the tiniest details.
Before you begin tapping, pay great attention to the holes to make sure you don't make any errors.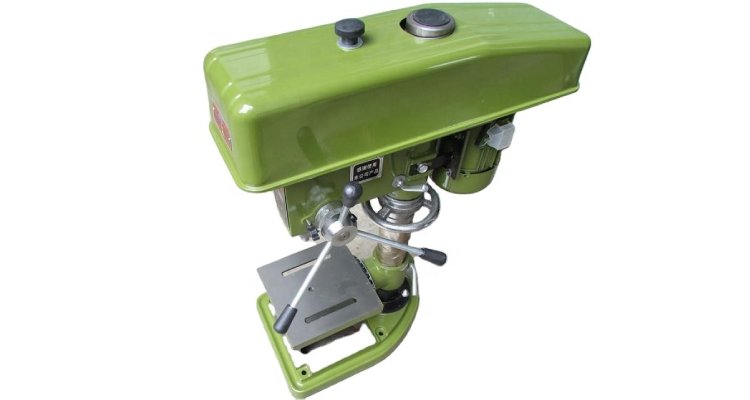 Bench Tapping Machine 
10.How to troubleshoot a bench tapping machine?
Numerous risks occur, however, the following are the most noticeable:
A) Because of rotating members, they have the potential to grab loose clothes. All loose garments should be kept away from machines.
B) Because the machinery components are heavy, set each section of the valve using a crane or other lifting device; do not depend on your back to hoist.
C) Prior to tapping, connection assemblies should be tested with pressure.
D) Do not exceed the approved rating of the equipment or use it for purposes other than those for which it was designed.
These directions must be implemented into your safety procedures and operational processes.
A.If you don't have any experience with the tool, don't use it!
B.Malfunction of machines, DISCONTINUE USE IMMEDIATELY and notify your supervisor.
C.Do not make any alterations to the equipment from what it was intended to do.
D.Never operate the equipment at a pressure or temperature higher than what is recommended for it.
E.Always utilize machine-specific fittings, valves, and other equipment.
F.Tapping machines must be properly pressure checked before each hot tap is conducted before using this machine.
G.When working in a hazardous workplace, always wear appropriate safety gear and equipment.
H.Always follow OSHA guidelines while using this equipment.
To begin, earplugs must be worn at all times when working in construction.
When replacing hole-saws, adaptors, or repairing equipment, always switch off the power to the Hot Tapping Machine.
KMake sure you're standing on solid ground and keep bystanders at a distance.
I.Work safe rather than from a ladder if at all possible.
Before you try your first tap, be sure you have read and understood the complete operator's instructions. Each operator should practice on a dry line until he or she is confident in their ability to work safely and effectively. If you begin a live tap, you will be committed to seeing it through to completion.
II.Before each usage, thoroughly check equipment. DO NOT make the assumption in working order after each tap has been conducted.
III. Determine the pressure and product that will be used before you start the process. Before going, ensure that you have received proper training in each specialized area. If you need special help in responding to safety questions, please contact your supervisor.
Bench Tapping Machine