Armpro Magnetic Base Drill Machine
Ampro Magnetic base drill machine adopts the principle of electric-magnet to absorb the rig frame and the swing drill mechanism onto the steel plate and then drill it. It's movable, characterized by hign efficiency, precision and convenient operation and safety, which is used on the occasion that electric hand drill and drill press are difficult to use. Compare with the fire drill, the magnetic drill is more of high precision, which belongs to physical cutting and will not produce the chemical reaction and material deformation. The magnetic base drill machine is widely used in all kinds of complicated environment of steel structure drilling, especially suitable to the shipping building, paper making, bridge construction, mechanical equipment installation, steel construct engineering, subway construciton, large equipment maintenance and all the pipeline engineering etc.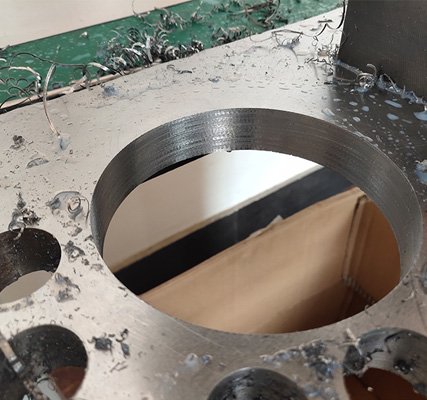 Armpro Magnetic Base Drill Machines
Welcome to Visist Our Drilling Machine Factory
Welcome customers from any country come to visit us, we can show you the Drilling machine workshop, and show the Drilling machine production site.
Drilling Machine: The Ultimate Buying Guide in 2021
A drilling machine is the most fundamental force apparatus you will purchase. It's the one you will depend on for large undertakings, like structure a deck and renovating the kitchen, and for more modest assignments, such as introducing installations and furniture assembling. You may even require your drill to support different devices.
Your decision of drill will boil down to the sort of assignments you need to finish. For instance, for drilling a corded drill is better. Whereas the other way around for driving screws a cordless drill is better.
In this article, we will be assisting you in choosing the, the right RPM, speeding of the cutting metals, usability, and other related elements for the drilling machine.
Add a header to begin generating the table of contents
1.What are drilling machines?
Drilling Machine 
A drilling machine is a powerful tool used to cut a round hole into metal, plastic, wood, or other solid materials in a circular cross section.
So in actuality, it is a material removing process which is also called drill press.
This drilling cutting tool is secured by a chuck which is held in the drilling press and fed into the work at constant speeds. The speed set properly and to get the desired result they provided with coolant with all needs.
Some hammer functions included a powerful driller and they were extensively good in their size, speed and power.
By removing a volume of metal from the job by rotating to make a circular hole in it, a cutting tool is used called a drill.
Operations performed by drilling machine are: step drilling, core drilling, Boring counter boring, Reaming, Countersinking, spot facing and Tapping,
2.How many types of drilling machines are there in the market?
Three different types of drilling machines are available in the market.
    Radial drilling machine
    Drilling cum milling machine
    Pillar drill
Radial Drilling Machine:
 In this machine, the drilling head is fitted on the radial arm. We can use numerous head and base plates of numerous dimensions and strengths in radial drilling machines. So that it can be used for the drilling of different material sizes.
Radial Arm Credit: selmach.com
FORMATS
These machines are available in different formats to the people.
V- belt driven high precision drilling machine
Geared format.
Drilling Cum Milling Machine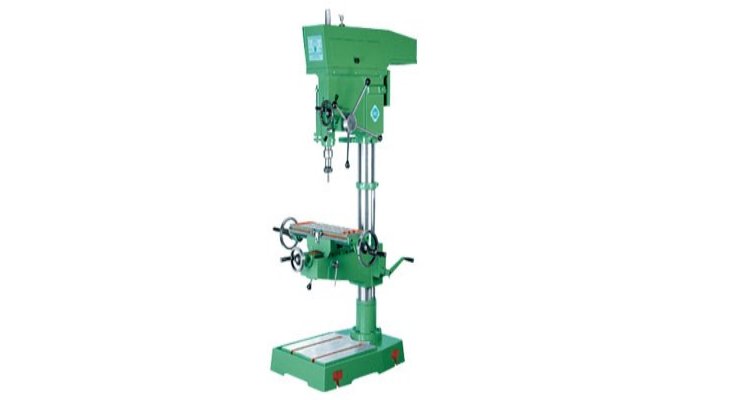 Drilling Cum Milling Machine  
These machines are in demand by clients due to high quality and excellent working. The Milling Drilling Machine is suitable for varied drilling requirements at varied industries. Its manufacturing is done by the latest technology and the finest components and parts.
These machines are the multi-functional devices and also they can be used for both drilling and milling works. To manage the space constraints in work places, these machines are used because they take small space and provide better performance too both drilling and milling.
Pillar Drills  
Pillar drills are free-standing machines which use a motor to rotate a bit at a variablespeed range. The drill press used to cut holes of different diameters into different types of material such as metal or wood etc.
It helps us to deliver a neat job. A pillar drill allows us to set the drill depth down to the millimeter. We can control the RPM as well via pillar drills. That means, at right speed, we can enter drill in metal anywhere
To get perfect drilling of holes through materials, pillar drills are best drills to meet the results. Their manufacturing gives the surety to use them by anyone but if they know how to use it and then it will provide a professional, precise finish to the users.
This machine have capability to adopt new advanced technology  features.
Due to their higher efficiency and precision, these machines are more offered in economical formats.
3.What are the drilling machine industrial usages?
                                            Drilling Machine                         
The drilling machine is very widely used in the industries. A drill or drilling machine is a tool primarily used for making round holes or driving fasteners.
It is fitted with a bit, either a drill or driver, depending on application, secured by a chuck. Some powered drills also include a hammer function. Drills vary widely in speed, power, and size.
The drilling machine is used in the drilling processes also. It is also used in the manufacturing of different types of products by using the technology.
The drill machine is also used in the repair factories for repairing the metal products.
4.Explain and highlight drilling machine application?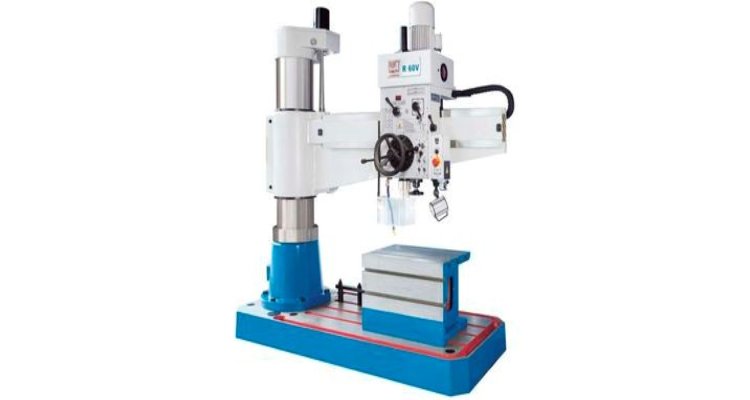 Drilling Machine 
The basic function of a drill machine is to cut holes of different sizes in solid materials and in many other things as well. They are commonly used for metalworking, wood working, construction, machine tool fabrication etc.
The capability of the drilling machine can be so different because of its spindle speed, spindle travel, spindle nose and electric motor as well.
Different industries including construction, medical, transportation and electronic equipment use drill machines widely.  So, it is important to choose the suitable drill press to meet clients' demand to match the industries  they are working in. Different kinds of drills are used for different applications that can construct holes of different sizes in different materials.
The wide range of applications of drilling machines is follows:
Enlargement of existing stepped holes of different diameter and also of depth in wide range in work materials
using slot drills having 3 or four flutes and 1800 cone angle making of rectangular section slots
TO get higher accuracy, we perform boring after drilling.
Different drills with their different functions are used for industry particular applications as well.  Some of the drills functions as discussed below.
To drill water from wells and oil wells, drill dig is used.
Hand drills are used for fastening and screwing.
Electrical pistol grip drill is used by builders, electricians and plumbers mostly.
Hammer drill is to drill and fix the wooden parts and it is mostly used by carpenters.
When electrical providence is not feasible to get then cordless drills are used for drilling.
5.What are the drilling machine components?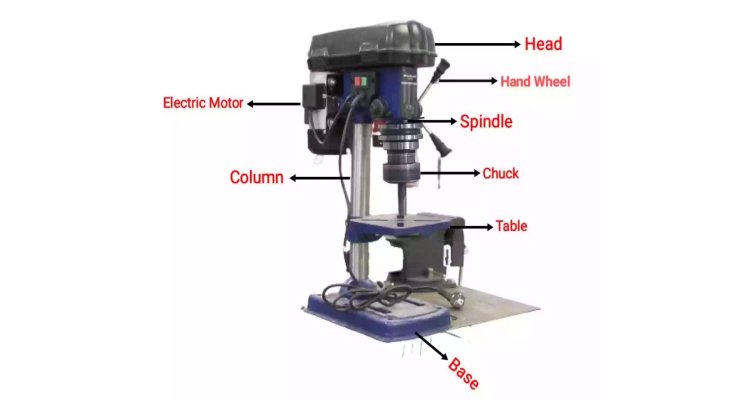 Drilling Machine Components
The drilling machine has some main components. These components are as follows:
Base
The very first and main component of the Drilling Machine is the base of that machine. The whole weight of the machine is carried by the base of the drilling machine. And also the base transfers all the weight of the machine to the ground.
The base of the drilling machine is made up of a material called iron. There are some slots present at the top of the base which helps in providing the support in big jobs. While on the other side of base a pillar is situated there.
The base has four legs which give support and make it stable. These legs are connected with the ground.
Column or Pillar
The column or pillars are situated on one side of the drilling machine. The pillars are specially made up of steel material. This also helps the pillar in carrying weight of the arm and the drill head of the drilling machine.
The pillar can easily move in a clockwise or anticlockwise direction with the help of the radial column that we used in the drilling machine.
Also the column can adjust its movement up and down.
Upper Arm
The Upper arm is basically present at the top of the pillar. The upper arm is also made up of iron. This iron made the structure of the upper arm rigid as the structure of the base. The upper carries some special components i.e. driving mechanism and the drill head.
Worktable
The cast iron is used to manufacture the worktable of the drilling machine. There are some T-slots that are given at the upper surface of the table. This helps them in holding the job.
The table has some special ability in its movement as it moves from right to left and from up to down according to the need of the tool. The up and down movement can be done by hand or by using electricity.
Drill Head
The drill head basically consists of the driving mechanism. The drill head is placed one side of the drill arm and the drill chuck is on the other side of it.
The power being given to the drill head is by the motor and the A V-belt type used to for giving power to the drill head. The gear train mechanism is used to generate the different types of speed according to the need.
Feed Mechanism
The feed mechanism is done by hand or automatically with the help of the motor which provides power to it.
The up and down motion is also used in the movement of the drill machine and in the feed mechanism.
Spindle
Spindle is another important component of the drill machine. It is a circular type which provides a great help to hold the drill chuck. The spindle is basically manufactured of very high quality carbon chromium steel.
The rotary motion is also done by the spindle from the head to jig. Spindle can also make the movement from up to down.
Chuck
The chuck is the component of the drill machine which is placed on the lower end of the spindle. It is used in holding the drill jig
The drill jigs can be changed by the help of a keyhole.
Electric Motor
The electric motor is used in the drilling machine to provide the electricity power. Single phase electric motor is used in the drilling machine.
Pulley or Gears
The components that are used to transmit power are pulleys and gears in the drilling machine. The gear which is mostly used is bevel gear which transmits power at an angle of 90 degrees.
6.How does a drilling machine operate?
Drilling Machine Working
The drilling machine is one of the most widely used machines in a workshop.
Drilling is the process of producing a cylindrical hole from the rotating edge of a cutting tool by removing metal called the drill.
When a machine uses vertical pressure to generate a hole it is loosely called a "drill press".
Working Principle of Drilling Machine:
When the electric power is given to the motor, the spindle starts to rotate and the stepped pulley that is attached to it also starts to rotate.
Here another pulley is attached and that is used here to increase or decrease the speed of the rotational motion.
Before drilling the centre of the hole that is located on the work piece and drawn by two lines at right angles to each other and then to produce an indentation at the centre, a centre punch is used. To produce hole in it, a drill point is pressed at this centre.
The internal surface generated by drilling of hole becomes rough and the hole gets oversize than the drill used due. A 12mm drill may produce a hole as much as 0-125mm and a 22mm drill may produce one as much as 0-5mm oversize.
The drilling press is mostly used in the engineering field as well.
Firstly, we will mark a point where the holes are going to be made on it.
Secondly, we will  use the drilling machine to set up their components
Thirdly we will  take a sharp cylindrical cutting tool, and then  will  insert the chuck, and will tightly fix it.
To make the tooltip collinear with the point marked on the block by rotating table clamp, we will put a work piece block on the drilling machine table.
Then, move the table along the column until the tool and the block having specific distance
At last, we will  switch on power supply, then the tool  will begins to be rotating and make sure that the  rotating tool is moving linearly towards the block until the tool is rotating  as the lever,
Further the tool goes into the block, and continues its process with rotating the lever till the tool pierces the block.
This is how a hole is made in a block without damaging it. This process of making holes in a block while rotating and the tool used is called drill and the machine setup used here  is called drill press or drilling machine.
7.How to use a drilling machine safely?
Drilling Safety Usage
Wear eye protection i.e. safety glasses
Tie back long hair, and remove heavy jewelry if you wore that.
Make sure the drill is seated correctly in the chuck jaws while tightening
Always hold work in a vise or clamp to the drill table.
For material that is being drilled, use a correctly ground drill for them.
Always remove chips with a brush or with any other material but not by hand.
Stay easy on drilling pressure as the drill starts to break through the bottom of the material while drilling it.
Don't use  damaged drills.
Check it before using
Never try to drill with too much pressure.
Never place large diameter drills in a drill chuck.
Only standard drills can be clamped in chucks.
Always clean the drill shank before mounting.
while the power is on, never try to loosen the drill chuck
Never try to clean up a machine while using or during its motion
If the drill is stuck in a hole, stop the machine and to release it, turn the spindle backwards.
Immediately remove the  drill chuck key from the spindle after using it.
Wear safety eye protection while drilling.
Let the spindle stop at its own record time.
Never try to stop the spindle by yourself.
8.What is good RPM for a drilling machine?
The RPM of the drill also usually depends on the material. Determine the size of the hole to drill in the material Try starting with slow RPM but always pay attention to fast RPM material.
A drill that runs at fifteen hundred rpm is the maximum average. A thing with a maximum of fifteen hundred rpm would not be a good choice for a big job. In general, many top-rated codeless drills achieve maximum rpm at low power. Because of this, they are more efficient and powerful than sustainable energy.
Generally, hard metals such as steel and large drill bits also require slow speeds. Usually, with a small twist bit, you can drill at 3,000 rpm in most metals. 350 to 1000 are recommended for big turn bats.
In short, RPM depends on the material. RPM is usually set according to the material.
Recommended speed for carbide-tipped hole cutters.
| | | |
| --- | --- | --- |
| SIZE |   STEEL | STAINLESS STEEL |
| 11/6 to 13/6 in | 700-1000 rpm | 300-700 rpm |
| 7/8 to 1-3/16 in | 500-800 rpm | 200-450 rpm |
| 1-5/8 to 2 in | 200-500 rpm | 120-225 rpm |
| 1-1/4 to 1-9/16 in | 300-600 rpm | 175-315 rpm |
| 2-1/16 to 2-3/8 in | 200-400 rpm | 95-195 rpm |
| 2-7/16 to 3 in | 150-300 rpm | 80-150 rpm |
9.Which drilling machine is used for light duty work?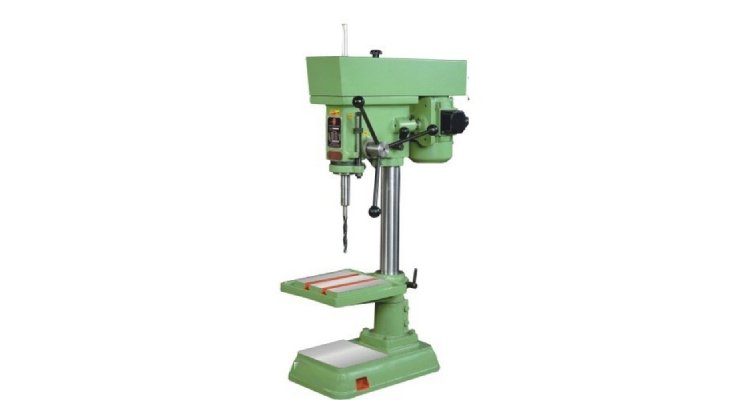 Light duty bench drilling machine
Drilling presses or drilling machines are common machines found in machine shops. A Sanitary drilling machine is commonly used in light duty work. This machine transforms the bread tool into a work piece. It is mostly used in feeding holes. But with proper tooling, it is also used in machine work.
The sensitive drilling machine is mounted on the work table and the drill is fed into the work through the NAND control. This machine is used in small and medium size fixing spot tapping pieces. This feature of this machine, which looks similar in construction, makes it unique compared to other machines.
Upright drilling machine is a kind of sensitive drilling machine. Which is used in light duty work? Which feeds the operator and allows the operator to feel the toll cutting action? Barley is produced in bench style or floor style
10.Does drilling machine have a single vertical spindle?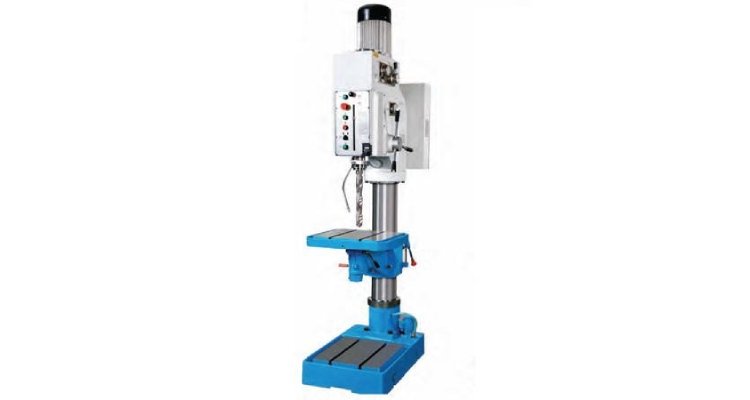 Single spindle vertical drilling machine (photo credit: industry.com)
As you know drill machine is used to make holes in work pieces or components. The rotating and cutting tool features all drilling machines. They grow in the stationary work piece along their axis to create holes. The spindle, which is attached to the spindle, also rotates. There is also a pulley attached to the other end which is connected to increase the speed of movement. A Vertical single drilling machine is most commonly used in metallurgy.
A Drill countersink or reamer is attached to the vertical spindle. The work pieces are secured on the machine table. By moving the work piece, tool axles and drilled joints are made. Usually, a straight drilling machine also consists of a single spindle. And it's designed to handle a piece of work. It is heavier and larger than a sensitive drilling machine. The advantage of vertical drilling is that it is done before horizontal drilling. So that the formation of oil or gas reserves at different levels can be tested.
11.What is the drilling machine new model?
The drilling machine is used to make holes in the DIV project. The drilling machine is used to make holes in the DIV project because the hand drill machine is used for different uses such as moving the screw regardless of the type of head and retreating without interruption.
Many brands are selling hand drill machines. There is some confusion as to which one to buy. There are models for some drilling machines that will make your job easier.
Hammer drill machine
Hammer drill machine 
A Hammer drill machine is used to drill holes in metal and gives hammer-making action for drilling.
The impact drill machine is rigid and is mostly used for drilling materials. And it is very powerful. Below are the top five new model hammer machine and their price list.
| | | | | |
| --- | --- | --- | --- | --- |
| Product name | power | Size | Speed | weight |
| Bosch 800w professional 26mm drilling machine | 800w | 4-26 mm (concrete) | 900rpm | 2.7kg |
| Tiger 26mm rotary hammer drilling machine | 800w | 26mm | 4000rpm | 3kg |
| Trumax 26mm rotary hammer drilling machine | 800w | 26mm | 900rpm | 4kg |
| Cumi hammer drill machine | 600w | 20mm | 850rpm | 2.9kg |
| Black Decker single speed hammer drill machine | 550w | 10mm | 2800rpm | ~1kg |
Rotary drill machine
The machine used in daily work is rotary drill machine ideal for plumbing and electricians. The new model of this drill machine is used not only in domestic work but also in construction work. Below is the best company with its model.
| | | | | |
| --- | --- | --- | --- | --- |
| Product name | power | Size | speed | weight |
| Bosch 600w professional rotary drill machine | 600w | 1.5-13mm | 2600 | 2kg |
| Dewalt rotary drill machine | 550w | 10mm | 2800 | ~1.3kg |
| Cumi rotary drill machine | 550w | 10mm | 1250 | ~1.7kg |
| Hi-flex plastic rotary drill machine | 350w | 10mm | 2600 | 1.4kg |
| Kpt shakti rotary drill machine | 350w | 6mm | 2600 | 1.25kg |
Press drill machine
Drill press machine
The Drill press machine is also called a bench machine which is used for drilling hard materials. Solids are commonly found in industries and mechanical workshops, so these machines are mostly found there. Also, this sanding polished inning helps you to do your job faster and more efficiently.
| | | | | |
| --- | --- | --- | --- | --- |
| Product name | power | size | Speed(rpm) | weight |
| Sms pillar dril press machine without accessory | 0.5hp | 12mm | 1440 | 50kg |
| Sms pillar drilling machine | 1hp | 25mm | 1440 | 210kg |
Cordless drill machine
This is an electric drill machine that works using rechargeable batteries. They come in different configurations as well as are found in different places. The operator may have to carry batteries for continuous work on the charge. This helps to quickly replace used batteries. Batteries that now charge in ten to fifteen minutes are also available in the market.
| | | | | |
| --- | --- | --- | --- | --- |
| Product name | Voltage | size | Speed(rpm) | weight |
| Yking 10mm ni-cd cordless drill | 12v | 10mm | 550 | 1.49with batteries |
| Black Decker li-ion orange cordless drill | 7.2v | 10mm | 400 | |
| Bosch cordless impact drill | | 0.3-10mm | 1300 | 1.1 |
| Cutflex li-ion cordless drill | 12v | 10mm | 550 | |
| Bosch professional cordless drill | 12v | 10mm | 1300 | |
Magnetic drilling machine
These portable machines are used for drilling large and heavy materials. It comes with a powerful magnetic base. These holes are drilled with the help of a cutter or a bridge cutter.
| | | | | |
| --- | --- | --- | --- | --- |
| Product name | voltage | Spindle bore | Speed(rpm) | Weight |
| Ralli wolf magnetic core drill | 235 | 19.05 | 270-610 | 15 |
| Eibenstock angle magnetic drill | 220-240 | 38 | 400 | 9.5 |
| Eibenstock core magnetic drill | 220-240 | 42 | 250-400 | 12.5 |
Drilling cum milling machine
Drilling cum milling machine M1TR  
The name drilling and milling suggest that drilling and milling work is performed on the same machine. It is found in industries for drilling hard materials.
| | | | | |
| --- | --- | --- | --- | --- |
| Product name | Power | Size | Speed(rpm) | weight |
| SMS drilling cum milling machine | 1/2Hp | 19 | 1440 | 175 |
| SMS drilling cum milling machine without accessories | 1hp | 25 | 1440 | ~275 |
Coring machine
The core drill machine is specially used to remove the cylinder section from the material similar to the hole. Professional construction companies use coring machines.
Hilti machine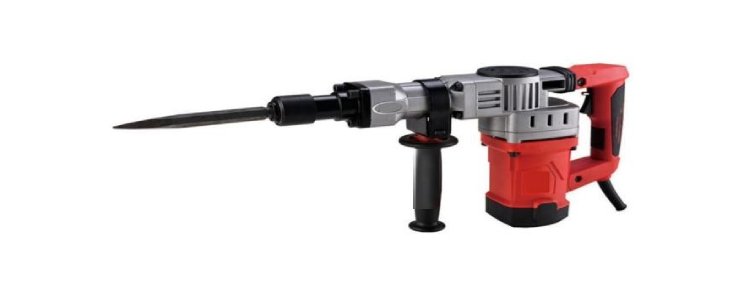 Hilti rock drilling machine
The Hilti machine is considered to be one of the professional brands. Prices for this machine vary depending on the model. Each model of this machine has its characteristics.
Top two hilti machine and their key features:
| | | | | |
| --- | --- | --- | --- | --- |
| Product name | Single Impact energy(j) | Chuk size(mm) | No load speed(rpm) | Weight(kg) |
| Te 1 rotary hammer | 1.5 | 4-12 | 930 | 2.4 |
| Te2 rotary hammer | 1.8 | 4-12 | 1200 | 2.7 |
These are all new drilling machine models.
12.Is it easy to buy drilling machine spare parts?
Steel pillar drilling machine
Drill machine parts are easily found. You can buy them online from home. In addition, they can be easily found in the market.
The following are some of the essential parts used in a drill machine.
Drill machine accessories have greatly increased in various capacities. They are divided into two types.
Tool holding device
A tool holding device is used to hold or drive the cutter. There are more parts to it.
Drill chucks
Drill sleeves
Drill socket
Drill drift
Work holding device
A work-holding device is used to hold a piece of work. Some further parts of work holding device are there
Angle Vise
Drill press vise
V-blocks
Step blocks
Angle plate
Drill jigs
Clamps or straps
Clamping stresses
Clamping hints
13.Why is lubrication needed during drilling?
Lubricants are used to protect the life of the drill bit. Let's see why lubrication is used before drilling.
The oil film forms on the surface of lubricating metals. Lubricants are used to convert solid friction into liquid friction. This is the most important and common job of lubrication. Low friction reduces the ability to generate heat at the grilling surface. Friction causes the surrounding space to heat up. More heat is generated when metals rub against each other. If the heat is not absorbed, the system can be destroyed. Lubricant is used for this. Essential for lubricating, cutting oils, and cooling oils used in internal combustion engines. Components such as gears or bearings have limited contact on a limited line or surface. Therefore, increasing the load increases the risk of the system being interconnected and destroyed. Therefore, lubrication forms an oil film that protects the system from increasing loads.
Prolonged use of the system leads to aging and hybridization. Sediment accumulates due to the use of barley oil and hydraulics. Internal combustion engines in particular produce a lot of mascara. So that they do not work properly and their life is short, lubricants are used to clean foreign substances such as soap.
Stone is used to closing the macro gap between systems. The space between the internal combustion engines or air compressor ground piston and cylinder is sealed to maintain internal pressure, combustion gas emissions, and to prevent the influx of external substances. The lubricant works to prevent leakage into the hydraulic system by forming a self-hydraulic film.
Metals produce rust when in contact with oxygen and water Lubricating film is applied to the surface of metals to control rust and extend the life of the system.
14.Which drilling machine is best for metal?
Black and Decker drill machine
The right machine is needed to drill the metal. Naturally, you want to drill effectively without damaging anything. Everything can be destroyed in the blink of an eye. If you choose the wrong machine, you are drilling with the wrong machine. You will not be able to do more than one milliliter.
Let's see which drill machine is best for drilling in metal.
It is the subject for drilling of metal etc. Users will be able to experience comfort while using this device. Due to the grip of the soft rubber and auxiliary handle, it is possible that you can use this tool yourself. It is small in size and light in weight. Due to the grip of the soft rubber and auxiliary handle; it is possible that you can use this tool yourself. It is small in size and light in weight. Different tasks can be done with the help of this machine. It has an Impact on Humming Action. Its rubber grip is comfortable and stress-free. Tighten the short screw of this hammer drill in a more controlled way. It is a faster, easier, and more powerful drilling machine.