Armpro Belt Sanding Machine
Armpro belt sanding machine is made of fine quality metal, not easy to rust, wear-resistant, and has a long service life.With Ball bearings, large torque. Built-in double bearing, non-slip and dustproof.The base is stable and sturdy, can be placed on the table, labor-saving.The belt adjustment wheel has a spring structure to automatically adjust the tightness.The worktable has three plane angles that can be adjusted, and the horizontal belt makes grinding easier. Two worktables are easier to use.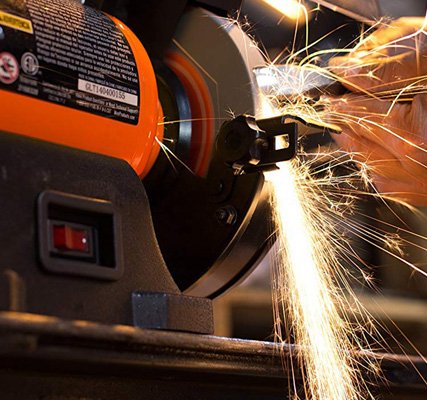 Armpro Grinding Machine Videos
Welcome to Visit Our Grinding Machine Factory
Welcome customers from any country come to visit us, we can show you the Grinding machine workshop, and show the Grinding machine production site.
Grinding Machine:The Ultimate Buying Guide in 2021
A grinding machine is one of the useful equipment used for grinding purpose by giving a flawless shape & equally high surface quality to the material. The machine is also known as a grinder working through abrasive wheel or emery for cutting purpose.
Selecting a Grinding machine will definitely depend upon the quality of the material that your machine have or type of emery used in the grinding machine.
Let's discuss the main features and elements for grinding machine to get accurate size, with accurate geometry particles and perfect grinding product.
Add a header to begin generating the table of contents
1.What is meant by Grinding machine?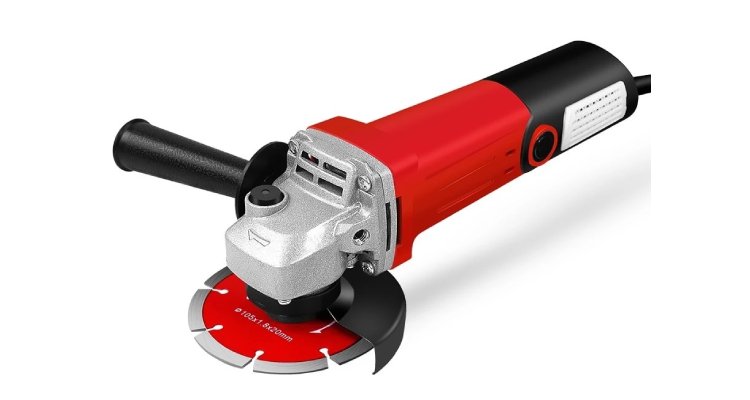 Small Portable Grinding Machine
A grinding machine or simply called grinder is used to cut or to remove extra metal to give proper shape to any of a metal piece.
Grinding machine is very useful in different metal cutting items, most of the people use this equipment while working with different kinds of welding and cutting of metal products to give a proper design to different products.
Well, grinding machine is actually used to give a final touch to the product, it helps you to achieve accuracy and better look for your item with best quality material as well.
There are different sorts of grinding machines that we use in different kinds of metal cutting and metal sharpening like a grinder is also used for machining to give a sharp look to equipment like an axe, knife etc.
A strong rolling wheel is used in the grinder to give speed and accuracy as well to work with different metal items easily. This strong abrasive wheel when rotates it makes the speedy movement to cut the metal.
2.Explain the different technical based grinding machines?
One of the basic types of grinders is handheld grinding machine which is very easy to operate and a single person can easily operate this machine by using his hands.
Handheld Grinding Machine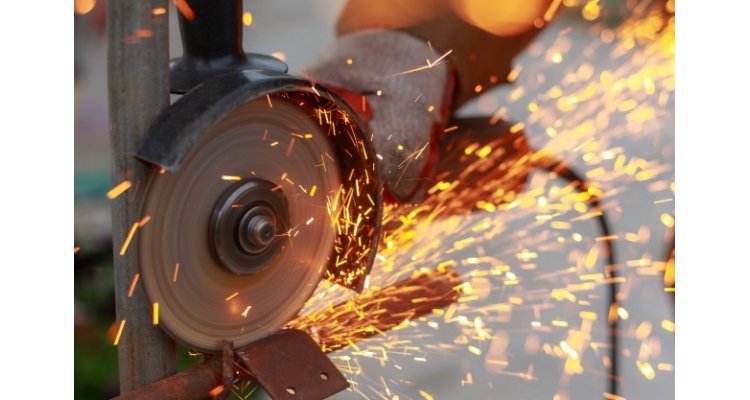 Handheld Grinder in work
Usually, a hand grinder consists of a disk for cutting purposes and there is a handle to easily grip the grinder while working with it. A disc or a plate makes it easy for you to operate the machine precisely by providing a proper width and grip on the machine with the help of a handle.
The disc on the handheld grinder is present on the downside of the machine and covered with a plastic sheet to protect the worker from getting any kind of damage. A handle on one side of the handheld grinder makes it easy for you to provide power when you are working with a hard metal material.
It is also called as an angle grinding machine because of its handle for ease in working and a guard on the backside to pick the machine and this backside guard is used to guide the disc of the machine to shine or cut the material in the desired way.
Simply a two-handed machine is called a handheld grinder which is used for metal surface cutting or metal shinning purpose.
Surface Grinding Machine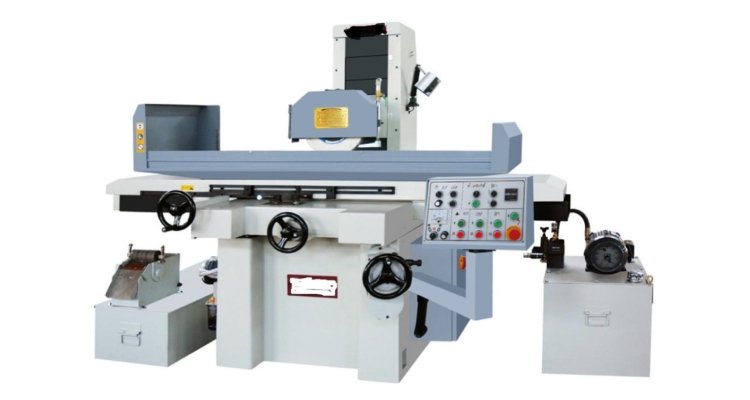 Surface Grinding Machine
A surface grinder is usually a large size grinder used for cutting and to give a shape to the final workpiece. It is not a basic type of machine like handheld grinder instead it is used for more accurate production.
With the help of this machine you can get quality material in better shape as it will ease your work to remove extra material from the final workpiece and provide a shining look to your item.
This grinder is very useful to work with different kinds of household items like tables made up of metal to remove any kind of extra material during the manufacturing period.
A surface grinding machine basically contains an abrasive material at the end of the rolling which purify the edges and corners of the production material if there is any kind of extra metal stuck on the item.
If there is a single abrasive cutting point at the end of the wheel it will called as a single cutting point whereas joint abrasive points make it multi cutting tool for better working and higher quality production.
Double Disc Grinding Machine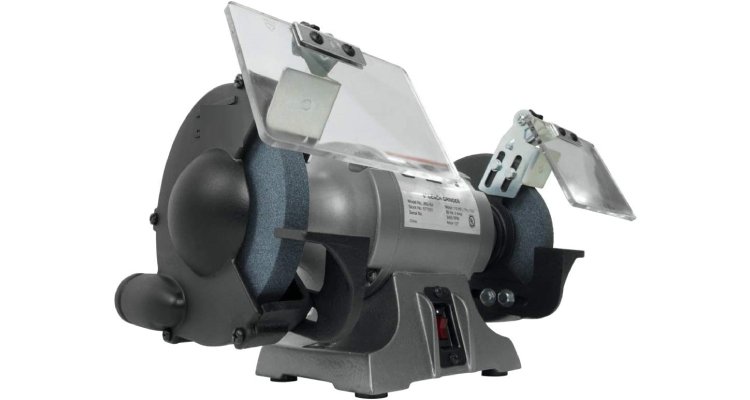 Double Disc Grinding Machine
A double disc grinding machine is an up to date grinder used for high precision and accuracy in different products. It will reduce your cost for pre-machining for about 50% and helps you to gain highly accurate and precise product by doing the double grinding on the same product in a single round.
It means you will get tolerance free delivery and double work rate in a single production cycle as both of the discs are installed opposite to make it easier for you to grind the same item on both sides with ease and consistency.
Two abrasive wheels opposite to each other make your work more effective in terms of grinding and shaping of the material you can watch both sides of your material easily just by looking at it during the run time.
Cylindrical/Circular Grinding Machine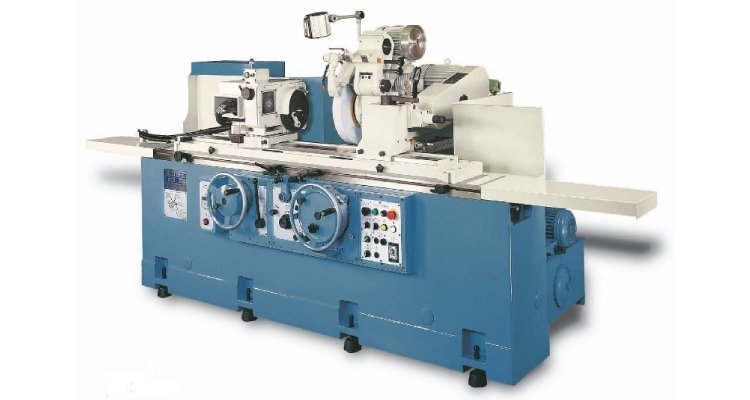 Cylindrical Grinding Machine
A cylindrical grinder basically works on the principle of the central axis of the product. By using this grinding machine you can easily shape any type of material easily by making some small effort.
Most of the crankshafts, circular nuts, etc are designed with the help of this grinder because it has the flexibility to work with different sorts of materials depending upon their central axis.
Different kinds of metal rods that we often see on different workshops are made up with the help of this grinding machine and it is not just limited to these kinds of materials you can utilize it for shaping different kinds of items.
Both of these machines have different working abilities and different functionalities according to the type of material that you are using.
1x30 Belt Grinding Machine
A 1*30 belt grinder is used for sanding purpose, removal of extra elements and to give a fine quality shape to the stock material. This grinder is made with heavy durability to cope with multiple hard products.
This grinder is basically contain two types of grinding wheels one grinding wheel is used for disc wheel for cutting or other purposes whereas an abrasive coated belt of 1*30 combination is made for high surface removal for extra materials to refine your product.
You can easily tilt both disc and an abrasive belt for 45 degree making your production fine in quality and shape at the same time.
2x48 Belt Grinding Machine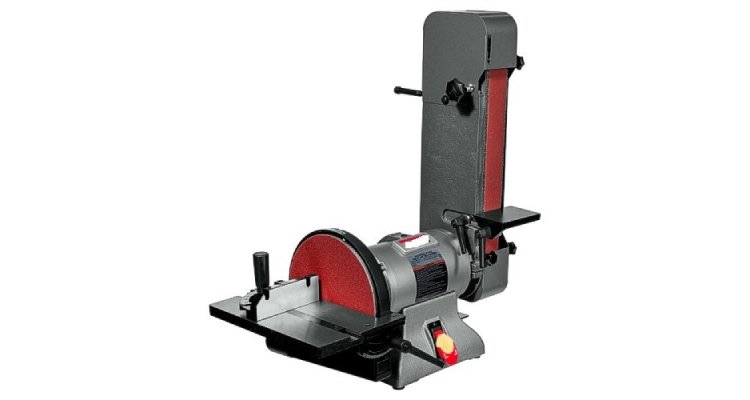 2*48 Grinding Machine
This grinding machine is a latest technology based grinder used for multiple type of designing and shaping because when you have 2*48 belt grinder it has a large part on the head of the wheel having belt on it and every grinding procedure is controlled with the help of these belts.
Usually, the belt installed on the grinding wheel is about 2 inches in width and 48 inches of length including a powerful motor of 1hp which uses 110 volts. Weight of this grinder is about 90 pounds.
There are different sorts of functions that you can perform with the help of this highly designed belt grinder like you can use contact wheel for removing material, slack belt is also used for rubbing the metal surface and platen grinding is also one of the process that you can easily perform.
3.How many types of a Grinding machines are available there?
There are many types of different grinding machines depending upon their manufacturing level and design. Here are some of the popular grinders that are mostly used in different industries to work with metal products.
Bench Grinder 
Usually, these types of grinders are designed in such a way that they can be easily fixed on some type of bench or table to easily work with different products. There is an on/off button available on the lower side of the machine for switching.
Basically, it has two wheels on both sides one wheel is called as coarse wheel and the other one is fine wheel or core wheel. Both of these wheels work with different types of materials.
Pedestal Grinding Machine
Most of the automobile workshops use this grinding machine to work with different spare parts of the vehicles to polish them or to give them a shape. This grinder is operated with the help of an electric power having a motor in the center with working wheels on both sides.
Pedestal grinder is always fixed on a heavy iron ground pedestal to provide work flow with less vibration and more accuracy. This grinder is also very effective in terms of cutting various metal tools.
Portable Grinding Machine
Portable Grinding Machine
One of the most popular grinders which is very flexible and easy to carry anywhere to work with different kinds of materials for cutting or for shaping purpose. It has a long wire as a tale connected to a motor with a convertor.
On the top end of the portable grinder there is a horizontal/vertical wheel having a simple sharpening disc or may be an abrasive disc to work with the material. A handle is present on one side of the grinder to control the movement of the disc according to the work flow.
Many of the iron workers use this machine for cutting or for shaping the iron products like iron gates, tables, leaders etc.
Precision Grinding Machine
Precision Grinding Machine 
There are different types of precision grinders that are available in the market according to the type of product that you are going to work with. This is one of the most flexible grinders to work with because it has a moving spindle which gives you ease to move the wheel in upward, downward or right, left direction for more accuracy in production and better quality.
Spindle plays a very vital role in the movement and cutting of the material in this machine because it is connected to the base table of the grinder along with the motor to describe the movement of the wheel.
There are some categories of precision grinding machine.
Cylindrical Grinding machine
Internal Grinding machine
Form Grinding machine
Tool and Cutter grinding machine
Surface Grinding machine
Centerless Grinding machine
A.Cylindrical Grinding Machine
These types of grinders are used to give a circular or cylindrical shape to the product with the help of grinding process. Different rollers that we often see in daily life like water pipes or other cylindrical metal products shaped with this grinder.
B.Form Grinding Machine
Gear Forming Machine
This grinder in used to make a whole in the metal item by giving it a proper form like we see a metal nut having rotational edges which helps to move the outer element of the metal towards center of the nut.
A metal rode present on the pointy end of the wheel make the forming easy for you and helps to properly make a forming whole inside any metal element.
C.Centerless Grinding Machine
One grinding wheel and the other one is rest wheel which is used in this grinder to provide a width at the center of the grinding work. You can easily move the grinding wheel whereas the other one stays on its position.
In this grinder the product is grinded in the center of two wheels for giving him a shape or for other grinding purpose.
4.What is vertical Grinder machine?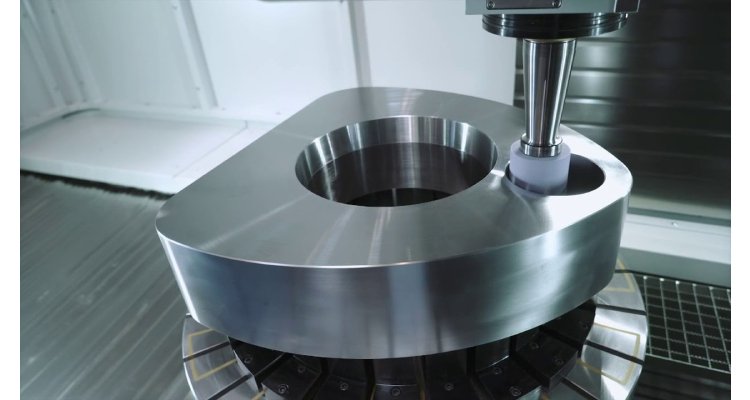 Vertical Grinding Machine
Vertical grinder works same as the other grinding machines but it has a vertical rotational wheel with different types of disc to use like forming rode, sharpening disc or abrasive brushes to clean the metal item. With this grinder you can easily work with heavy metal items that are not easy to lead and unload from one platform to another.
Mostly, a typical vertical grinding machine is very flawless in removing extra material on the item because the grinding wheel is destined upside down to make the work flow more accurate and better.
There are different kinds of grinding works that you can do with this vertical grinder like stators grinding, gears grinding, inner rings for cables and nuts, and cutters etc. Most of the grinders that are handheld or portable they use vertical grinding wheel to make the grinding process easy.
5.Explain the usages of a Grinding machine?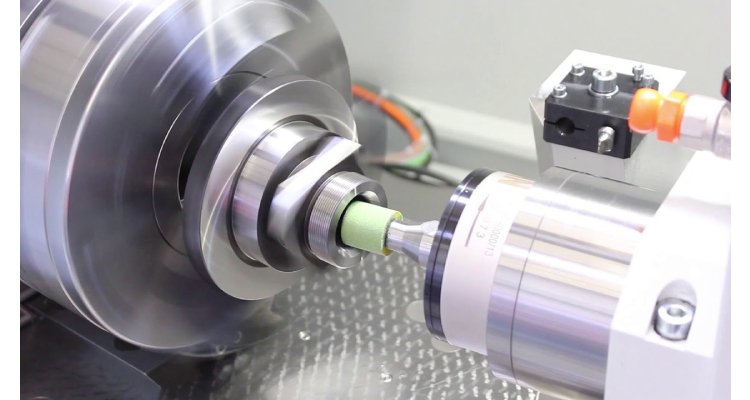 Grinding Machine
A grinding machine is probably useful in different kinds of material cutting as well as for removing any kind of extra material which is present in the product. The most common use of the grinding machine is to work with any kind of surface metal or any metal element or product.
You can easily give any sort of look or cutting edge to the metal item by using different kinds of grinders. As one of the most common portable or handheld grinding machines is used for cutting iron products nevertheless, you can also cut or give a shape to different ceramic tiles that are used in the house building purpose.
Different abrasive discs are used for polishing specific types of products or you can also use a cutting disc or a forming disc which is normally used for grinding a whole in a metal item with a specific rotational phase.
As the grinding machines are available in different shapes and sizes providing you the width to work with a small size or a large size material precisely without any major effort.
You can also use the grinding machine to give a fine shape with great accuracy and more demanding quality to a product with a flawless work rate.
There are multiple industries in which grinding machine is used like in automobile industry grinder is used to refine the spare parts of the vehicles. Different iron shop workers use this machine for cutting and for tooling purposes as well.
In the electrical industry, this machine helps engineers to purify the electrical product with ease and portable use to easily generate the specific type of product according to their work demand.
Every type of repair, refurbishing, and flourishing work on different kinds of metal products is done by utilizing a grinder machine and a bench grinder is a top example of this type of work.
6.What are the different benefits of a Grinding machine?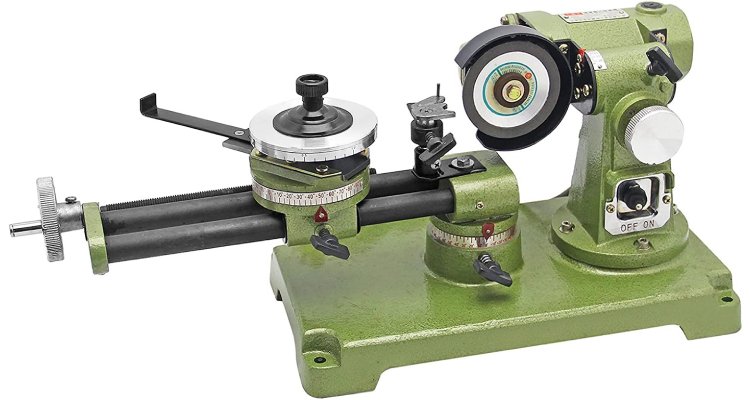 Grinding Machine
Grinding machine will provide you different kinds of advantages if you want to work with different metal elements depending upon their characteristics and volume.
It will help you to gain accurate and highly precise item with the help of grinding.
You can easily work with any kind of hard metal material without making any major effort.
As the machine is flexible and make it easy for you to move the grinding wheel so it will not require any special pressure to be applied during the grinding.
You can constantly work with the metal by using high temperature to make flawless delivery.
Grinding machines are very precise to give you the required shape product in a comfortable manner by understanding the dimensions.
You will be able to get highly accurate dimensional product if you work with the grinder.
It will be easy for you to cut any type of metal by adjusting the speed of the disc according to the type of metal.
If you find a rigid type of metal and you want to make it look better by removing the extra material on it then grinder will ease your work to give you smooth and shining surface while working on that specific product.
Formation of a metal can be done easily without using any heating temperature manually.
7.Is there any drawback of using Grinding machine?
Double Disc Grinding Machine
While removing the extra material present on the product do not put extra pressure on the grinding wheel because it may damage the wheel and your product.
These are some of the disadvantages that you can get if you do not work with care, however, if you work carefully and utilize your mind in a positive manner then you can easily overcome these drawbacks.
8.What is the working principle of a Grinding machine?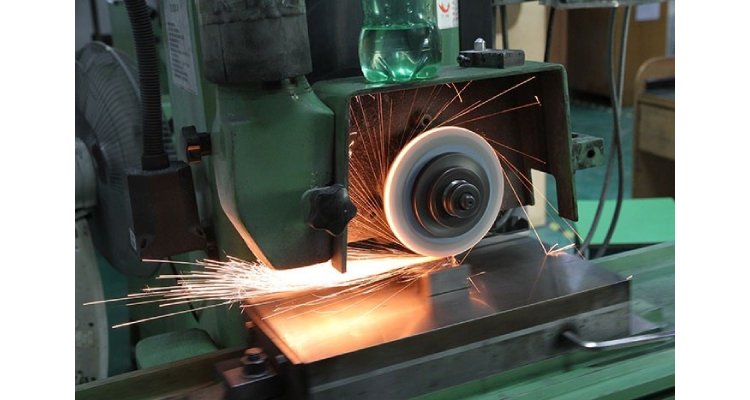 Grinding Machine
Every grinding machine works on the principle of relative motion combining with the grinding process to make the grinding on the surface material easier and comfortable.
Let me explain to you the basic and general working principle of a grinding machine.
Step-1
First of all every grinding machine has an electric motor which helps to operate the different parts of the machine by providing electric power. Mostly, this motor is present at the center of the grinder having conveyor belts on it which connects the rotating rode with the motor.
When the electric switch is set on then this motor rotates at a certain RPM (Round per Minute) speed. Every grinder has its own RPM speed depending upon its type.
Step-2
Belts present on a motor shaft are connected on the other side of the rode for the rotational movement of the rode to operate the outer wheel.
In this way when motor and rode rotates at a certain speed they control the movement of the grinding wheel.
Step-3
When the grinding wheel rotates it helps you to work with the metal item with the help of grinding process.
In this way a grinder works to provide you ease and flexibility to work with different types of metal items. The grinding process of a grinder is very simple as I explained you.
9.What are the important components of the Grinding Machine?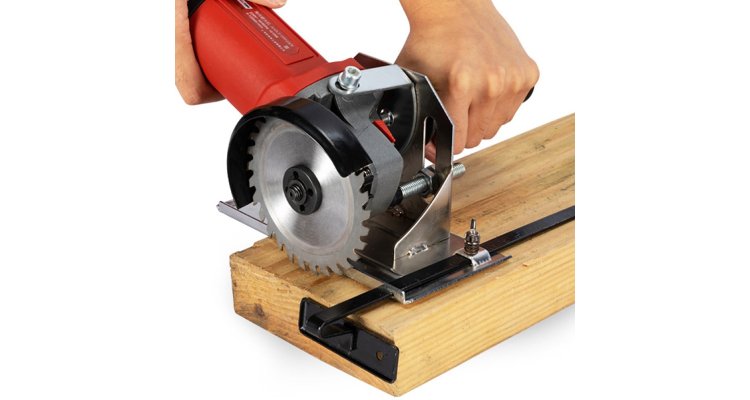 Grinding Machine
Grinding machine is based on different kinds of parts and combination of these different components makes the grinding process easy for the grinding machine.
Here is a list of some basic and general components of the grinder that you need to work because you may need to replace these components if they get damaged.
Base of the Grinder
Base or bed is one of a major part of the grinder which gives the stability to the grinder during the grinding process. It is basically an iron cast present on the ground having different parts of the grinder connected to it.
This part of the grinder works as a central point to give you stability when you face the grinder.
Table
Usually, there are two kinds of table that are present on a large size grinder one is called as the upper table and the other one is lower table or base table.
Lower table always connected to the base bed of the grinder to provide the transversal motion during the working to easily slide over and move the grinder by using some hand power.
On the other hand, the upper table is present on the center of the lower table. This table usually holds the movement of the tailstock and the headstock according to the type of specific workpiece that you are working with.
Upper table gives you the flexibility to swiveling or clamping the grinder according to the surface of the material like flat or tapered.
Usually, these tables are installed with double grinders for making the grinding process in the center of the wheels of the both grinders like centerless grinder.
Grinding Wheel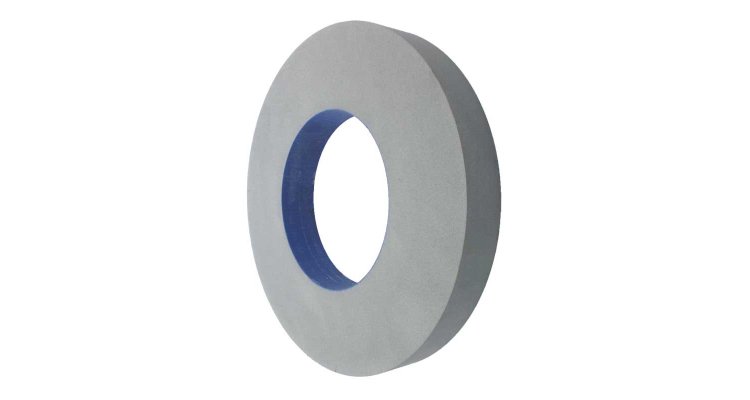 Grinding Wheel
A wheel is one of the basic parts of the grinder which is used for the grinding purpose because when a grinder starts its working a wheel having an abrasive component on it is used for working with the metal item.
May be you will find two wheels in some grinders because when you have to work with a heavy duty material you need to manage it from both ends and for this purpose a rest wheel is also available on the other side of the grinder which is fixed and the other one which is called grinding wheel it has a spindle which helps you to move the grinding wheel in the required direction.
Wheel Guard
A guard on the upper side of the grinder wheel is installed with the grinder because it provides you the safe environment to work with the grinding wheel without any problem of getting major damage.
Most of the guard wheels are made up of steel but some ordinary grinders have plastic guarding wheels as well because they are cheap to buy.
Wheel Head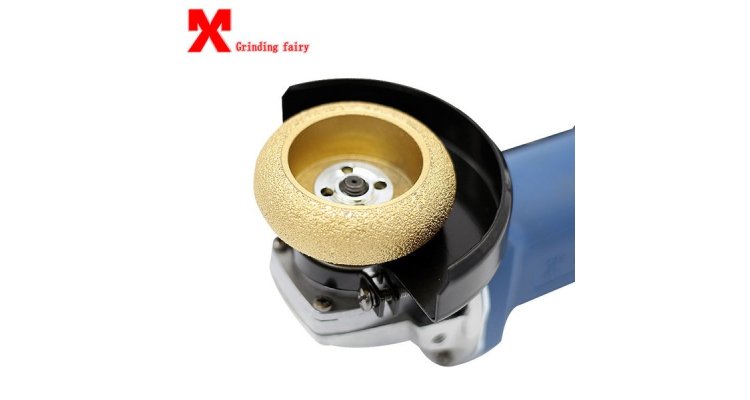 Grinding Wheel Head
A wheel is mostly installed on the rolling grinding wheel with an abrasive material to provide you width and functionality in grinding process.
Some of the grinding wheels have a cutting disc on top which is used for cutting purpose for different metal items.
These are some of the major and basic parts of the grinding machine that you must need to know there are some minor parts of the grinding machine as well but they are not that much important as compared to these parts because they are considered to be the building blocks of the grinding machine.
10.What quality standards should keep in mind when you are buying Grinding machine?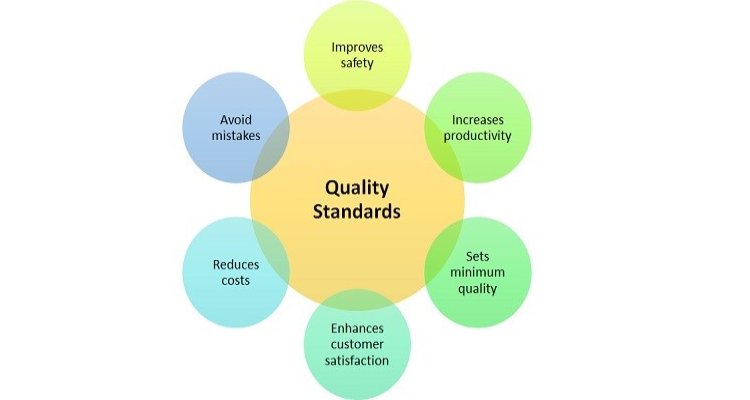 Quality Standards importance
There are some manufacturing standards that a grinder machine must pass to be available for the customer because these standards defines the work rate and efficiency of the machine according to the type of production.
These are some quality standards that a grinding machine needs to pass during the way of its manufacturing to define its working capacity.
ISO
This quality standard defines that the requirements in the making of this product is according to the customer and relative market laws. Different types of quality management systems came into this quality standardization.
This standardization tells all about the requirements that every aspect of requirement is made according to the QMS to fulfill the needs of industry.
GMP
Every machine is manufactured in a stage wise procedure so does the grinding machine and GMP standardization in the machinery manufacturing tells you about the practices that are made on this product during the each developing stage.
Good Manufacturing Practices standard shows that your product has passed through different practical procedures before coming into the final shape so, that the rate of error during the grinding process will be very minimum.
There are some documents that must be provided to you with the grinder as well to show that your machine is made through an authentic source with best manufacturing practices.
CE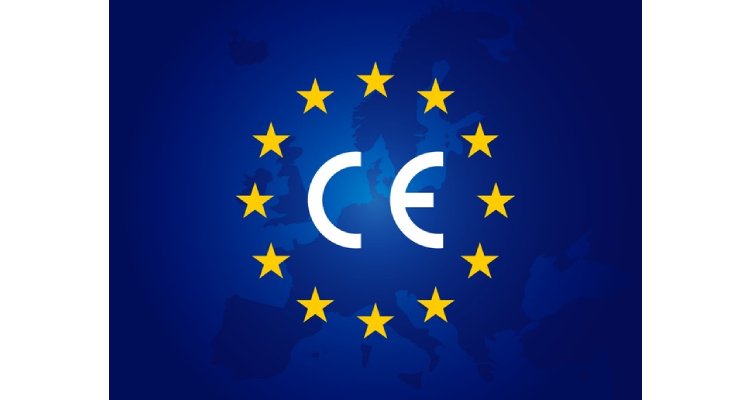 CE standard logo
One of the safety standard that shows that your product is made according to the requirements and pass different sorts of testing systems set by the European union to satisfy the customers and companies.
You will often see this mark when you buy any kind of a machinery from the market which is defined by the European standardization system to make sure that your grinder is safe for working and reliable.
CGMP
This quality standardization is affiliated to FDA that shows what types of practices are made on your product currently before delivering it to the customer. It helps you to identify the strength, quality of the material, durability and lifecycle of the grinding machine.
These are some of the major and important standards that you need to check when you are buying any kind of a grinding machine for your workplace because it will help you to understand the basic qualities of the grinder and to make sure that you are buying it from the right firm.
11.How much electric power will be required to operate a fully automatic Grinding machine?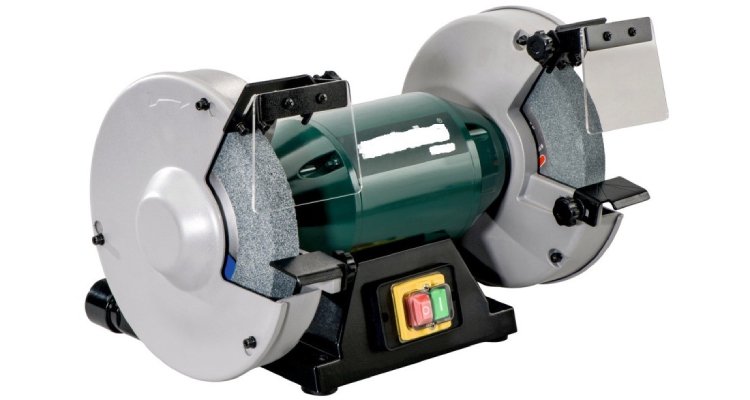 Double disc Grinding Machine
As there are many kinds of grinders that are available depending upon the work type and counter with different types of materials so they all have different types of power consumption rates in terms of electricity.
If you are working with a grinding machine for grinding purposes then it will utilize about 1,000 watts of electric power to run the grinding wheel as the power is used by the motor.
On the other hand, when you are using a grinding machine for cutting small and simple metals then it will utilize about 1,500 watts to run the cutting disc present on the top of the wheel.
And it will take about 2,500 watts of electric power to cut different types of heavy metal items because the grinder will require more energy for greater RPM speed to cut through the heavy and strong duty materials.
The least power consumption grinder is when you have a polishing one because polishing is an easy process as compared to the other it will take 500 watts of electric power to work with the polishing of the metal item.
So, the electric power for a grinding machine is not specified you may need more electric power in the forming grinder it lies according to the type of the grinding machine and type of material that you are working with.
12.Do you need to buy some extra equipment to safely work with a Grinding machine?
There are many extra parts that you can compensate with while working with the grinding machine it is not necessary to buy those extra equipment for grinding process because some of the components are made specially to work with large size materials.
A pair of table which is used for the movement of the grinder can be used as an extra gadget because when you work with a double grinder you can simply move the grinding wheel instead of using a spindle for the movement of the grinder with the table.
Base of the grinder is very important before you start working with it because it works as a main component of the grinding machine without any base you will find it difficult to work with the grinder.
Base can be made up of an iron material which is very hard to move as it controls the vibration of the grinder.
13.What are the specifications of a Grinding machine?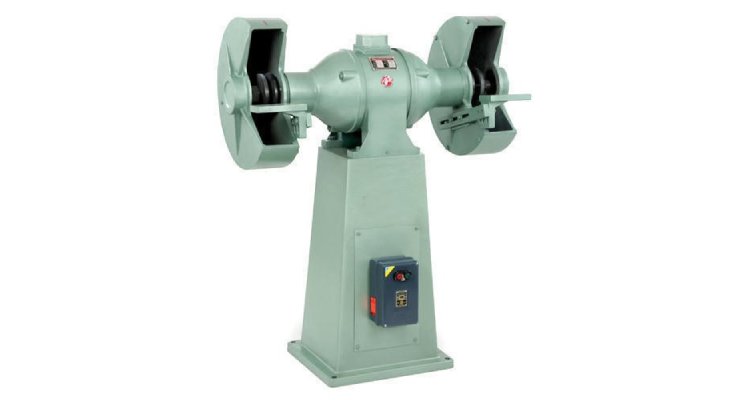 Grinding Machine with iron base
Specifications of a grinding machine depend upon the type of grinder that you are using because every grinder has a different type of grinding wheel for working with different sorts of material.
These are some general technical specifications table that you need to know for a grinding machine.
| | |
| --- | --- |
| Components | Description |
| Motor for providing power. | Normal grinders have 500 watts power and vice versa. |
| Speed of motor. | 3,455 RPM. |
| Product Dimensions. | 16.80*11.36*9.44 Inches |
| Voltage required. | 110- 140 volts |
| Warranty of product. | 1        Year. |
As the grinding wheel have different sorts of heads on it to work categorically according to the type of product here are some of the components that are used to form an abrasive wheel and these are the specifications like Resins, Metal, Epoxy, Vitrified Glass Materials and Rubber.
Depending upon the kind of a grinding machine you can use a flat grinding disc on a wheel or may be cup shaped discs for rotational purpose. All of the specifications majorly depend upon the type of a grinder machine that you are working with.
14.What is the purpose of a belt combination in a Grinding machine?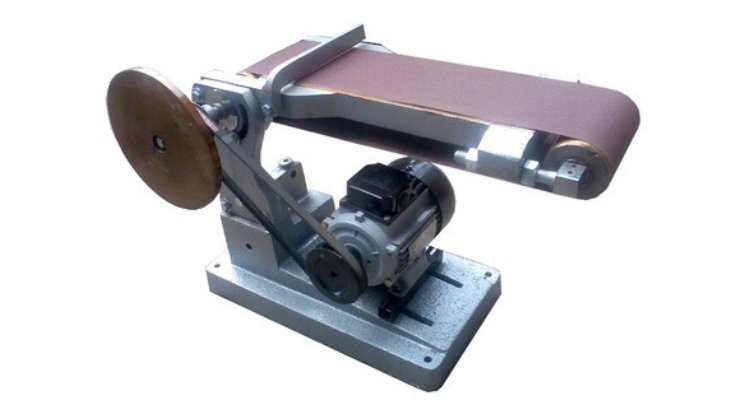 Belt Grinder
Belt grinding machine is one of the finest grinder which works with the help of sand belts that are installed with the grinder to make your work more efficient.
Most of the belts are coated with the abrasive material which is used for the removal of an extra material on different products. Inside working of a motor to rotate the metal rode is also done with the help of belts or concern pullys because every type of rotation of a grinding wheel is controlled with the help of a grinding machine.
A belt grinder normally have a belt on the grinding wheel which moves on the surface of the material to give the product a fine shape and high surface accuracy. Normal grinders have a disc to work with the different sorts of products but a belt combination grinder having belts on top of the grinding wheel instead of a disc which makes them more accurate in terms of removing the extra material.
Every kind of trimming on different metal items and shaping of different surface materials is easy with the belt grinding machine.
15.How to select a best grinder according to your work purpose?
There are some important aspects that you need to be aware of while selecting a grinding machine for your work purpose. Here is the list of some points and features that you need to look forward while purchasing a grinding machine.
Type of Manufacturing Product
Selection of a grinder is heavily based on the type of production that you are going to get by working on the machine because if you are looking to work with cutting of different materials then you need to have cutting grinder according to the rigidity of the manufacturing material.
Forming grinder is used for forming purpose as it uses different kinds of forming rods which helps the forming of the material.
Design and Shape of the Grinder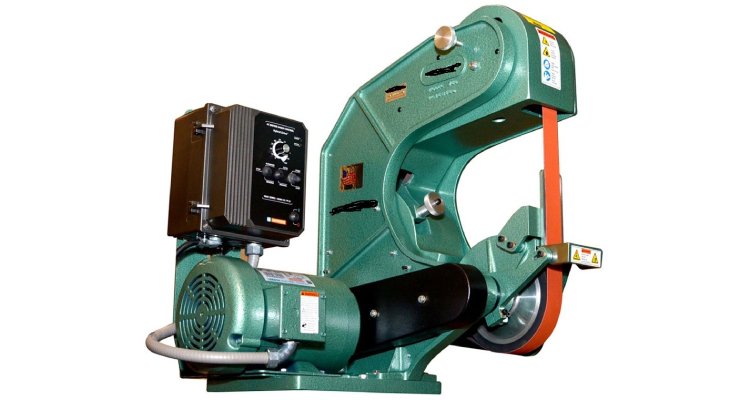 Belt Grinding Machine
If you are having a small production unit then you can use small size grinder or portable grinder because large size manufacturers use gigantic grinding machines with multiple working abilities.
A double disc grinder is often came in large size and in small size as well because most of the double disc grinders are used to work on both sides of the material at the same time to help you save your time by doing all the double grinding process in a single round.
Material Type
Rigidity and durability of the material is also made an impact on the selection of the grinder because some of the metal items have less compact molecules and they can be easily broken or torn apart as compared to hard and rigid metal items because they require heating temperature for cutting the material.
Functionality & Certification Level
If you can work on the grinder easily without any requirement of a major effort like what is the automation level of the grinder and easy it is for you replace different parts of the grinder in case if they get damaged or not working properly.
There are different types of certificates that you need to look forward when you are selecting a grinding machine like basic standards, material & quality standards. Most importantly look for the quality standards to make sure that you are having a best grinder which is manufactured through best practices under different working conditions.
16.Is it possible to grind concrete surface with a normal grinder machine?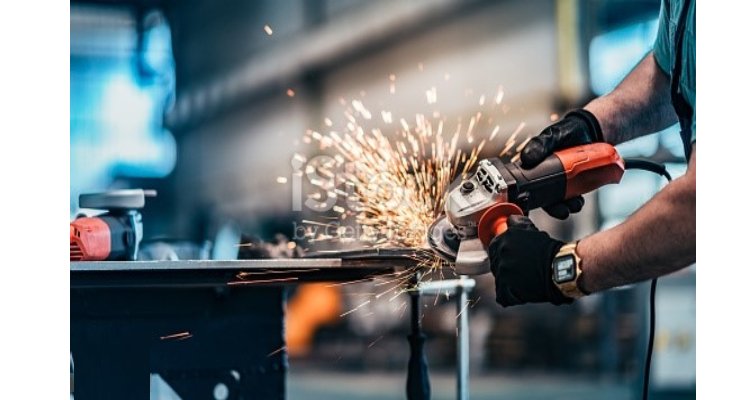 Grinding Machine in work
As most of the grinders are used for working with different kinds of metal items for cutting and also for shaping different metal materials that we use in our daily life purposes.
Most probably every grinder is made for metal items but the grinding wheel plays an important role in the working ability of the grinder like if you have a forming grinder then you can replace a grinding disc with a metal rode having a knock at the top to go inside the hard surface to remove concrete particles.
However, a grinder is such a powerful piece of equipment that you can utilize to work with different sorts of components just by replacing the head of a wheel if it has the ability and functionality to do so.
Normal grinders are not that powerful to work with concrete walls and surfaces made of concrete because their motor uses low voltage power so it will be hard for a normal grinder to work with concrete materials there are some special grinders that are made for these kinds of work procedures.
17.Why you should clean & oil the different parts of the Grinder machine?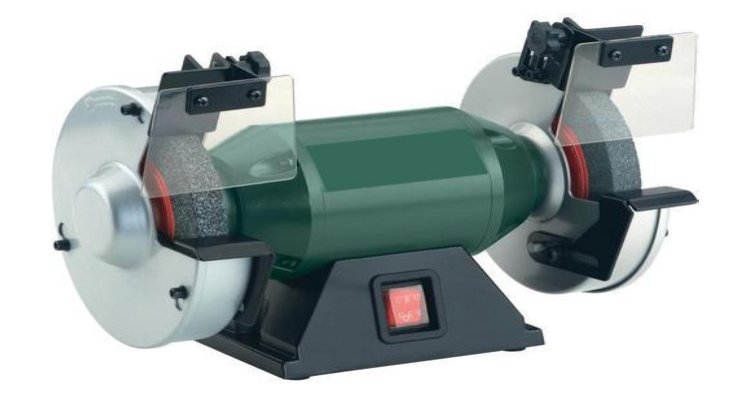 Grinding Machine
Cleaning and oiling to different working parts of the grinding machine will be very beneficial for you in different terms because smoothly working components can handle every kind of component easily and there is no need for you to put extra pressure on it.
Some experts also suggest that oiling on different components of the grinder will make your grinder stain-free and keep the rusting away from different parts because if any part of the grinding machine started rusting then it will expand like a fire and you will not even know.
By doing regular cleaning or maybe weakly cleaning on the grinding machine will maintain your machine in good shape and you will get flawless production with minimum chances of error.
Oiling different edges and parts that get in contact with each other during the grinding will help your machine to work smoothly with less retarding force.
Cleaning and oiling also play an important role in the durability and lifecycle of the grinding machine because if you do not clean and oil its different parts your machine will not last longer and you may have to encounter different sorts of problems and trust me problems with these machines are very hard to handle.
That is the whole guide and explanation about the grinding machine I hope you find it helpful and informative.