Top 10 CNC Pipe Bending Machines Manufacturers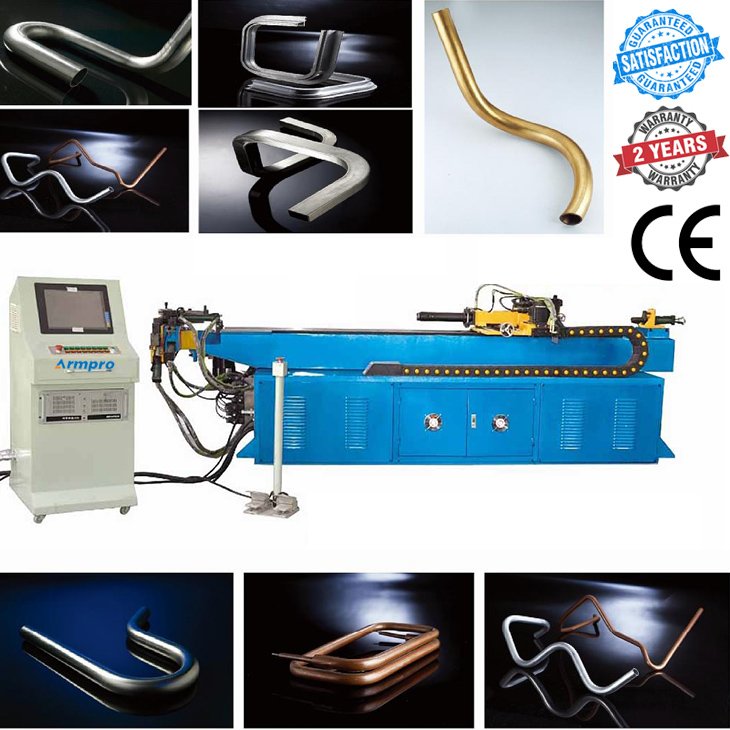 Computer Numerical Control pipe bending machines, commonly known as CNC pipe bending machines, are advanced manufacturing tools that are designed in order to bend metal pipes and tubes with high precision and repeatability. CNC machines utilize computer-controlled processes for the accurate manipulation of pipes into desired shapes, angles, and curves, ultimately making them invaluable and useful in various industries such as automotive, aerospace, construction, and much more.
Below are some key features of CNC pipe-bending machines:
How to make an informed decision when purchasing CNC pipe-bending machines?
Purchasing a CNC pipe bending machine is one of the main significant investments. Therefore this decision requires very cautious consideration in order to ensure you make an informed decision. Below mentioned are some key factors that should be considered when purchasing a good CNC pipe-bending machine.
Features like Bending capacity, bending radius range, bending angle accuracy, bending speed and mandrel capacity of the machine that you are purchasing.
Under the CNC control system, factors like user interface, programming software and customisation functions can be analyzed. When the user interface is friendly and easy to use, it makes the customer's experience better. This may result in the manufacturer receiving positive feedback. 
evaluate the overall build quality, materials used for construction and the reputation maintained by the manufacturer. A longer lifespan and better durability can be expected from a well-built machine. In addition to the build quality, pay attention to the quality of the key components of the machine such as clamps, sensors, actuators and hydraulic systems. When the components are reliable, consistent and accurate bending results can be achieved.
Th flexibility of the machine:
As different sizes of pipes would be used for bending, the availability of various tooling options can be considered in the machine that you plan to purchase. A machine that contains versatile tooling options enables the handling of a wider range of products. 
Some machines have the ability to perform multiple bends in a single cycle, which increases the efficiency. Therefore, based on the capacity, such options can be considered as well.
Analyze the reputation of the manufacturer in providing customer support, maintenance services and most importantly the availability of excess spare parts. The availability of a responsive support team can reduce the risk of longer downtime and any disruptions in the functionality.
Also, you can check for any available training programs that will help your operators to ensure they can handle the machine effectively and enable them to verify any doubts they have about the machine. 
analyze the cost of the machine. This should include the initial investment as well as long-term costs. When analyzing the initial investment, go through the costs of different machines and their specifications. 
When considering the long-term costs, factors such as maintenance costs, energy consumption and potential downtime can be taken into account when calculating the cost of ownership.
When purchasing what could be a very important and long-term asset for the company, it is important to consider references and reviews from previous users and critics who have better insight into the machinery. References can be obtained from other businesses that have already purchased similar machines from the manufacturer. Also, check for reviews that have been posted in online forums by industry peers in order to obtain an outline of the machine's performance and reputation. 
| | | |
| --- | --- | --- |
| Rank | Manufacturer | Headquarters |
| 1 | SOCO Machinery | Taiwan |
| 2 | RALC | Italy |
| 3 | AMOB | Portugal |
| 4 | FACCIN | Italy |
| 5 | Tube Form Solutions | Indiana |
| 6 | PHI | USA |
| 7 | Armpro | Japan |
| 8 | Schwartz-Robitec | Germany |
| 9 | AddisonMckee | United Kingdom |
| 10 | BLM GROUP | Italy |
Profile: A popular and successful manufacturing company, with its headquarters based in Taiwan, SOCO Machinery is a manufacturer of many industrial tools that has brought a significant change in industries located worldwide. SOCO Machinery has succeeded in doing this by offering advanced technology and irreplaceable machine performance. One of the key reasons for SOCO machinery's success is their dedication to paying attention to their immediate stakeholders like employees, partners and customers. This helps in their constant development and enables them to deliver products and machinery with high quality.
Reasons for recommendation: SOCO is dedicated to research and development along with innovation. For this purpose, they apply cutting-edge technology which increases the efficiency of their machinery. Especially, their CNC Machines are equipped with 3D software. This makes it easier for the operator to run the machine. 
Key Products:
Automation cells

Laser cutting machines

Tube bending machines

Tube cutting machines

Non-ferrous cutting

Tube end finishing machinery

CNC Pipe cutting machinery

CNC Pipe bending machine
Headquarters: Italy
Profile: RALC Italia, with their thirty-year-long experience and high design capacity makes them the ideal manufacturer to fulfil all machinery needs. They specialize in the development of innovative and highly customized solutions. This makes them capable of constantly guaranteeing the best performance in production. They have provided customized solutions in various industries including automotive, construction, and furniture. Naval, aerospace, medical, railway and many others. 
Reason for recommendation: RALC ITALY has been one of the leading industrial giants since 1996. They have a constant aim of increasing their know-how and paying comprehensive attention to delivering cutting-edge services and satisfying customer needs. Their ability to identify themselves with the demands of their customers enables them to create customised solutions, and modular systems with a high degree of customization, which can deliver machinery with high efficiency and accuracy.
Key products:
Aerospace Machinery

Building and construction machinery

Medical furniture

Fitness equipment

Railway industrial equipment

CNC Pipe bending machine
Profile: Based in Louro, Portugal, AMOB has 60 years long experience in industrial machinery like tube bending and tube forming. AMOB group of companies looks forward to strengthening their position in the Portuguese market by developing new partners, a strong client base and also through knowledge sharing. The company provides solutions such as preparing, supplying and assembly of structures, and supplying and applying metal coatings. 
Reason for recommendation:
AMOB is reputed in the industry due to their ability to develop customized and differentiated solutions that are tailored to each project, for any part of the world. Their main objective is to lead the market and be among the main players in the industry. Also, they strive to be a reference of excellence in their products and services in the metalworking industry. They have also established a partnership with other leading companies that makes them available globally in order to fulfil the needs of their clients. 
Key products:
Tube bending machine

CNC pipe bending machine

End forming machine

Roll forming

Hydraulic press
Profile:
FACCIN, based in Italy, is a specialist in designing, manufacturing and selling plate rolling machines, bending rolls, profile bending machines, dishes head machinery and special machines that include ship frame benders, hydraulic presses as well as plate straightening machines. One key feature of the company is that customers are always welcome to visit the FACCIN facilities to witness the quality of their manufacturing with their own eyes. 
Reason for recommendation: 
FACCIN uses the latest and the best technology, in order to follow each and every step of the construction of their machines. FACCIN designs future-proof machines that have the highest efficiency and a very short delivery time. This quality has earned them the ISO-9001 certification for more than 10 years. They also implement the Lean philosophy in each and every phase of their manufacturing processes. 
Key products: 
Angle roll bending machine

CNC Ppe Bending machine

Dished heads

Metal fabrication

Pressure vessels and heat exchangers

Earthmoving

Road/railway tankers

Shipbuilding machinery

Wind towers 
Profile: All Departments of Tube Form Solutions are solely dedicated to maintaining reliability and bending precisely. They also engage in the production of end-forming machinery that initially came to be known as Tube Form Solutions. They manufacture CNC tube benders for companies that build products like fuel lines, hydraulic systems, exhaust systems ls, seat frames, brakes and structural components.
Reason for recommendation:
At Tube Form Solutions, every piece of machinery including bend dies, clamp dies and pressure dies, are customized and tailored to suit your needs and requirements. Their products are all manufactured up to the highest standards in order to ensure they have the longest life and the highest consistency possible. 
Key products: 
CNC Tube Benders

CNC pipe bending machine

Tube Saws

Tube Bending Machines

Tube Cutting Machines

Tube Fabrication 

Profile:
Based in Japan, Armpro has been leading the industry and engaged in the development, production and manufacturing of metalworking machinery and tooling equipment. They pay serious attention towards fulfilling the needs of every customer. This has resulted in positive  responses from  more  than  98%  of  their  customers  and  about  90%  of their customers return to them for more service. Armpro also receives a lot of recommendations from their customers due to the exceptional machinery.
Key Products
Armpro produces metalworking tools and machinery related to the drilling, tapping, and chamfering work sector. Especially,they provide the necessary metalworking products used in the automotive  industry,  molds  &  dies,  auxiliary  in  CNC  machines,  plate industry, mechanization industry, aerospace industry, consumer electronics, medical industry,  defence  industry,  and  oil  &  gas  industry.  Among their  products,  Armpro articulated tapping and threading machines have a very high-end market.
Bar chamfering machines
Grinding Machine
Bandsaw Machine
Sheetmetal Working Machine
Pipe Chamfering Machine
CNC pipe bencing machine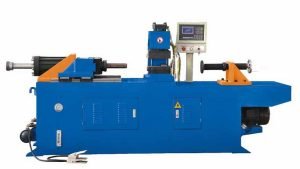 Reason for recommendation:
Armpro  has  been  the   only  manufacturer  that   offers  metalworking  machinery  and equipment. All of their machinery is completely equipped with high quality, precision, longevity  as  well  and  stability.  This   helps  them  to   meet  their  client's   high-quality expectations. They also engage  in  continuous  improvement  and development of the products. They also offer a very responsive support team and offer complete presales and after-sales services as well.
Profile:
PHI is a reputed and leading manufacturer of metal-forming machinery. They have gained their position in the industry by offering their clients both high-end as well as customized machinery that meets their industrial needs. With more than a 75-year-old experience, PHI, headquartered in California, USA, has offered to meet all the high-end and customized machinery needs of the customer.
Reason for recommendation:
PHI takes special care in designing every machine and integrating them with maximum safety and reliability. Their machinery and equipment are trusted to serve a variety of customers as well as industries located all around the world. Each and every PHI machine comes with a one-year parts and labour warranty starting from the date of delivery. Along with this, a supportive and very responsive staff of expert service specialists are always available and would travel to all parts of the world in case any need arises to offer consultation and after-sale services.
Key products:
Tube bending machines

CNC Pipe bending machines

Pipe End finishing machines

Tube end-finishing machines

Presses

Structural beam fabrication system
Profile:
Schwartz-Robitec is a globally recognised manufacturer that specialises in manufacturing CNC tube and pipe bending machines. We are renowned for their commitment to providing high-quality solutions, they offer advanced technology and precision in their bending processes. Their products and machinery are used by various industries and are well known for their reliability and precision.
Reason for recommendation:
They offer machinery with high-precision and advanced technology that is up to date with the current market. Also, they contain a wide range of machinery options for the customers to make a choice from.  
Key products:
CNC Pipe Bending Machines

CNC Tube bending machines

Bench tapping machines

Belt Grinding machines 
Profile:
AddisonMckee is a specialized manufacturer well known for precision bending machines for tubes and pipes. Headquarters based in the UK, the company offers high precision and high-quality solutions that are tailored to various industries. Their specialized expertise lies in providing customized solutions that meet strict accuracy, efficiency and quality standards.
Reason for recommendation:
They are known for providing machinery and equipment with high precision. The main feature of their products is that they are designed to provide specialized solutions for various industries that require precision, accuracy and efficiency, and located all around the world. 
Key products:
CNC Tube Bending Machines

CNC Pipe Bending Machines

Pipe End finishing machines

Tube end-finishing machines
Profile:
BLM Group is a well-known Italian company that is known for its versatile CNC bending solutions for tubes and pipes. BLM's focus on innovation and customisation sets them apart from other industry giants. With a wide range of products, BLM Group offers cutting-edge technology in order to cater to diverse bending requirements based on the needs of the customers.
Reason for recommendation:
BLM Group uses innovative technology and solutions while offering a wide range of customizable options that succeed in satisfying the industrial requirements of the customers. 
Key products:
Tube Processing Systems

Pipe Processing Systems 

CNC Tube Benders

CNC Pipe Bending machine
Conclusion
Although with time, there might have been slight changes in the development or deterioration of the position ls of the above-mentioned manufacturers, they still strive to head the strong line of companies that have maintained their status as the industrial giants in the market. 
Conclusion
In conclusion, the global market and landscape of CNC pipe-bending machine manufacturers present a very diverse array of companies, each and every one of them uniquely contributing to the advancement of precise metal fabrication and manufacturing. The diversity ranges from Germany to the United States, Italy to Taiwan, and all these top ten manufacturers have built their position on solid ground through a constant combination of cutting-edge technology, quality craftsmanship, and solutions that are customer-focused. 
These leaders of the industry, stand as pillars of innovation, offering a range of CNC Pipe bending machines that are being catered by a multitude of industries globally. Their dedication to precision, versatility as well and automation outlines their commitment to meeting the evolving demands of modern manufacturing. 
As industries continue to evolve over the years, the above-mentioned manufacturers remain at the forefront of innovation. This is made possible by embracing the challenges of precision bending, material preservation and customized solutions. Regardless of whether it is heavy-duty applications or intricate designs, these companies are ready to shape the future of CNC pipe bending with unwavering dedication, research and development, innovation, technological expertise and a commitment to the highest standards of quality.
Don't forget to share this post!
CONTACT US
Tell us your raw material and working details to get quotations within 24 hours.
WhatsApp Us: +86 159 27 555863
Want the best price & newest metal working machinery buying guide,tips and trends sent straightly to your box?Sign up for Armpro's monthly newsletter,we're free for your consultation and Offer you the most suitable working solutions!
Tell us your material or budget,we'll reply you ASAP within 24 hours