Armpro Drilling And Milling Machine
Armpro drilling and milling machine is used for school , science innovation center and science researching institution teaching demonstration.It is suitable for home use DIY, airplane model accessories and clocks & watches accessories processing.The drilling and milling machine can process Ti, stainless steel, 45 steel, iron, aluminium, copper------all kinds of nonferrous metal and wood, nylon-----all kinds of soft materials.

Welcome to Visist Our Drilling And Milling Machine Factory
Welcome customers from any country come to visit us, we can show you the Drilling And Milling Machine workshop, and show the
Drilling And Milling Machine production site.
Drilling And Milling Machine:The Complete Buying Guide In 2021
A drilling and milling machine is a device that structures solid metal things by intentionally eliminating material from a greater piece of metal. They can be used to cut an assortment of metals, and they could perform different applications to make a scope of metal apparatuses and parts.
Drilling and milling machines do exist in different sizes from a very small one to that requiring distribution center space. Drilling and milling machines have been around for a long time, and they have reliably had the choice to make accurate and exact and cuts, but with the start of PC numeric control, they ended up being extensively helpful.
Today, in this newbie guide we are going to discuss each, and every aspect of this vital product and we will assist you make a better decision through this guide.
Add a header to begin generating the table of contents
1.What is a Drilling and Milling machine?
It is a machine that combines drilling, milling, boring and grinding and is used in the production of small to medium-sized items.
Basically, drilling and milling are two different processes; in fact, milling is part of drilling done in a different way. A machine can be used for both the drilling and milling processes.
Thus, called a drilling and milling machine.
Drilling machines are used to drill holes in components or workpieces using drill bits. Drill bits are also referred to as multi-point cutting tools because they have a rapid effect on the Material Removal Rate (MRR), i.e. a single-point cutting tool can eradicate material slowly, whereas a multi-point cutting tool removes material more quickly and thus increases the MRR.
Milling machines are a kind of equipment that uses rotary cutters to remove material from a workpiece. These devices are capable of drilling, boring, and cutting a variety of materials. Milling is the process of removing material parallel to the tool axis, and so the machines employed during the procedure are termed milling machines. Milling machines are available in a range of configurations and are utilized in a wide variety of industries.

Drilling and Milling Machine
2.What are the types of the Drilling and Milling machine?
Milling machines make it possible to remove metal fragments with a spinning cutter. The cutter rotates at a fast rate of speed, which enables it to cut through metal effectively. Additionally, these cutters include cutting edges that are critical for material cutting. These presses are used on a variety of milling machines.
Milling machines may accommodate many cutters simultaneously. You can conduct procedures with a great degree of precision. It removes a large amount of metal at a faster pace than other related devices, such as shapers, planners, and lathes.
These machines are renowned for their superior surface finishing and precision, making them indispensable for industrial operations.
Types Of Milling Machines
The following are some of the most common kinds of milling machines:
1.Horizontal Milling Machine
Compared to manual millers, these types of machinery are sturdy. Horizontal milling machines are frequently used to refer to ordinary milling machines with a horizontal spindle. You may feed the table vertically, across, or horizontally.
In other words, horizontal milling machines install the ripping instrument on a flat leaning spindle which may remove material selectively from a stationary workpiece. Additionally, horizontal milling machines often have a different tooling configuration than vertical milling machines.
Horizontal milling machines have a similar construction in that they use a spindle with a revolving cutting tool to remove material from a workpiece. With that stated, horizontal milling machines are distinguished from vertical milling machines in a number of ways.
The primary distinction between these two kinds of machinery is spindle orientation. Vertical milling machines have a vertical spindle. The spindle of horizontal milling machines is oriented horizontally.
The feed consists of the following components:
Vertical – vertically adjusts the table.

Cross – parallelizes the table and spindle.

Longitudinal – the table is rotated.
Drilling and Milling Machine
2.Vertical Milling Machine
The spindle is either perpendicular to the table or vertical to it. This machine is ideal for slotting, groove machining, and flat surface machining. The spindle head is attached which spins in an angular fashion. To deal with angular surfaces, a milling cutter is mounted to the spindle. You can shift the spindle up and down on certain vertical milling machines.
It is a precise instrument used for shaping and fabricating through the removal of stock often from metallic workpieces. Plastics and other materials may similarly work on mills reliant on tools and material.
Mill controls may be manually handled, CNC controlled, or a mix of both. Removal of material and mill machining is generally accomplished using a rotary cutter housed in a spindle.
Due to the adjustable table, cutting choices are more complicated and flexible than with a drill press (z-axis). Numerous vertical mills additionally have a rotating turret for the top cutting head, which expands the milling possibilities even more (b-axis).
Drilling and Milling Machine
3.Universal Milling Machine
The machine comes with a table equipped with all movements and a dividing head equipped with change gears that enables it to conduct any milling operation.
It is applicable to a wide range of jobs. The table may rotate on both sides with an angle of up to 45 from its normal position. The table of a horizontal milling machine has changeable directions; hence it has the fourth movement.
This machine is also capable of helical milling operations. You may also utilize extra attachments to boost the machine's capacity.
Among the special attachments are:
Rotary attachment and Slotting attachment
Index head or division head for vertical milling attachment
4.Simplex Milling Machine
Only one direction is possible for the spindle or spindle head. Vertical movement is the most typical direction it may take.
These milling machines provide the following characteristics:
Stable Milling

Milled Surfaces have an excellent finish and are perfectly flat.

Tool life is extended, productivity is increased, and the machine requires less maintenance.
5.Duplex Milling Machine
They may be used as one machine or as two distinct milling machines when two simultaneous spindles can be used to process the workpiece. The spindle may move horizontally or vertically.
Main benefits of duplex solution:
Production boost of up to 50% over individual milling machines

Improved component accuracy by machining the setup most of the time

Single-man duplex milling machines

Space and investment savings compared to two single machines

Rapid return on investment owing to high output

Configurations of Duplex solution: single, pendulum, or pallet shifting system
6.Triplex Milling Machine
The spindle may move along the X, Y, and Z axes.
Customized application based on customer-specified accuracies.
Efficacious and precise.
7.Rotary Table Milling Machine
Rotary Milling is the capacity to do two-dimensional and three-dimensional milling cycles on or around cylinder ends. When milling radially (around a cylinder), the tool can only move equivalent and round the rotating alignment. The position of the tool is radial with respect to the rotary axis's centerline.
This machine is made out of a circular table that revolves vertically. You must position many cutters at varying heights. The machine operates by with one cutter and finishes it with the remaining cuts.
The most notable feature this machine has is that the operator may load and unload workpieces constantly while the machine is operating.
8.Tracer Controlled Milling Machine
Through tracer control, these machines are provided with copying capabilities, and so the vehicle reproduces or copies exterior or internal geometry in two dimensions. CNC milling machines with tracer control are used to manufacture cams, grooves, and curved surfaces, among other things.
This equipment is ideal for tracing and duplicating complicated and irregularly shaped dies. The stylus energizes the system of the oil relay, which controls the table's major hydraulic system. This setup is referred to as servomechanism and is rather sophisticated.
CNC milling machines with tracer control are used to manufacture cams, grooves, and curved surfaces, among other things. On three-dimensional profilers or duplicators, die sinking and other procedures required can be performed.
9.CNC Milling Machine
To create a customized item or product, CNC milling uses computerized controls and spinning multipoint cutting tools.
A CNC milling machine creates slots, holes, and features in material to make a component that is mechanical. Most machines have axes, allowing for considerably finer detail.
CNC milling machines of the modern era may be configured as horizontal or vertical machining centers. Along with metals, components may be manufactured of ceramics.
Automatic tool changers, tool carousels all contribute to machines operating efficiently without human intervention.
10.Drum Milling Machine
These machines are designed exclusively for production operations. This machine is similar to a Ferry's wheel in that it has a vertical center drum that revolves on a horizontal axis.
Face mill cutters are used, and often both used on a rotary-table miller are used.
The drum fixture revolves gently during operation, against spinning cutters. Typically, four cutter spindles are included. The procedure is continuous, as machined components are removed and replaced when the work cycle is complete.
This equipment is used to grind tiny shafts. These are the milling machines that are most often used in industrial operations.
11.Turret Milling Machines
A turret machine is a flexible milling machine that may be utilized in the manufacturing of different components. These machines may be relocated allowing a greater variety of possibilities.
12.C-Frame Milling Machines
These machines have strong and efficient working. They are best used in industrial environments and are powered by a hydraulic motor.
13.Tracer Controlled Milling Machines
Tracer-controlled milling machines are designed to manufacture replica components based on a master model and may be used to machine grooves and curved surfaces.
14.Bed Type Milling Machines
This machine's worktable is located on the bed itself, rather than on top, as with conventional milling machines. The knee is removed from bed-type equipment for mobility.
15.Column Milling Machines
The simplest forms of milling machines are these column machines. It is often used to create automotive components. They are composed of five critical components: a worktable, a head, a saddle, a knee, and an over-the-arm drill.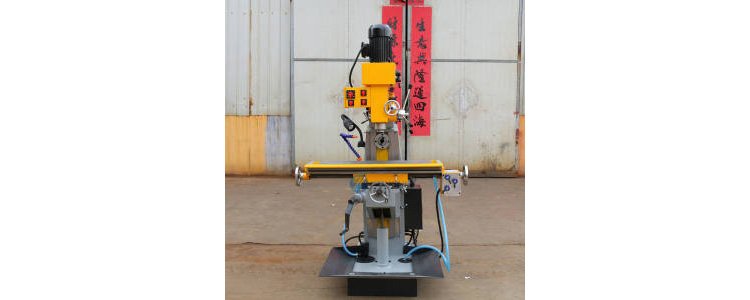 Drilling and Milling Machine
3.What are the advantages of Drilling and Milling machine?
Advantages Of Milling Machine
Following are the advantages of the Milling machine:
The milling machine's size and rugged structure provide amazing support for handling larger and heavier equipment without causing damage.

It offers a variety of computer-controlled cutting possibilities.

It minimizes the possibility of human mistakes.

It ensures precise cutting.

Customization is possible.

Utilization of several cutters.

It is capable of doing many cuts concurrently.

Milling is ideal for manufacturing small or big quantities of individual parts.

It is capable of making intricate forms with the use of teeth with multiple functions and tools with point cutting.

By using general-purpose cutters and equipment, operating expenses may be significantly reduced.

Superior accuracy in finishing work in comparison to other machines

Drilling and Milling Machine
4.What are the disadvantages of Drilling and Milling machine?
Milling machines have a number of disadvantages:
This machine is expensive than all other drilling machines.

Due to the high cost of milling cutters, the initial investment in tools is more.

The cost of manufacturing will rise if we replace activities done in a shaper or drilling machine with those performed in a milling machine.

CNC milling machines and their associated setup costs are higher than manual instruments.

Milling machine operators need sufficient training.

Programming and designing demands a lot of time frame and is not as cost-efficient for small quantities of items.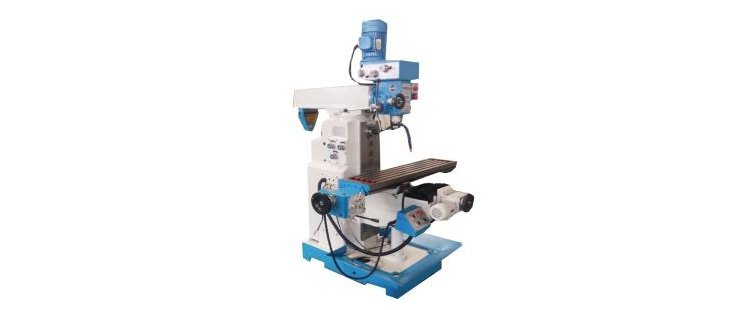 Drilling and Milling Machine
5.What are the Industrial applications of the Drilling and Milling machine?
Drilling and milling equipment has been extensively employed in industrial applications.
The most popular and widely used machines are listed here:
Universal Milling Machines
Many company's most popular product is this heavy-duty equipment. The base and table of a universal milling machine are solidly constructed to support weights of up to 350 pounds. The features include many safety devices which have been fitted and the control system has been upgraded with programmable logic controllers. Variable spindle speeds allow it to do a variety of milling tasks.
Vertical Milling Machine
Specifications vary from the 4s model up to the 6s, depending on the milling capabilities. The X5040, FX5045, X5032 and X5036 vertical milling machines are also available. With its knee-type design, it is able to handle huge loads and produce high-quality products.
Radial Milling Machine
Very high levels of stability and guideways with rectangular tables are fixed. With automated feeds on both axes and a motorized raising and lowering table on the Z-axis, the radial drilling machine is capable of drilling complex geometries. The tabletop has been toughened and ground. 5 horsepower's of spindle motor power. An automatic feeding system with a high-speed milling head.
Turret Milling Machine
In educational institutions and technical workshops, this cutting-edge equipment for the manufacture of maintenance and manufacturing equipment is put to good use. There is an ergonomically built turret milling machine that is capable of producing the best quality and most accurate milling. A broad variety of machining rates and positioning options were used to make them suitable for more complicated manufacturing processes.
Radial Drilling Machine
Has a thicker base plate to provide more stability while operating. Drilling may be done at any angle thanks to a horizontal arm constructed of the best materials. The counter-balancing spindle is located in the drilling head. Users may choose between drills with 1.5 kW or more power and equipment that is simple to use.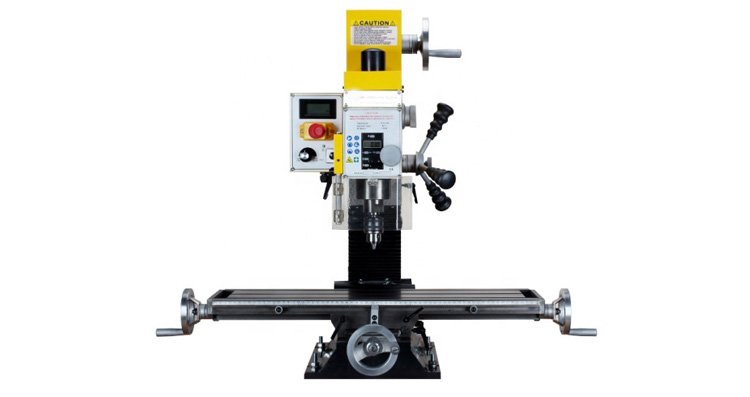 Drilling and Milling Machine
6.Which components a Drilling and Milling machine consist of?
Parts Of Milling Machine
1.Base and Column
The column is another critical component of the milling machine's base. On the base, it is a vertical mountain. It provides support for the knee, table, and so on. Work as a place of residence for all other driving members. It is a hollow part that houses the axle and table's drive gear and, on occasion, a motor. The reservoir of oil is in the column and lubrication pumps for the axles.
2.Knee
The milling machine's initial moving element is the knee. Casting is supported by the saddle and the table. Dowell's procedures are used to secure the knee to the pillar.
The elevating screw is another name of the vertical position of the screw, keeps it in place and improves it. Elevating screws are used to raise and lower the knee by moving the lever up and down with the use of a hand or power feed.
3.Saddle And Swivel Table
The table is supported by the saddle. The saddle moves on the knee's horizontal dovetail, which is equivalent to the axis. The saddle has a swivel table that revolves horizontally.
4.Power Feed Mechanism
The location of the power feed is where the knee is present. All three types of feeds are controlled by the power feed mechanism. The liver where feed is selected is placed towards selection plates to get the appropriate feed rate on the machine.
To receive feed on any column milling machine or universal knee, turn on the speed selection lever till the screen shows the feed selection rate.
Almost every milling machine has a quick-moving lever that is used to temporarily increase all three feeds speed. When the operator arranges or positions the work, this lever is pressed.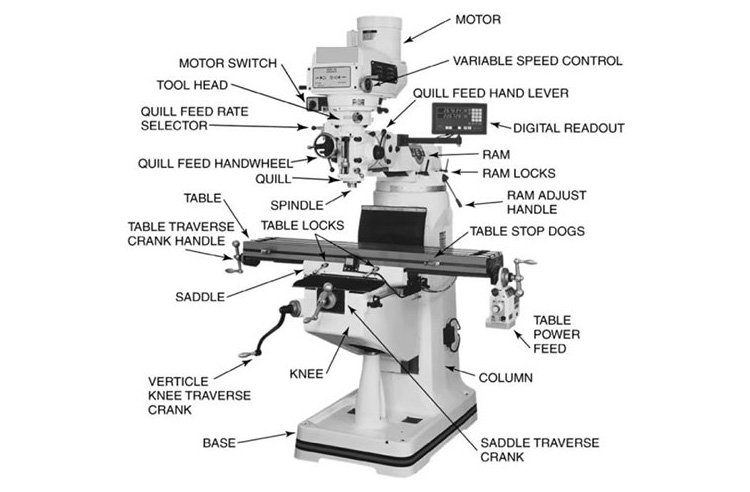 Drilling and Milling Machine
5.Table
A rectangular table is located at the saddle's top. The table is used to support a task or to accommodate task-supporting gadgets. Numerous T-slots are provided to secure the work and the equipment. It may be carried out manually or mechanically.
Turn and spin manually move the table. It supplies the control lever during stride through force, attachment, and longitudinal direction.
6.Spindle
It is situated among the knee and the table and serves as a connecting piece. Transverse movement of this column across the face is possible. It glides along perpendicular to the column face guideways situated at the knee. Its primary purpose is to horizontally shift the workpiece. Additionally, it is forged iron.
7.Over Arm/Overhanging Arm
Overarm is a projection on the column's surface, with the opposite end supporting the arbor. It might be a single casting and slide affixed to the topmost of the pillar in a pin manner. On this machine, it is situated above the column. It is constructed of cast iron.
8.Arbor Support
It has a bearing that holds the arbor's outer end in place. This arbor support manages the outer side of the arbor to the hinge. It stops the arbor from springing outward during cutting operations.
Arbor supports for milling machines typically fall into one of two categories. More than one inch in diameter, the original model had a modest bearing hole. There is a 23/4-inch-diameter hole in the second.
9.Ram
In drilling and milling machines, the vertical drilling and milling machine rams function as the overhanging arm. The ram is fastened to the pillar with one end, another end with the milling head. The arm is linked to the pillar at one end, another end with the milling head.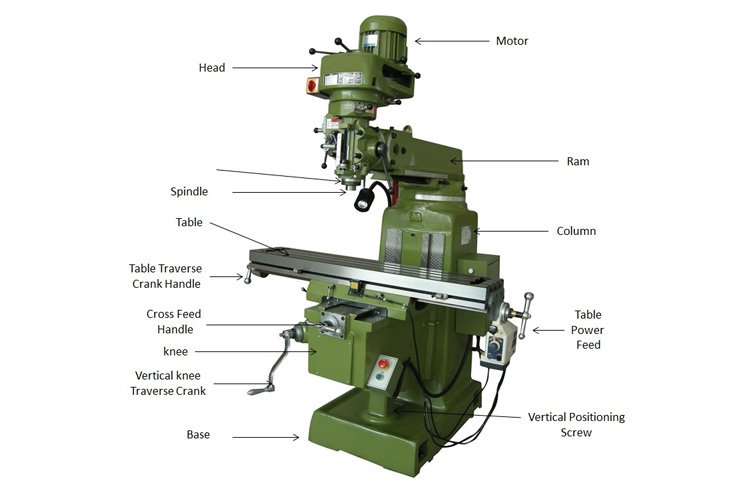 Drilling and Milling Machine
7.How does a Drilling and Milling machine works?
The success of any milling process is contingent upon judgment when the job is set up and the work piece, table, taper in the spindle, choosing the correct milling cutter and holding the cutter in the most efficient manner possible given the conditions.
Certain essential techniques have been shown vital for ensuring the arbor is clean and also the cutter shafts provide satisfactory results on all projects. Several of these approaches are discussed in further detail below:
Before beginning a task, inspect the work piece, table, spindle taper, and arbor or cutter shank for chips, nicks, or burrs.

Never choose a milling cutter with a bigger diameter than required.

Inspect the machine to ensure it is in excellent working condition and well-greased,  in all the directions it rotates easily but not freely.

Take into account the direction of rotation. Numerous cutters may be reversed on the arbor, so make certain you understand whether to move the spindle clockwise or counterclockwise.

Feed the work piece in the opposite direction of the milling cutter's rotation (conventional milling).

Do not alter the feeds or speeds of the milling machine while it is running.

When clamping a work piece, ensure that they are securely fixed and the material is safely secured so that it does not spring or shake undercut.

Liberally apply the prescribed cutting oil.

Plan each project with sound judgment and common sense and learn from prior failures.

Try a possible position to perform each task close to the spindle.

Drilling and Milling Machine

Drilling and Milling Machine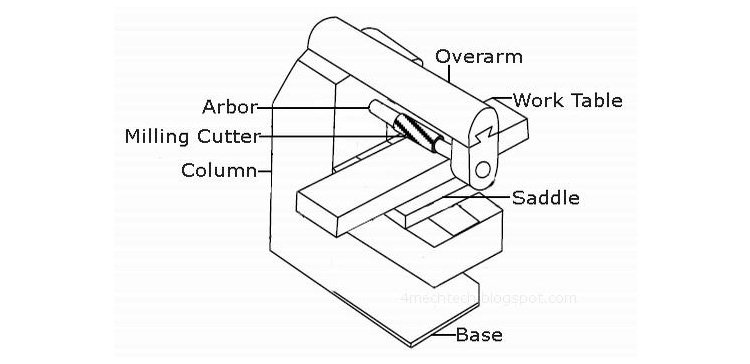 Drilling and Milling Machine
8.What key features you keep in mind when buying a Drilling and Milling machine?
What kind of milling machine do you need? This is the basic point that should be kept in mind while answering this question.
Before we get into the specifics of the milling machine configuration you'll most likely want to purchase, it's worth noting that this article will focus only on manual milling machines. CNC milling machines are new world in itself, and they will get their own guidance. While manual and CNC mills have many similarities (in fact, CNC mills are often converted manual mills), CNC mills have extra requirements that would complicate this subject. As a result, this essay will focus only on manual machines.
There are two fundamental kinds of modern milling machines: horizontal and vertical. Depending on this, the machine's spindle axis may go either to and fro or sideways. Many jobs may be performed by either kind of machine since they both include tables, heads, and columns that can tilt or swivel. Some tasks will be simpler on one system than another.
More than merely a matter of orientation, the machines are vastly different in practice. This means a parallel spindle is present in the case of a machine which is horizontal, to the plane of the table, while a vertical machine would have the spindle perpendicular. This fundamentally alters the range of tasks that may be performed on each system.
The overarm of a machine is its fundamental strength since it constrains the revolving arbor on both sides of the machine. This provides it with exceptional stiffness, allowing the machinist to make very large cuts that would otherwise introduce more side stress than a machine that is vertical might hold safely. Because of the great strength of the material, it is fully feasible (and popular) to stack numerous cutters on the arbor for cutting, e.g, a plane bench with spaces in a single operation. Thus, surfacing work, tearing channels and holes and other similar chores when the component is flat in one axis are ideal applications for it.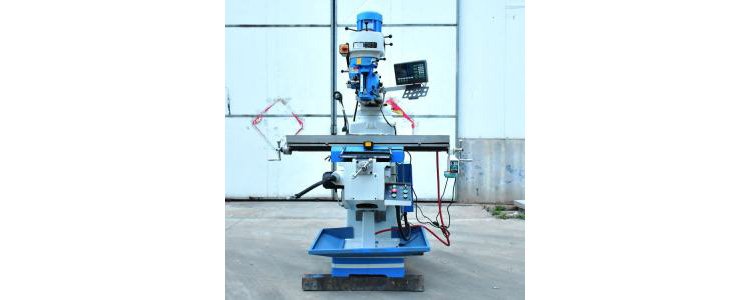 Drilling and Milling Machine
9.What are Differences between Drilling and Milling?
Milling
Milling is the technique of quickly removing material from a workpiece using a multi-point rotary cutter.
Milling is classified into two broad categories: One is peripheral milling and the other one face milling.
The former entails cutting flat surfaces and flat-bottomed chambers into a workpiece, with the feed which is horizontal or vertical in shape. The latter entails deep threading, slotting, and gear toothing the workpiece.
When milling, there are many techniques for the workpiece in feeding into the rotating cutter. In a traditional milling operation, the workpiece is fed against the cutter's rotation. This is the procedure to follow for the milling machine which is manual. However, climb milling is another option in which the workpiece is fed parallel as the cutter rotates. This technology is suitable for CNC milling.
Milling is often employed as a finishing procedure for previously machined workpieces, as it helps bring out the clarity of key features and forms a type of finishing coat. Milling as a secondary step is ideal for things that require curves, slots and pockets.
Drilling
Creating holes that are drilled in a piece of work is precisely what the term "drilling" refers to. You may use a drill press, a tapping machine, or even a milling machine for this task, depending on your needs. Workpieces are left with a clean surface thanks in part to a drill bit's unique shape that allows material that is waste to fall away.
Keeping the drill near the workpiece perpendicular in shape can help you avoid drifting or leading off. Before drilling commences, it is usual practice to do a center drill operation. In certain cases, angular drilling requires specific tools to keep the workpiece in place, which necessitates the use of specialized drilling equipment.
Many different kinds of drill bits are available for use in a range of drilling tasks. There are several types of drilling tools that may be used to make pilot holes or shallow holes, such as the spotting drill. Machines with screws have small and are designed to produce straight, precise holes without the need for spot, making them ideal for drilling. The diameters of chucking reamers, which are used to expand holes that have previously been drilled, must be accurate. Peck drilling, for example, includes frequently retracting the drill in order to clean chips and avoid drifting throughout the drilling operation.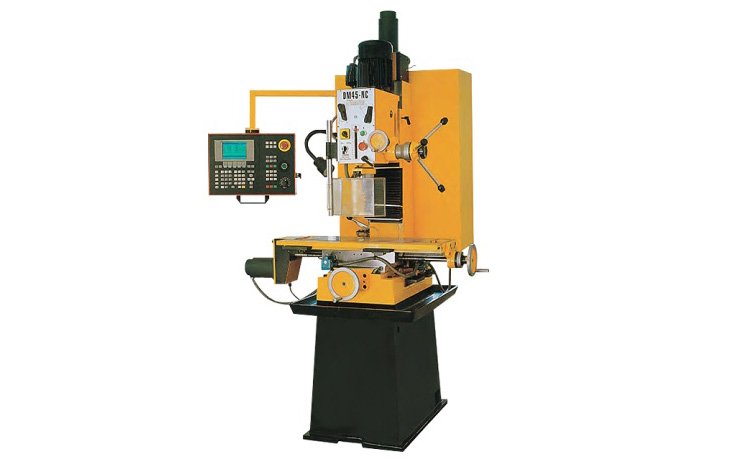 Drilling and Milling Machine
10.Is Drilling and Milling machine is easily Convertible?
The drilling and milling machine is convertible in different ways. Depending upon the functions required or the amount or type of work required by the user it can be converted.
An all-in-one milling and drilling machine can fulfill a wide range of manufacturing needs, and the capacity of the machine is dependent on the number of axes and tracks put on each of them. The number of axes varies depending on the demands of the client; the ideal number has no limit, but rather the most appropriate mix for the user's requirements. While lathes have a limited range of operations, milling and drilling machines can handle a broad range of workpieces, from small bits to big milling projects.
In other ways, it's like a turn, too. With milling and drilling, exact tolerances may be achieved within stiffness standards. Milling techniques are widely recognized in the industry because of their capacity and efficacy to outline and procedure grind items with complicated contours, which is difficult to do with any conventional machining method.
The machining center is one of the most popular and frequently used processing processes that have evolved with the advancement of technology in the drilling and milling industry. In addition to milling, drilling, and boring, the machining center is capable of doing a wide range of other operations concurrently. Machining centers were originally turned from the 1960s in machines due to the rising demand in the US aerospace and automotive sectors. This trend has subsequently spread to other areas of the globe.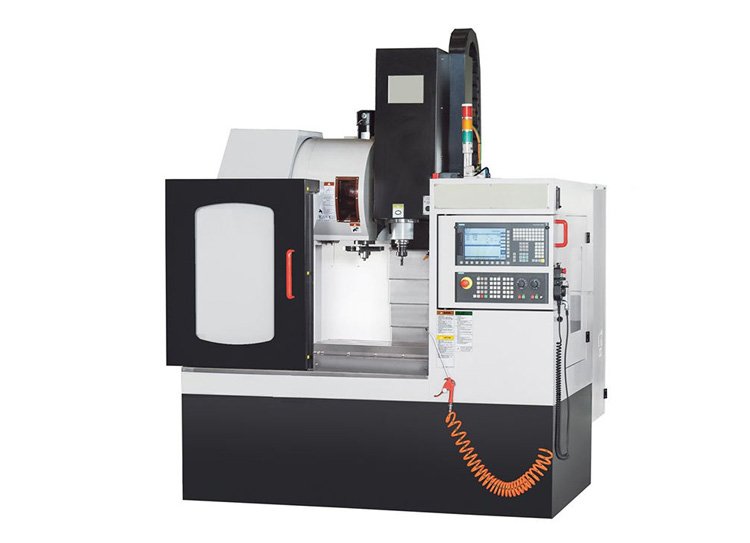 Drilling and Milling Machine
11.What kind of Drilling and Milling machine do you need?
To begin, determine how many axes you'll need. Three axes are common in milling machines. The Z-axis, X-axis, and Y-axis run vertically, horizontally, and transversely, respectively.
Milling machines may be broadly divided into three categories:
Connected perpendicularly to the table with the tools and spindle, vertical milling machines are the most common kind.
The spindle of horizontal milling machines is horizontal, and the tools are mounted to the table parallel to the axis of the machine.
Hinge spindle mills are used for universal milling applications.
Additionally, you must select supremacy of the machine either drilling or milling based on the materials you want to work with. Milling machines that operate on steel, aluminum, or PVC will not be subjected to the same effort. Additionally, the cutting depth must be considered, i.e. the depth to which the cutter penetrates the workpiece. If you use a machine that has very low power, you will require making multiple consecutive passes to finish a machining job that a more powerful machine might do in a single pass.
The size of the pieces that you will be machining as well as the largeness of the actions which will require in order to carry out all of the machining processes must also be considered when selecting your milling machine. The machining capacity of a milling machine is proportional to the amplitudes of movement (referred to as the X, Y, and Z travel) along each axis.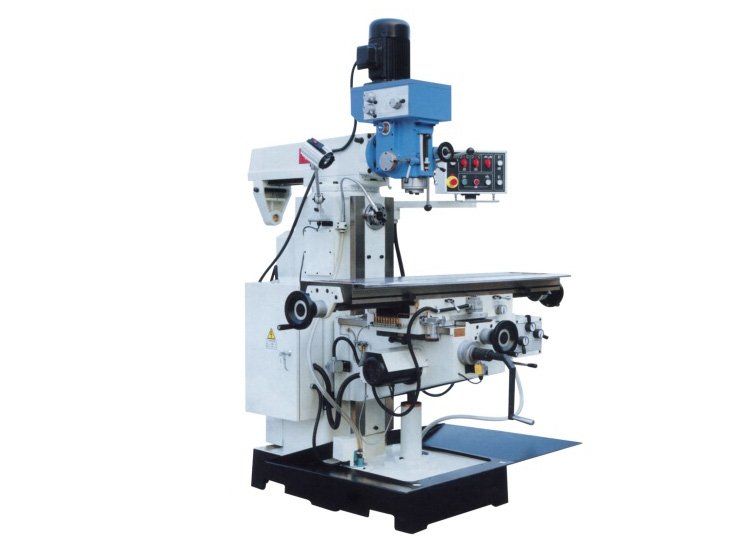 Drilling and Milling Machine
12.What is the horizontal or vertical Drilling and Milling machine?
Horizontal vs. Vertical Mill
While there are several parallels between the two types of milling machinery, there are also numerous distinctions. We'll now examine the distinctions between them in terms of certain critical criteria.
Orientation
The tools' interaction with the workpiece is a major distinction between the two. Because of this, the spindle of a horizontal milling machine's cutting tool is horizontally aligned. While revolving along this horizontal axis, the rotary cutter scrapes into the workpiece's surface and removes material.
There is a fixed vertical orientation for the tool in a vertical mill. A vertical arbor supports and spins the cutting tool, allowing it to pierce through the workpiece as required.
Tool geometry
Tools and the machine of milling for the two kinds of machines are distinct in form and specifications. When opposed to vertical milling machines, horizontal milling machines have shorter and thicker tools that are capable of removing more material from the workpiece.
A vertical milling machine has long and thin tools that may be used to make complex shapes. Differences in geometry tools in cutting have a direct impact on the cutting capabilities of each machine.
Cut specifications
Because of the thick tools that are used in the machines which do milling horizontally, they are accomplished of making deep and heavy cuts in a shorter amount of time. They are particularly well suited for harmonizing and fitting operations, in addition to standard cuts (facing, chamfering, and so on).
Vertical milling machines are capable of performing a wide range of jobs, but their primary capabilities include plunge cuts and drilling into the workpiece. In addition, as parallel to a machine milled horizontally, a vertical milling machine provides superior precision.
Cost
Vertical milling machines are less expensive than horizontal milling machines, which is why they are used more often. Vertical machining centers are becoming more popular because of their lower investment costs. The operating and maintenance costs are likewise less expensive. Customers benefit from lower machining costs as a result of these manufacturing cost reductions.
Vertical machining centers have a strong need for qualified operators due to their widespread use in the industry.
Horizontal milling machines are more expensive than their vertical counterparts, but in the long term, they save time and money. Horizontal milling machines are often purchased only by well-established industrial enterprises.
What's the best option?
Despite the fact that the capability of center machines operated horizontally and vertically of doing many identical cuts, there are certain cuts that only one kind of machine can perform.
Apart from that, the following considerations impact the decision between the two machines:
The accuracy of the cut
When higher precision is required, always prefer horizontal machines center, not vertical ones.
Material removal rate
Horizontal machining is recommended in situations where more material must be removed from the workpiece in a short period of time since it is able to produce larger slices when the speed of the cutting tool is the same.
Number of planes/sides for machining
It is preferable to use vertical milling machines for single-plane machining. Horizontal milling machines are used when many sides need to be milled at different angles.
Extent of customization
While both types of milling machines are capable of working with a number of apparatuses, the machine operated horizontally offers far greater customization than the vertical milling machine. Indeed, some attachments and cutting heads transform a horizontal mill into a vertical mill.
This is ideal for manufacturing organizations that have a machining center that is horizontal and need to undertake tasks that need vertical mills.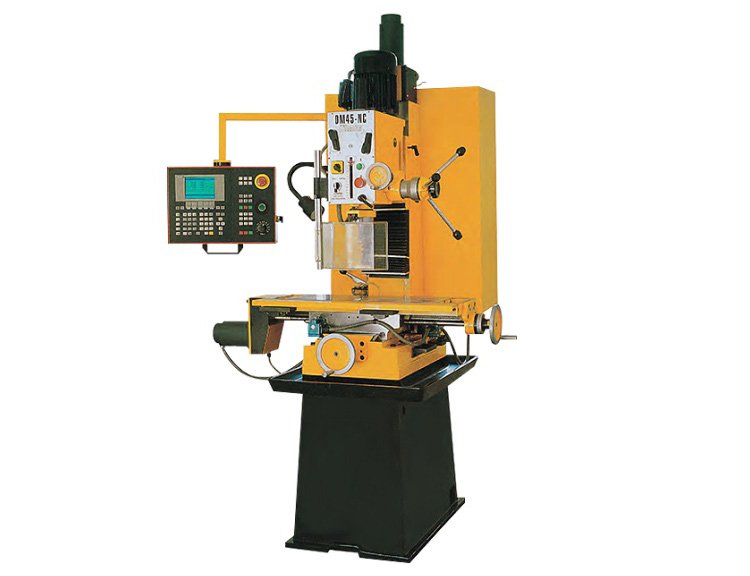 Drilling and Milling Machine
13.What are capacities of the Drilling and Milling machine?
When machining, cutting speed, feed speed, and depth of cut must all be taken into account. For example, these factors will be affected by the kind of workpiece, tool, and dimensions. The cutting speed is the pace at which the cutting tool slices through the workpiece material. ft/min is the unit of measurement for this rate. Cutting feed is the rate at which the workpiece travels toward the cutting tool along its axis. Inches per minute are the unit of measurement.
As with artistic carving, the item undergoes cuts that can be rough and several in numbers. Their objective is to get as near to the final form and proportions as feasible. A finish is applied after the roughing step to acquire the desired dimensions, tolerances, and surface polish. Typically, finishing cuts are conducted at modest feed rates and depths. Cutting fluid is used to cool and lubricate the cutting tool throughout both cutting processes.
Drilling and Milling Machine
14.How do you troubleshoot Drilling and Milling machine?
First and foremost, the handling level is rough, not just in terms of size but also in terms of shape.
The surface which needs to be finished in the machining of components for drilling milling machines is a significant operation, and it is also a procedure that is often performed, which necessitates a high level of surface quality. However, during the actual processing, does just not match the conditions are sometimes encountered.
The primary reason for this issue is when the tool feed speed is too rapid, the vibration created by the tool moving swiftly easily leaves an uneven route to the machined surface. Occasionally, there is a discrepancy in the tool markings between two neighboring tool paths, which is produced by the tool cutting in an inconsistent direction. To prevent this issue, the full-cut milling machine's machining procedure should be used, as well as a particular cutting fluid.
Second, the final milling's cutting edge is much too visible.
Almost every workpiece that is machined on a milling machine will need a surface which is to be finished in the number of situations, there will be an issue with the seam of the finishing side being too visible. This is strictly prohibited since it will adversely impair the look of the workpiece.
The primary cause of this issue is incorrect selection of the in-feed and retraction positions and parameters, and although the milling techniques supplied by various machining software will vary, parameter selection for the accessing knife will be offered. Additionally, when non-dedicated cutting oils are used, the oil film is instantly ruptured during processing owing to inadequate severe pressure and anti-wear capabilities.
To prevent the aforementioned issues when selecting a worthy device accessory to seek for Titanium Machinery, you may make modifications in four areas. The first step is to accurately pick the in-feed point, the second step is to intensification the quantity of overlay while cutting the center knife, the third step is to execute the side finishing with the full cutting depth, and the fourth step is to select the finishing.
Thirdly, after milling is complete, the knife is replaced.
The tool must be changed for conventional and high-speed machining. If the parameter adjustment is neglected throughout the device alteration process, noticeable traces will form, adversely affecting the workpiece's appearance.
When completing the bottom or side surface, the mark of the knife is a regular occurrence. Often, individuals believe it's an unavoidable mistake. Indeed, this is entirely avoidable. To resolve this issue, the concluding of the hollow side must be replaced by a little tool during the workpiece's machining. Due to the fact wavered takes place throughout the milling process, it is quite likely that the blade will end up at the corner.
Consent a drawl on the exterior or corner once you've finished.
Burrs and spurs cannot be tolerated in modern workpiece processing, which necessitates increased surface area. Incorrect usage of a boring tool may impair both the workpiece's precision and its size. It is used immediately upon milling and does not need polishing. However, burrs and fronts will still be present in the finished product.
Using the tool correctly is critical to solving this issue. The best way to achieve a clean cut is to use a specialist instrument. For Titanium equipment, it is important to choose high-quality machine tool accessories and design the cutting route, as well as improve the secondary polishing path, so that you can achieve a smooth finish. Non-publishable workpieces have no purpose for burrs or fronts.
Finishing of special-shaped workpieces
It's not uncommon for the program to have a fitting fault when it comes to completing specific-shaped workpieces. This might lead to deformation of the item and a change in its look if the inaccuracy is too big. To get to the bottom of this issue, it's important to start with the software. In general, this is a suitable number, and it does not impact the calculation speed or the distortion of the instrument in any way.
Drilling and Milling Machine
15.How do you maintain a Drilling and Milling machine?
Lubricant should be tested frequently– Lubrication lowers friction between moving components. Regular lubrication enhances the life of the drilling machine. Additionally, it is critical to ensure that you are using the proper lubricant.
Check for deterioration– Inspect for wear and tear, which is caused by vibration, high temperature, friction, and shock. Keeping an eye out for signs of wear and tear helps you to quickly identify and replace defective components.
Clean the machine– Drilling machines are equipped with several seals and filters. They must be inspected on a regular basis to ensure they remain in good operating order. Additionally, filters should be replaced on a regular basis and breathers maintained clean to avoid the production of a vacuum that might draw pollution into the cab. Additionally, workers operating the machine should clean all of the machine's holes.
Drilling equipment with sharp, cutting or slicing components has to have those parts sharpened. Slow-cutting parts have a negative impact on productivity and efficiency.
The form and precision for cutting the materials are also affected by the sharpness of a machine component. Ensure the sharpness of all drill bits and end bills as well as precision cutters and lathe tools
Check arrangement disclaimers– It is common for drilling machines to feature a variety of components. Getting out of alignment may have a significant impact on the quality of your job. As a way of ensuring proper alignment, you may execute a test work and then take measurements of the finished products. Adjust the equipment if the parameters are incorrect.
Keeping track of scheduled maintenance and repairs– The fluids, electrical systems, and tracks of a vehicle must be inspected often for preventative measures. Keeping accurate records ensures that you have the essential equipment and replacement parts on hand to minimize downtime.
Records of maintenance are particularly vital for the safety of your staff. Reduced machine downtime may be achieved by regular preventative maintenance plans.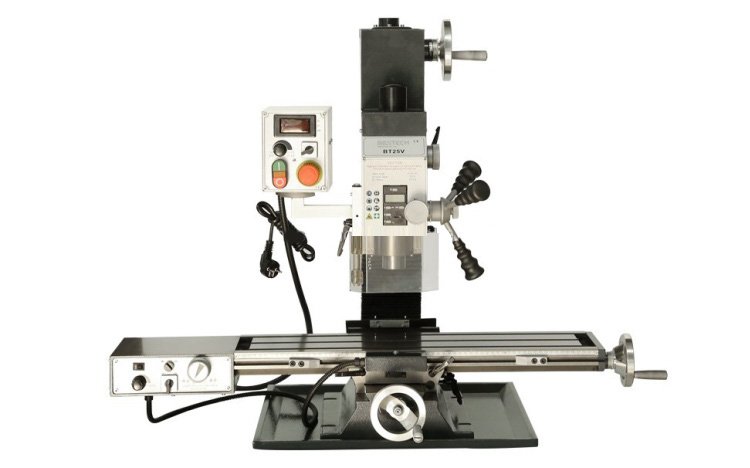 Drilling and Milling Machine