Armpro Drilling And Tapping Machine
Armpro drilling and tapping machine adopts servo drive control, with intelligent torque protection, instead of the traditional lathe, drilling machine or manual tapping limitations.With advanced mechanical design, a variety of processes using mold castings, the overall rigidity is strong, durable, non deformation, beautiful appearance.The drilling and tapping machine's high definition touch screen is simple and flexible. It can realize the vertical and horizontal work of complex and heavy workpiece, locate quickly, and process accurately.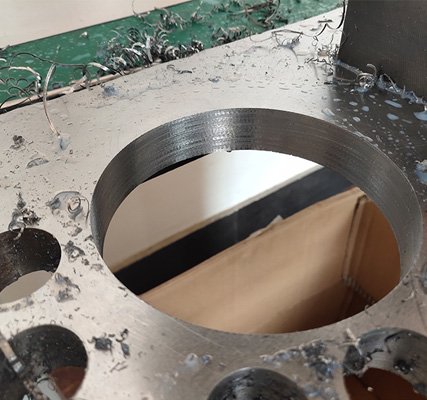 Welcome to Visist Our Drilling And Tapping Machine Factory
Welcome customers from any country come to visit us, we can show you the Drilling And Tapping Machine workshop, and show the Drilling And Tapping Machine production site.
Drilling And Tapping Machine:The Complete Buying Guide in 2021
Drilling and Tapping machine provides unique work experience with dual production rate and intelligent in controlling momentum torque with different casting techniques. A combination of drilling and tapping can be done with the same machine if you are aiming to get a proper technology that will benefit you in both ways.
You can manage the machine in horizontal and vertical way to work with the product material. You can also easily control the speed, depth of drilling and other functionalities like drilling power when working with Drilling and Tapping machine.
Let me explain to you the complete work experience about the machine.
Add a header to begin generating the table of contents
1. What Is Drilling And Tapping Machine?
Before knowing what is drilling & tapping machines, it's better to differentiate between both terms. Drilling is essentially a manufacturing process that generates a circular hole within a work piece by rotating a drill bit at high speed. It's the basic step from which all other machining processes are originated. While tapping includes cutting a thread inside a hole so that a cap screw, a bolt and other fasteners thread into the hole. Such a process is also used to create threads on nuts. It also creates assembly points on parts so that these parts combine into a more complex unit.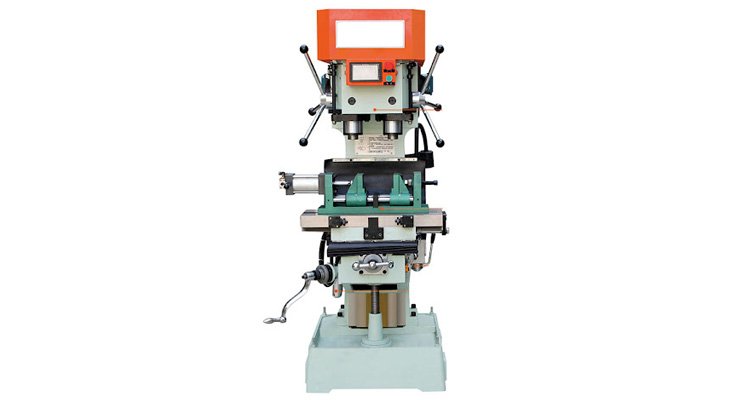 Drilling and Tapping Machine
The drilling machine helps make cylindrical holes varying in size and other related operations using a drill bit. It is a versatile machine that utilizes a multiple-cutting-edged drill bit fixed in a rotating chuck to conduct boring and drilling holes operations. These presses have adjustable speeds, and some also have multiple spindles for gang drilling. The holes may be drilled at high speed and at a low cost. Tapping with a drill press advances a rotary tool in a work piece. The models that combine functions of drilling and tapping machines are automatic drilling and tapping machines.
Consider the maximum diameter of the machine's drill and the size of the largest work piece that can be held under the spindle to specify the machine. The available numbers and range of spindle speeds and feed also matter. In addition, the distance between the face of the column and the axis, the diameter of the table, the maximum travel of the spindle, weight of the machine, required floor space, and power input is all the determinants of drilling and tapping machines.
Since drilling and tapping machines are mainly used for drilling or threading holes in a surface, it is the most significant tools in a workshop. You have come to the right spot to find an ideal drilling machine for your production line. Let's discuss in detail the machine, its types, industrial usages and working principle.
2. Why Is It Called Duplex Work Machine Also?
Since two machines performing drilling and tapping functions are positioned opposite one another, which can work as a single milling machine, it is called a duplex work machine. It provides you with duplex tasks of drilling the holes and cutting a thread inside the hole called tapping simultaneously in a single setup.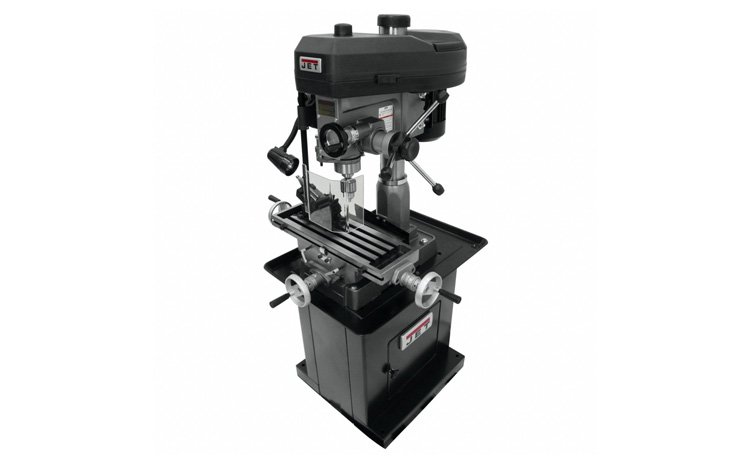 Jet Milling Machine
Such machines have many advantages, like one sole operator can handle the duplex actions. Moreover, synchronization with the CNC program increases productivity in comparison to conventional solutions, i.e. individual machines. It also reduces the major investment requirement compared with two single machines.
3. What Are The Different Kinds Of Drilling And Tapping Machine?
Appropriate selection of a drilling and tapping machine depends on the following factors: the material to be drilled or tapered, the length of the thread to be formed, and the precision required. You will find many industrial machine tools like pneumatic and hydraulic presses, gang and tapping machines, personalized and conventional drilling & tapping machines. A thread tapping machine taps the taper holes, and a pneumatic tapping machine is a type of tapping machine that is powered by compressed air. The given types below have a thread tapping mechanism.
Conventional Drilling & Tapping Machines

Conventional Drilling and Tapping Machines
The most common drill press includes a single spindle, floor-mounted, belt-driven machine for non-production punching. In-floor or bench-top types, drill machines are usually arranged vertically, requiring the user to raise and lower an operating handle to control the cutting tools.
The hole tapping machine generates holes by the rotating edge of a cutting tool known as the drill bit, which exerts a large force on the work clamped on the table. Since it uses vertical pressure to generate a hole, it is termed a drill press. It is the most common vertical drilling machine.
A conventional tapping process requires an existing drilled hole in a work piece so that a tapping machine can make a thread within a hole. Unlike the CNC machining centre, it takes two machining operations to complete the task.
CNC Drilling and Tapping Machine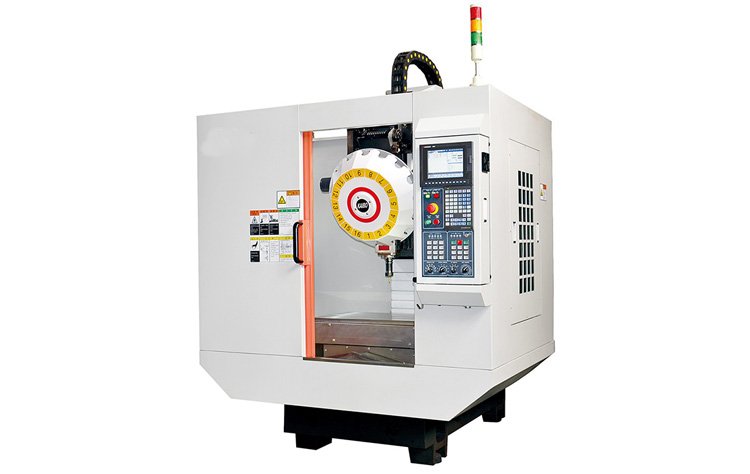 CNC Drilling and Tapping Machine
CNC symbolizes Computer Numerical Control, which is a control system applied in manufacturing, automotive, appliance industry, engineering, and precision machining purposes. CNC drill tap machine has a CNC machining centre performing both drilling and tapping in one operation. Thus, CNC machines can perform multi-functions with accuracy and efficiency. It also helps to improve the production lead time.
It is a compact, high-speed drill and tap machine with milling series capabilities. The powerful taper inline direct-drive spindle can provide 10000 revolutions per minute along with high-speed rigid tapping. The most common method of tapping on CNC machines is rigid tapping or synchronous feed tapping today. Its high acceleration rates shorten cycle times as well as non-cutting time.
You can perform multiple machining operations in a single cycle with a CNC drilling and tapping machine. A CNC machining centre further enlarges the existing drilled hole with a remaining process or creates a thread inside the hole utilizing a threading process. It just requires changing the right cutting tool to get the desired holes of particular depths, diameters, and finishes. Unlike conventional machining centers, the tapping process, including cutting a threaded hole in a work piece, is done in a single work cycle. Hence, it increases productivity.
Automatic Drilling and Tapping Machine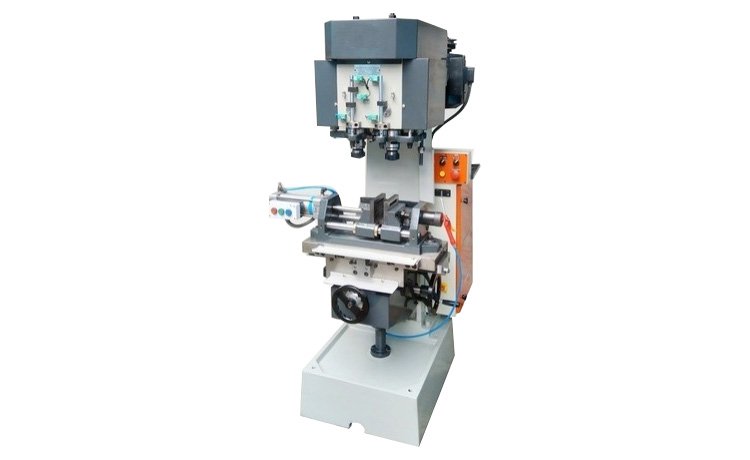 Automatic Drilling and Tapping Machine
Automatic drilling machines can conduct a series of machining operations at successive units. It transfers the job from one station to another automatically. Without manual control, the work will transfer from one machine to the other for different operations resulting in the finished work out of the last unit. It is a production purpose machine that can work great for milling, honing, and other related processes and drilling and tapping.
Such machines have exceptionally large and stable columns moving at high speed. They have an ultra-large span base with no vibration and deformation. The three-axis configuration with high-speed automation helps to save lots of processing time. They are also efficient in drilling holes with relatively small diameters and have humanized dialogue-based interface for simple operation.
Magnetic Drilling and Tapping Machine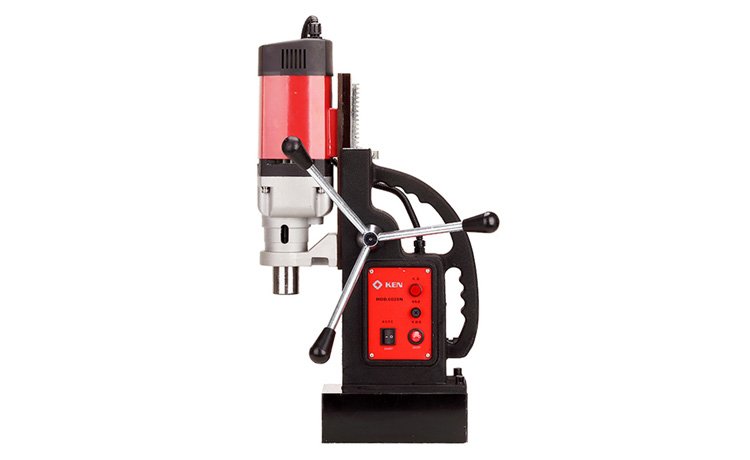 Automatic Drilling and Tapping Machine
An indispensable device in the workshop is ideal for drilling, tapping, countersink & reaming. Since all the power goes to the motor, so the magnet does not require electricity. It offers more safety as the drill will not release from the target material in case of any power loss. Besides magnetic grip, it has a powerful grip on a wide range of steel thicknesses, both curved and flat. The reversible motor makes the thread cutting (tapping) easy with its clockwise and anti-clockwise rotation. It may also be used in vertical, horizontal, or overhead positions.
Hand-Feed and Power-Feed Drilling Machines
Hand-feed and power-feed are two basic types of drilling machines. The radial drill press, numerically controlled drill press, multiple spindle drill press, gang drill press and turret drill press are all variants of the basic two types.
The hand-feed drilling machines are not-so-complex and the most common types in use today since the operator uses a feed handle. He is able to sense the action of the cutting tool as it cuts through the work piece. Such light-duty machines can drill different heights as the Head can be raised and lowered on the column by loosening the locking bolts.
On the other hand, power-feed drill presses are larger and complex than hand-feed ones. They can automatically feed the cutting tool into the work with a predefined depth in thousandths of an inch per revolution. They are applicable for drills that are over half-inch since such drills require greater power to cut.
1. Sensitive Drilling Machine

Sensitive Pillar Drill Machine
They are high-speed machines driven by electric motors used on small areas requiring holes half an inch or smaller. In the process, the table has a mounting workpiece and feeding of the drill into the work is purely by hand control. High drilling speed (as high as 2000 revolutions per minute) and hand-feed are the major characteristics of this small machine. It has a horizontal table, a vertical column, a head to support the motor, a driving mechanism and a vertical spindle. Since the controller can sense the progress of drilling action at any moment, it is known as a sensitive drilling machine. Such sensitive drilling machines can be bench or floor mounted depending on the mounting base of the machine.
2. Portable Drilling & Tapping Machine

Potable Drill Machine
They are common in almost all workshops to drill small sized holes in large castings. It is used by holding in a hand, and the work piece is held in a vice. It can be bolted directly to the work piece, attached using either optional switch magnets or chain clamps. Thus, a small compact unit helps to drill holes in any position in work pieces that cannot be done in a standard machine. Such machines are fitted with small electric motors and can facilitate drills up to 12 mm in diameter.
Portable Electromagnet drill tapping machine uses a normal straight handle drill bit to drill holes and tap bit to tap thread. It is suitable for drilling or tapping on work pieces that are difficult to move, like H-type steels, steel skeletons of buildings, big steel plates, steam boilers & etc.
3. Upright drilling machine

Upright Drill Machine
Larger than a sensitive drilling machine, this machine is manufactured for handling medium and large-sized holes. It allows the operator to hand-feed or power feeds the cutting tool into the parts. The diameter of holes up to 50mm is easily drilled with an upright drilling machine. A number of spindle speeds and feed make it applicable for various types of work. We can classify it further into a round column and box column upright drilling machines on the basis of the type of column used.
4. Radial Drilling Machine
This machine intends to drill on medium to large work pieces with a heavy round column placed on a large base. A table can hold work pieces of different heights as the column supporting the radial arm can be uplifted or lowered. The drill head on the arm swings around to any position and can slide on the radial arm. Hence, this hole producing workhorse of the machine shop is named a radial drilling machine.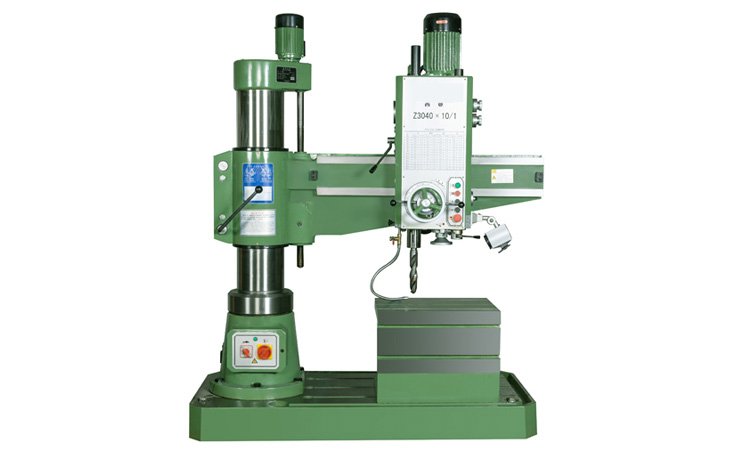 Radial Drill Machine
The operator need not move the work piece to the tool; rather, the radial arm drill press allows him to locate the spindle directly over the work piece. So, large pieces which cannot be positioned easily can be facilitated because of their versatility. It can be equipped with a tilting table, enabling the operator to drill angular holes in a setup. Moreover, the parts include base, column, radial arm, drill head and driving mechanism.
Special purpose drilling Machines
Such machines have special purposes, like the capabilities of drilling more holes at a time or drilling holes as small as 0.01 inches. It includes gang drilling and multiple spindle drilling machines.
5. Gang Drilling and tapping machines

Gang Drilling and Tapping Machine
Their capability to perform different combinations is preferable in mass production, where a series of operations can be achieved. Drill heads place side by side in order to drill more than one hole of the same or different sizes at a time. Several work heads designed for particular work may be positioned over a single table. For example, the first head spots drill, the second head taps drill, the third Head taps the hole along with a tapping head and the forth head chamfers. They are best for a larger number of successive operations since they save time and provide high profits. You need not move heavy and massive work table parts. Moreover, the manufacturer can customize up to six stations where bits can rotate radially.
6. Multiple Spindle Machine
A number of holes drilling simultaneously in a work piece are what your workshop needs. Either horizontal or vertical, these machines are a production type of machine. It has a drill head consisting of several spindles driven by a single motor using a set of gears. All of these spindles carrying drills feed into the work at the same time continuously. The spindle is driven by a CNC motor or by an AC induction motor with variable speeds. The drill head is interchangeable and is provided with high pressure through coolant.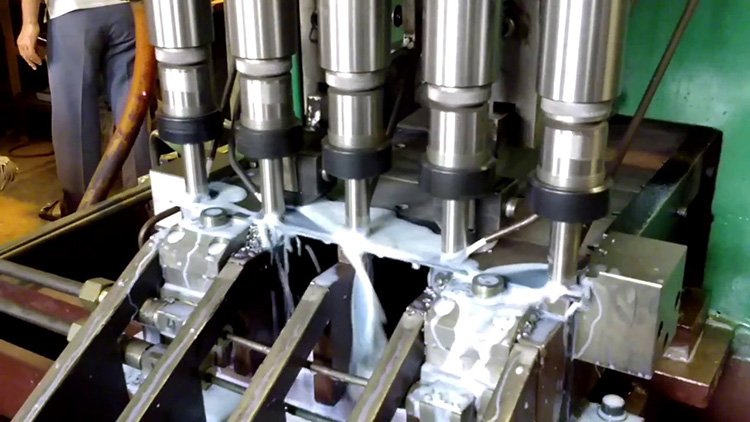 Multi Spindle Machine
Such machines are also useful for regenerating the same pattern of holes in several similar pieces. Besides mass production, they are great time savers as well.
7. Deep Hole Drilling machine
Deep Hole drill machines intend to drill deeper holes in barrels of a rifle, long spindles, oil holes in shafts, bearings, and connecting rods. Such drilling cannot be executed through ordinary drilling machines. This special machine requires high cutting speeds and less feed. A non-rotating drill is kept stationary and fed slowly while the part to be drilled is rotated. The use of coolant is also necessary while drilling in this machine. These machines may be either horizontal or vertical type. And, they are available with both hard automation and CNC system.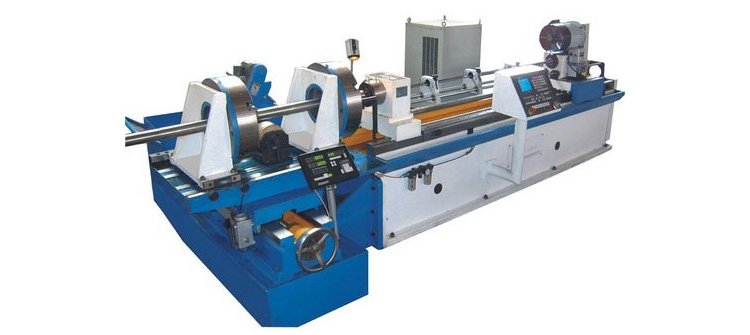 Deep hole Drill Machine
8. Turret Type Drilling Machine
They are structurally rigid column types and have multi drill heads mounted on a pentagon or hexagon turret. The turret holding several drills and tools is raised up and down to get the desired series of operations. They have a varying degree of automation, either fixed or flexible type. In addition, modern turret type drilling machines are computer-controlled; thus, CNC turret type machines position the table quickly and accurately.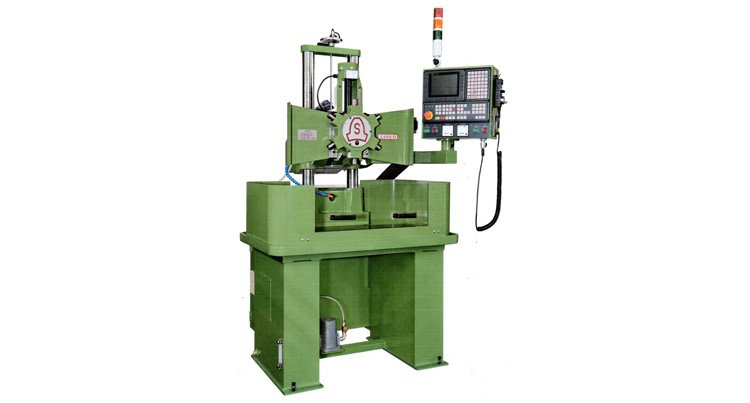 Turret type Drill and Tapping Machine
4. What Are The Uses Of Drilling And Tapping Machine?
The use of the latest technology-based machines for better and error-free outcomes has become a necessity in most developing industries. One such valuable industrial appliance is the Drilling and Tapping Machine. Not only for industrial but small-scale operations can also be carried out by conventional drill press. They enable a fundamental process carried out in a machine shop.
Its uses vary from the small bench machine used in watchmaking or finest jeweler's operation to the heavy, large-scale machines used to bore large holes in steel forgings or cast iron. Special machinery is used for wood, glass, and plastics, for which standard machines are not applicable.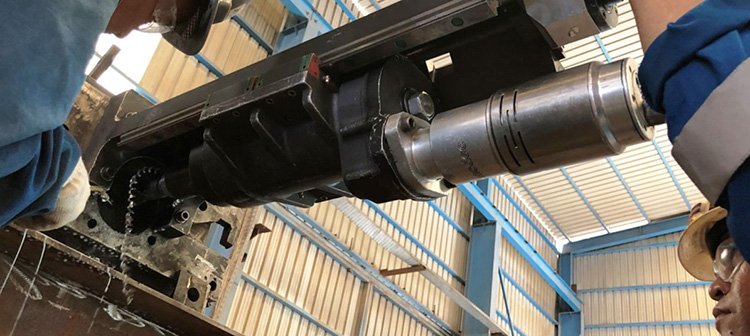 Use of Drill and Tapping Machine
Hot tapping and pipe drilling machines are great for tapping holes in water pipelines. Such electrical pipe tapping machines are useful for adding branch pipes in main water pipes underwater pressure without stopping the water flow.
They are useful in manufacturing furniture, automobile bodies, brush handles, shoe lasts, boats, and golf-club heads.
5. What Are The Benefits Of Working With Drilling & Tapping Machine?
Following are the exemplary benefits of combining drilling and tapping machines.
1. Duplex Operation
The process of drilling holes on the work piece by drill bits (specially manufactured cutting tools) secured to the machine is drilling. While tapping refers to the process of cutting a thread inside a hole in order to thread a cap screw or bolt into the hole. Hence, the customer enjoys both drilling and tapping processes simultaneously on a single unit.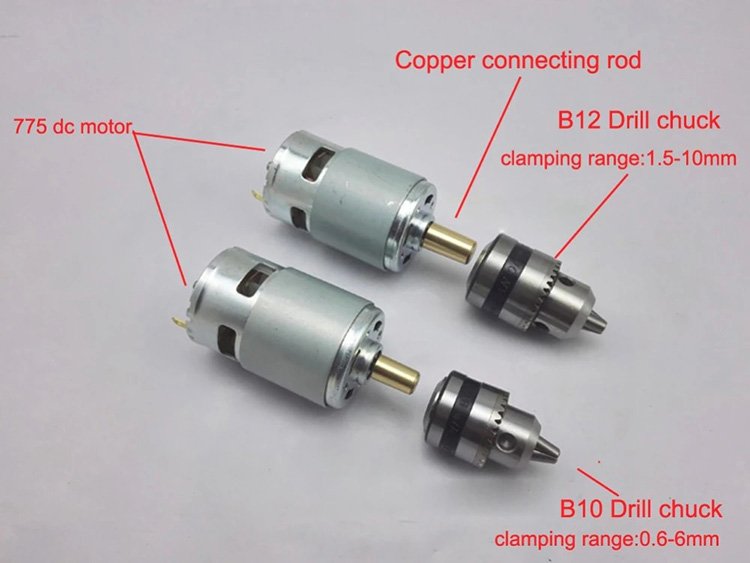 Duplex Bearing DIY by electric Drill Machine
2. Less Time-consuming
Maneuvering large steel or heavy pipe into position at a stationary drill press or work center can be time-consuming. However, a magnetic drill or portable drill press allows you to take the drill to the work piece without bringing the work piece to the drill.
3. Improved Production Time
A CNC drill tap machine provides improved production lead time since there is no need to shift a work piece from one station to another for various machining operations. Multi-spindle tapping machines used in the mechanical industry increases the productivity of machining systems.
4. Desired Configuration
Drill and get the holes of particular diameters, depths, and finishes with this equipment. You can create holes of the desired configuration since a CNC drill and tapping machine allows you to change the right cutting tool. Moreover, its capacity of drilling multiple holes at the same time enhances production efficiency.
5. High-quality Construction
These exceptional workshop equipment are made of high-quality metals that are resilient against failures. They are robust and stable with anti-rusting and anti-corrosion characteristics. Even after multiple uses, they work precisely as they come with all-powerful advancements. Some latest technological advancements include servo drive, impact drills and anti-shock features to offer maximum productivity.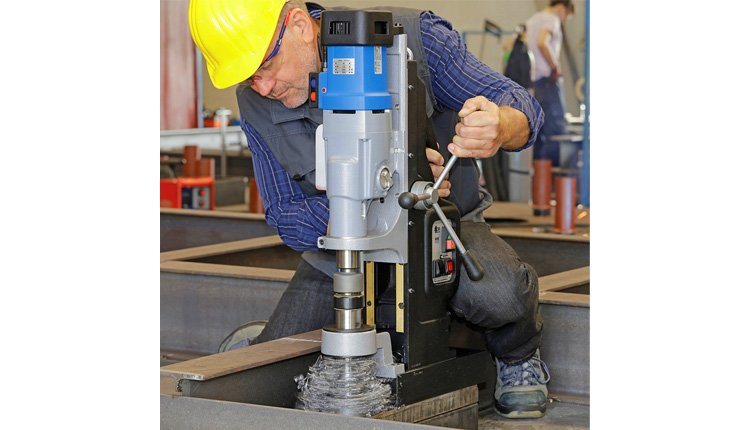 High Quality Work
6. Versatile
You will get multiple varieties and types of drilling and tapping machines that are available in different shapes, sizes, designs, capacities, mechanisms and colors. They can drill through any kind of surface with their depth setting, steel rotating head, and automatic control interface. It can be configured with several axis. You just need to consider your production requirements when buying one.
7. Eco-friendly
Besides being waterproof, shockproof, & jerk-free, these drill tap machines are environment friendly. They are also a great time and energy-saving machinery.
8. Variety of specifications
Automatic drilling and tapping machines are manufactured with a variety of features. The work to be drilled is either placed on a drill press table or a vise in modern machines. A drill press vise is preferable for drilling in a round shaft, whereas a shaft with a planar base uses a table.
High-temperature metal alloys require a speed of 6 m/min for drilling. And, speed of drilling is 100 m/min for aluminum & magnesium alloys. The sizes of drilling and tapping machines range from 6 inches to 60 inches. Their timer function supports high acceleration continuous loop & single way loop for a long duration.
With the action of thread cutting also being performed, there are different types of tapping machines that vary depending on the material being drilled. Common types include two fluted, three fluted, four fluted, and the helical pointed models.
9. Cost benefits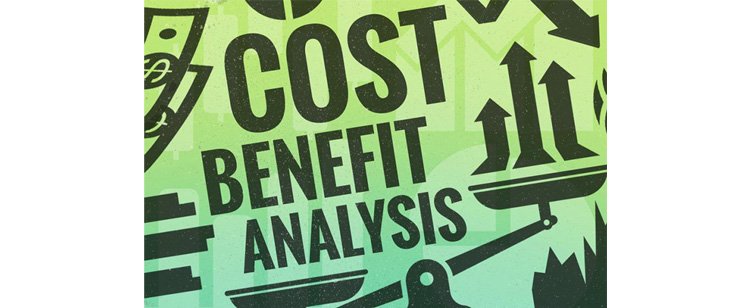 Cost Benefit
Machining centers allow owners to carry out threading, tapping, drilling, boring or reaming on a single setup. It offers huge benefits in terms of costs, production time and benefits. Customers who need automatic operations for drilling, tapping, and milling center can buy this all-in-one equipment. It will liberate them from making a big investment in the high precision machining centers.
Moreover, automatic cycle operation eliminates the labor costs since no operational experience is required for it is an easy operation.
10. Easy to operate
High-quality drilling and tapping machines with automation and reliable design offer easy operation. They are convenient to use and requires low maintenance cost. They have the highest degree of automation with multiple automatic drilling & tapping operating by a single user at the same time. Just place the part to be drilled on the surface, and the automatic machine will perform automated feeding, positioning, clamping, tapping and unloading.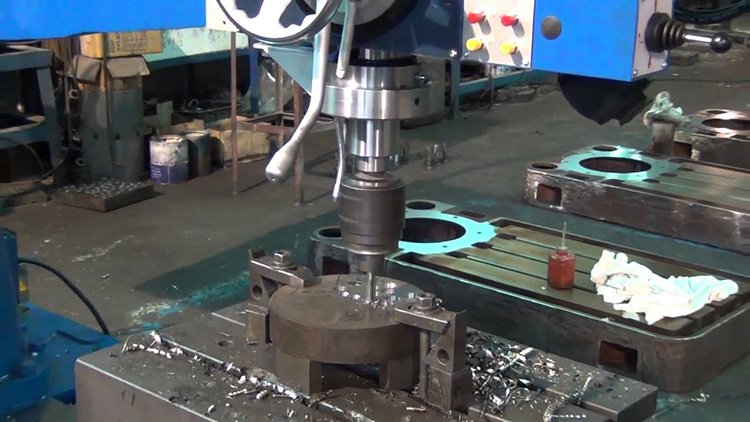 Easy to Operate
11. Broad industrial applications
Drilling and tapping machines are versatile that are designed to meet a wide range of industrial usages and requirements.
6. Is There Any Drawback When You Work With Drilling & Tapping Machine?
Unlike a magnetic portable drill press, other machines take up a lot of space and cannot be taken to the place where the work piece is. If the work piece to too heavy, then big drilling and tapping machines might possess limitations. Thus, they can accommodate a finite size work piece.
Rough holes in drilling operations can occur if there is insufficient coolant or reduced feed.
Any unequal length of the cutting edges or spindle loss can cause oversized holes; therefore, carefully following correct instructions is necessary to get the desired outcomes.
7. Explain The Basic & General Parts Of The Drilling And Tapping Machine?
As the main purpose of these machines is to perform combined functions of drilling and tapping, they have a reduction gear. It is because drilling requires high revolutions to perform drilling, and tapping requires low revolutions for internal threads.
Drilling machines consist of bed, pillar, swivel table, motor, steeped pulley, spindle, chuck, drill bit and hand-wheel.  The drill holding devices include geared drill chucks, drill sockets & drill sleeves, and drill drifts. They keep the workpiece above the work table or vise.
1. Head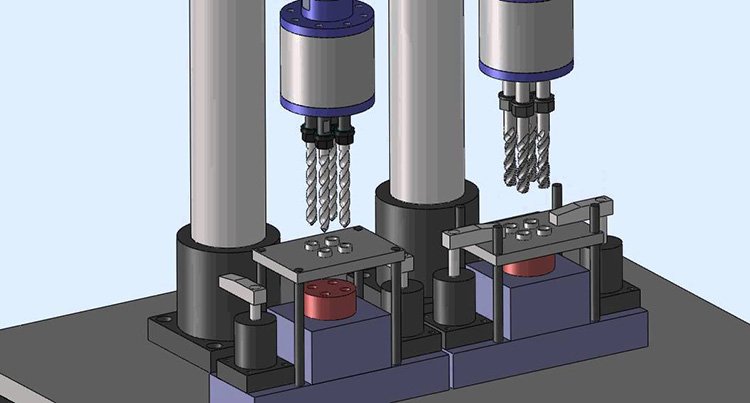 Multi-Spindle Head of Drill and tapping Machine
The Head of the machine consists electric motor, V-pulleys and V-belt, which gives off rotary motion to the drill spindle at various speeds.
2. Column
Vertical round resting on the base works to support the Head and table. Its structure help to raise the table up or down depending on the work piece requirements. The motor is also present at the top of the column
3. Swivel Table
It is attached to the column and rotates around it. Here, the work piece is positioned, and the table is adjustable according to it.
4. Spindle
Spindle arrangement is mounted on the top of the column. It is made up of alloy steel and rotates in a sleeve. The spindle speed is controlled by belts and pulleys.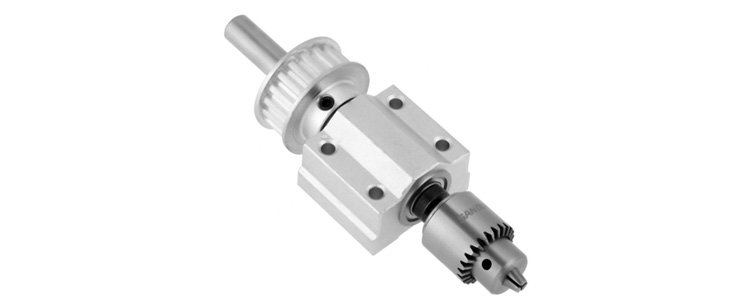 Table Drill Spindle
5. Drill Chuck
The bottom of the spindle is attached to the drill chuck. It holds the cutting tool like drill bits firmly.
6. Cutting Tools
These include dill bits, drills and taps in a drilling & tapping process. Different types of drills include flat drill, straight fluted drill, twist drill and center drill. They are the most important since they cut the hole inside a work piece. It is the shank, having a sharp point at one end along with a round cross-section bottom on the other end. They are commonly made from high-speed steel, cobalt and other rigid alloys.
7. Work Holding Devices
They are useful in holding the work firmly for accurate holes drilling. Machine table vises, step block, clamps, V-blocks, angle plates, T-slot bolts, and Jigs are work holding devices. They are often used with one another to create a stable work setup for drilling.
8. How does The Drilling And Tapping Machine Work?
Primarily, drilling machines help in drilling holes. Still, the proper tooling enables these machines to perform a number of machining operations like reaming, tapping, honing, sanding, lapping, counter boring, countersinking and spot facing.
Different drilling operations
Let's study the different operations performed on the drilling machine.
1. Drilling
Production of circular holes by cutting metal from the rotating edge of the cutting tool (drill bit) is a drilling operation. It is the simplest process of removing solid metal from work and creating holes in metal or wood. Two lines perpendicular to each other are drawn to locate the hole prior to drilling. Then, a center punch produces a cavity at the center to assist the drill in the beginning.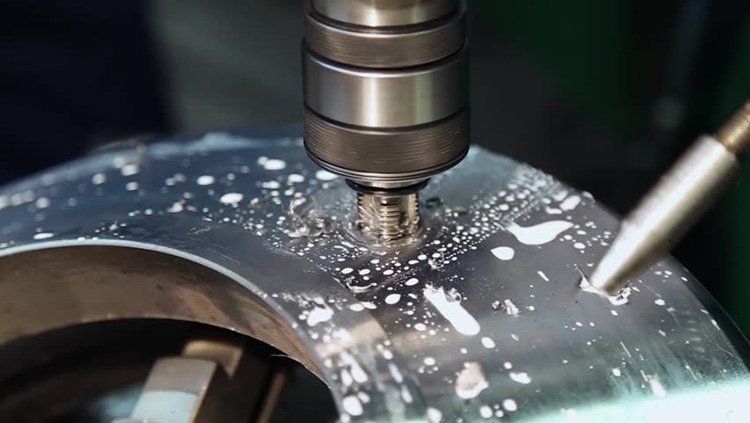 Drilling
An appropriate drill is located in the machine, which adjusts the correct cutting speed. As soon as the drill machine start, the drill starts rotating. Cutting fluid flows, and the cut starts. Drilling can be done in one or more steps according to the length of the hole. In the end, the drill is removed from the hole, and the switch shut down.
2. Reaming
Drilling does not provide accurate holes in a work piece, and it is always slightly oversize than the drill used. Therefore, another step called reaming may be done to get the perfect sizing and finishing of a predrilled hole. The hole is first drilled slightly undersize with the speed of spindle being made half to that of drilling and then reamed to size. It is done to get the exact standard diameter. Remember that it follows the existing drilled path and does not correct its location. It is better to drill the hole and then ream it before heading toward another hole for accurate alignment.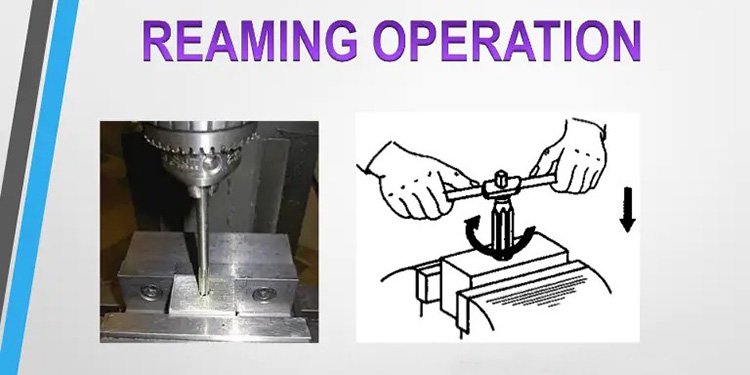 Reaming
Hand reamers and machine reamers having multiple cutting edges are the tools for reaming. The cutting edges of the reamers must be sharp and smooth.
3. Boring
The purpose of boring is to enlarge a hole with an adjustable drill of only one cutting edge. It's important where suitable sized cutting tools are not accessible or where ordinary drilling of enlarged hole diameter is not possible. Other reasons for boring include the finishing of a hole to the accurate size and correcting roundness of the hole. It rectifies the odd-sized holes for drills or reamers. It can also correct the location of the hole since it follows an independent path.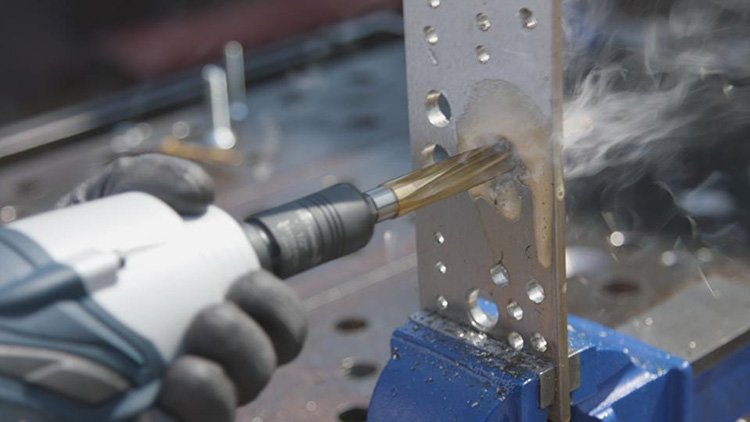 Boring
First, tight the work, drill a hole, and then add a boring bar without changing the setup. A boring tool inserts into the drilling machine and bores holes of any size, which the tool holder will secure. A dial indicator sets the size of the bored hole then the operator sets the machine speed & feed. Besides rigid machine setup, power feed must be used since hand feed can be risky. It is slower than reaming.
4. Counter boring
It refers to the operation of enlarging the end of a circular hole with a tool called a counter bore. These counter bores are made with straight or tapered shank to adjust in the drill spindle. Their cutting edges may be straight or spiral teeth. Formation of a square shoulder with the original hole due to an enlarged hole is important to facilitate the heads of bolts, studs and pins. Its speed is relatively less than drilling operations.
Counter boring
Mount the tool into the drill chuck during counter boring and set the speed for the actual cutter size. Place the work pieces tightly to the drill press vise or table. Fit the pilot into the drilled hole in order to align the piece on the center axis of the tool. These interchangeable pilots for enlarging different sizes of holes must fit with a sliding motion inside the hole. Lubricate the pilot and use a hand-feed to proceed with this operation. Moreover, power-feed counter boring is essentially for production shops.
5. Countersinking
The process of tapering or beveling the end of the hole done with a cone-shaped cutter (machine countersink) is known as countersinking. It makes a conical enlargement of the end of a hole to form a recess for a flathead screw. Proper alignment of the hole to be recessed and the tool is important; otherwise, it will result in an eccentric recess. It is similar to counter boring and also requires less cutting speed than drilling.
6. Spot facing
It is the operation of smoothing off and squaring the rough surface surrounding a hole for a nut or the screw head. It levels the seating of washers, nuts, or bolt heads. Standard counter bore cutters required for counter boring are also used for the accomplishment of spot facing. It uses the same tool, speed, feed and lubricant as counter boring.
Spot facing
7. Tapping
Cutting a thread in a drilled hole using a cutting tool called a tap is tapping. Select the tap drill size and use the chuck to hold it for tapping operation on the drilling machine. Taps must align with the center axis of the hole to prevent taps breakage. Tap removes metal and cuts internal threads when screwed into the hole.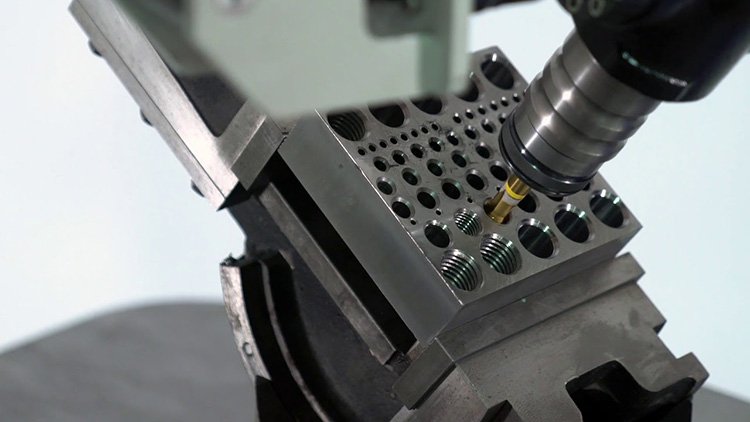 Tapping
8. Lapping
Removal of a small amount of material with a lap to provide sizing and finishing of a small diameter hole is lapping. The hole fits the lap, and it moves up & down while revolving. Copper lead lap is the most common lapping tool.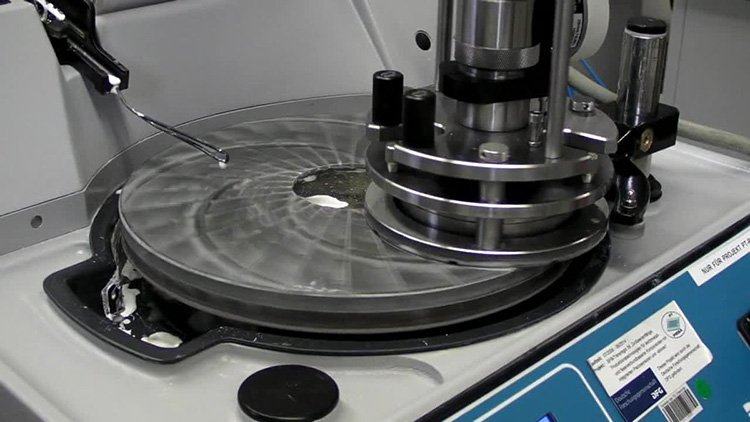 Lapping
9. Grinding
In a drilling machine, the finishing of a hardened hole is called grinding. It requires a suitable grinding wheel that revolves with the spindle and is fed up & down.
Grinding
10. Trepanning
Removing the metal along with the circumference of a hollow cutting tool during a hole production is trepanning. It is an efficient method for larger holes production. As the vibration of the tool is reduced, the operating speeds are high.
9. How Is The Tapping Done In The Drilled Holes By Using Drilling & Tapping Machine?
As discussed earlier, tapping is cutting threads on the inner side of the drilled hole employing a variety of taps. Consider the thread count, diameter, thread pitch and fine threads when selecting the cutting tools. It can be power feed or hand feed. However, the hole must be drilled with the proper size tap drill.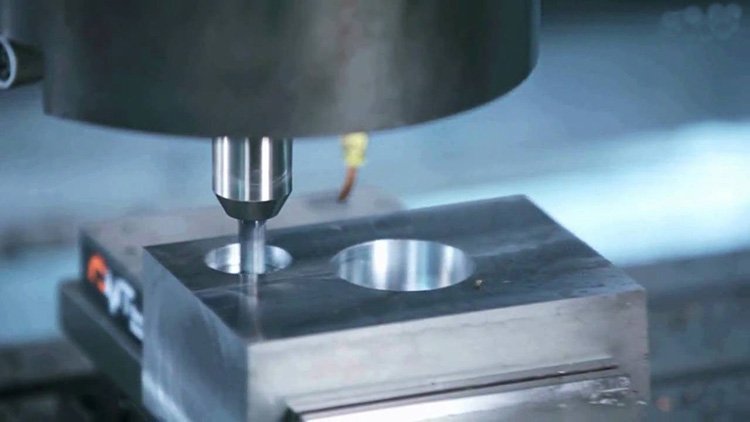 Tapping done in the drilled Holes
When you know what size hole you need to drill, then start drilling the hole. Use a tap handle to thread the hole by rotating the taper bit clockwise until you sense resistance from the threads. Once tapping is done, remove the tap and clean the chips with lubricant or compressed air. Lubricant is used to prevent the squealing of the bits and to make the cut smoother.
10. Why Should You Select Drilling & Tapping Machine Instead Of Single Machine?
The use of heavy-duty drilling and tapping machine is more advantageous than a single machine. It provides high torque and easy operation through its heavy-duty spindles with ISO standard tapers. The tapping tools allow to increase productivity & lower the cost of goods by tapping holes with exceptional speed and accuracy.
The operator can carry out different machining processes within the same solution with the help of a drill press tapping machine. According to the customer's need, various processes such as drilling, turning, milling, tapping, countersinking, internal & external grooving, and reaming on more than one product can be done on a single CNC machine.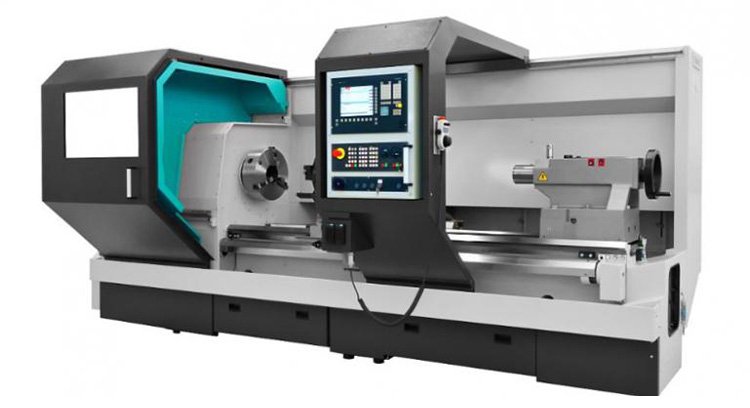 CNC Machine
11. What Are The Industrial Usages Of The Drilling & Tapping Machine?
The machining centers have been widely used in many manufacturing industries. Various industrial users prefer duplex machines where large-sized workpieces are required, such as the automobile industry, aerospace departments, sports equipment and other fields. It enables the working of highly precise machining tasks on one machine.
In industries, the general use of drilling press is to enlarge the existing holes of various diameters and depths in a broad range of work materials. Here are some of the common applications of drilling machines and tapping machines in industries.
They are favorable to many applications, including heavy industries and engineering.

These presses also find their applications in the automobile and aerospace industries.

Multiple Spindle drilling machines in automobile industries are useful for drilling holes in the crankcase, cylinder head, connecting rod, etc.

Magnetic portable drill finds its usages in steel fabrication, building & construction, bridge rebuilding, mining, ship building, welding shops, power utilities, railroad industries, maintenance facilities, mobile repair shops, machinery riggers, and pipeline, offshore & oil fields. It is also helpful in the truck, RV and special vehicle build.
12. How Do You Can Troubleshoot And Drilling And Tapping Machine?
Using the proper cutting fluids can improve the process of drilling, reaming and tapping of different materials. These fluids are sprayed and dipped onto the cutting to cool the activity. The choice of cutting fluids, lubricants, and coolants are important in drilling work as they grease the chip for easier removal, help dispel the high heat resulting from friction, and wash away the chips when sprayed. It also works to enhance the finish and allow efficient cutting speeds in drilling work. They are versatile, excluding some fluids that are particularly designed for one metal.
Proper lubrication methods can overcome the heat and friction caused by moving parts. The precision fit damaging can be avoided by wiping all spindles and sleeves, whereas removal of chips helps to avoid damage to moving parts.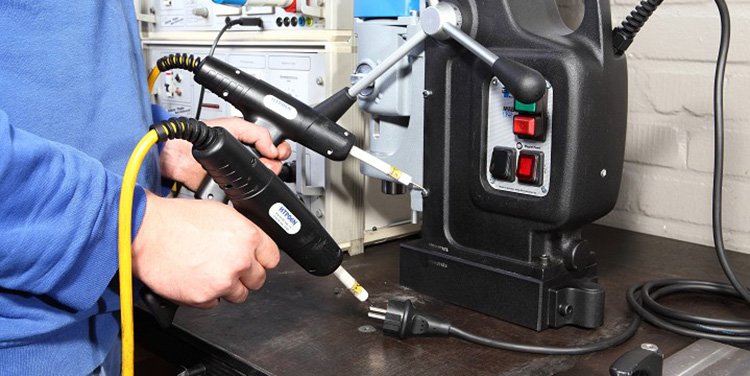 Troubleshooting
When the tap is dull, it will produce rough thread, and the tap is pushing at the metal instead of cutting it. Change your tap or sharpen it. The primary cause of dull cutter is very little feeds pressure since slow feed rates reduce the lifespan of your cutter. Suppose a thread is loading or going too slow, then increase the speed.
Incorrect selection of pitch diameter for the size of thread can cause hole size to be too big or too small. Adjust your drill size or check the tap for the correct diameter.
If the metal is sticking to the tap, better to use sufficient lubricant. And, if the tap keeps tearing, it might be due to dull tap, incorrect tapping drill size, faulty machine, misalignment of tap & hole or wrong tap type. Adjusting it to the correct size or trying changing your tap might troubleshoot this problem.
If you are having trouble drilling stainless steel, it is because this steel can easily work hard if you pause your feed pressure, even for a little time. Use solid, steady feed pressure and sufficient coolant to avoid the material getting hard up.
Special Care Instructions
Following drilling and tapping machine manufacturer's manual will help you troubleshoot the common problems. Clean the grooves, belts, pulley and T-slots after use. Under adverse conditions, there are special instructions required to operate all machines.
For instance, operate them at low speed to prevent abrasive wear on the moving parts under extremely dusty conditions. Use intermittent/on and off operations to keep the motor running cool under extreme heat conditions. And start the machine at a low speed under extremely cold conditions. It will allow the parts as well as lubricants to warm up first before you increase the speed.